Margot Robbie Wasn't Supposed To Kiss Brad Pitt In Babylon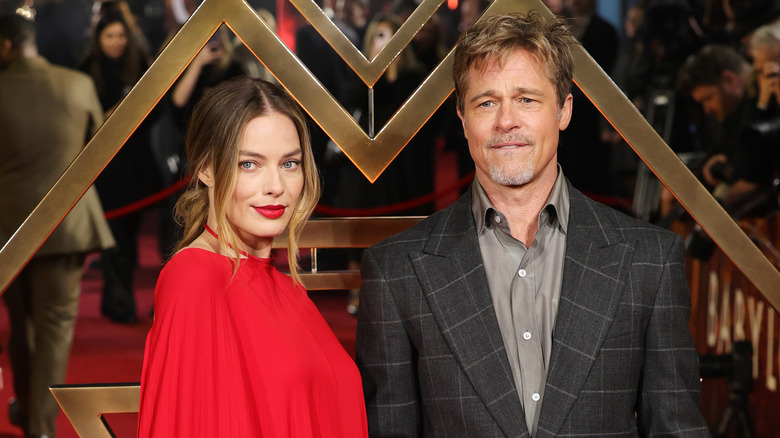 David M. Benett/Getty Images
In the world of filmmaking, actors usually get praised for their ability to bring characters to life. Delivering a compelling performance while following scripts meticulously earns these Hollywood actors their awards. Although this might be the case, going off script and improvising during a scene is also pretty common in the entertainment industry. Improvisation allows actors to tap into their creativity in bringing a taste of their personality into their characters.
It adds a sense of authenticity to the film altogether. Going off script has resulted in some of the best scenes from iconic actors. It also helps create a deeper connection between the audience and the film character. In addition, improvisation also brings out the actors' spontaneity and inner talent. Several renowned actors choose to improvise if they feel like it would make the scene better. This might be the case most of the time, but Margot Robbie had a different reason why she improvised kissing Brad Pitt for the Black comedy-drama film "Babylon."
A once in a lifetime opportunity for Margot Robbie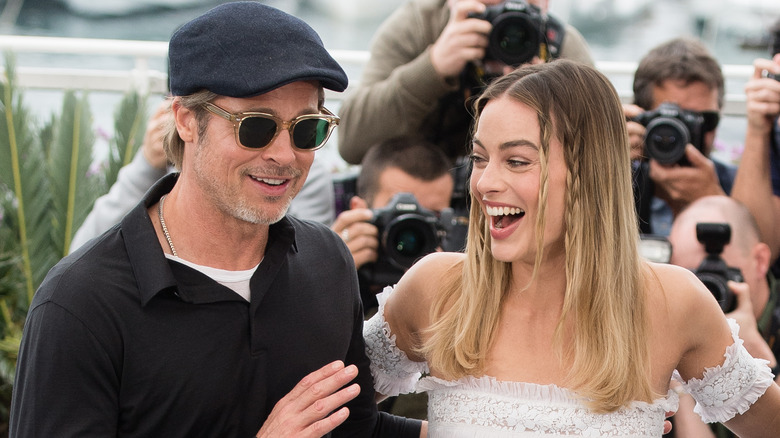 Samir Hussein/Getty Images
While filming for the highly anticipated film "Babylon," which starred Brad Pitt, Margot Robbie, Tobey Maguire, Diego Calva, and many more, Robbie saw an opportunity that might never come to her again so she took it. There was a scene where Robbie's character Nellie shared a kiss with Pitt's character Jack.
The kiss ended up making the scene better as noted by the film director Damien Chazelle. But apparently, the intimate interaction between these two characters wasn't supposed to happen. It was never written in the script, but Robbie was persistent. Talking about the kiss, she told E! News, "That wasn't in the script, but I thought, 'When else am I gonna get the chance to kiss Brad Pitt? I'm just gonna go for it.'"
She further elaborated on how she convinced their director to let her do it. She continued, "I said, 'Damien, I think Nellie would just go up and kiss Jack,' And Damien was like, 'Well, she could — wait, hold on. You just wanna kiss Brad Pitt.' And I was like, 'Oh, so sue me. This opportunity might never come up again.' And he was like, 'It does work for the character,' and I was like, 'I think so.'" Chazelle was pleased with the outcome of Robbie's idea as it turned out well.
Not everyone can be as lucky as Margot Robbie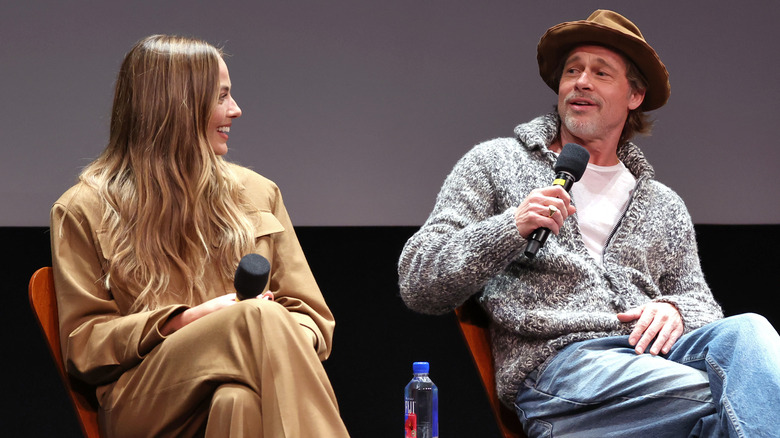 Jesse Grant/Getty Images
Margot Robbie is one lucky girl, not only was she able to work with Brad Pitt again but she also got the chance to kiss him. Robbie might be fortunate, but there are several actors in Hollywood that would never get the chance to work with the actor again. Apparently, Pitt has a list of actors he wants to work with and actors he doesn't want to work with again.
This information was disclosed by Pitt's "Bullet Train" co-star Aaron Taylor-Johnson. While promoting the film, Taylor-Johnson had an interview with Variety and he let slip some information. He explained, "He just wants to bring light and joy into the world and be around people who are there to have a good time. You work with many actors and after a while you start making notes: 'I am definitely not working with this person ever again.' Brad has this list too: the 'good' list and the s*** list."