What Colors Pair Best With Shades Of Blue?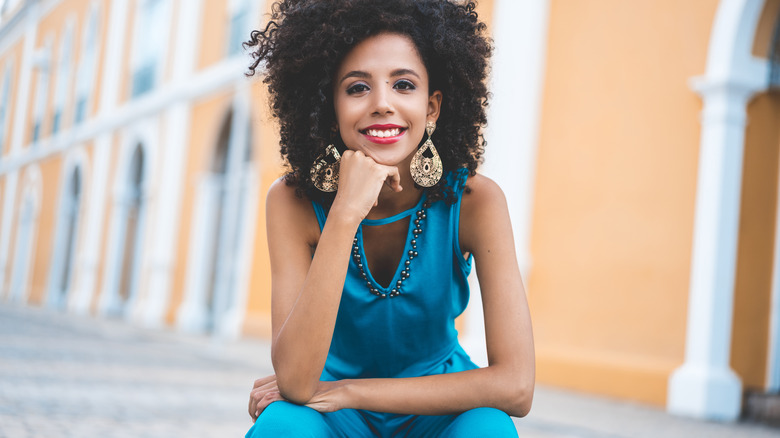 Pollyana Ventura/Getty Images
Blue is a hard color to miss when you're putting your wardrobe together. Whether consciously or unconsciously, you're bound to pick up at least one article of clothing that's blue (and yes your denim jeans count). 
If you're wondering how others perceive you according to the colors you wear, blue is all about calm vibes. In fact, as color-psychology expert Michelle Lewis explained to Insider, the lighter shades inspire people to think of holidays in relaxing environments, while the darker tones promote pensiveness. "It's an incredible color that can also make people feel more trust with you, so it's perfect to wear at work when meeting a new client or to calm a stressful situation," she added. 
Given its appeal, you'd think we'd all own more than just one or two shades of blue. But most of the time, we tend to stick with the navy or the pale (almost white) denims we proudly pull on every time we step out. Tackling other tints can feel a bit scary. But contrary to what you may think, other shades of blue go with a wide range of colors. You don't have to stick with just the whites and blacks (although they are classic blends that can never go wrong). Here's a list of colors that pair best with different shades of blue.  
Think yellow, red, and even orange with the lighter shades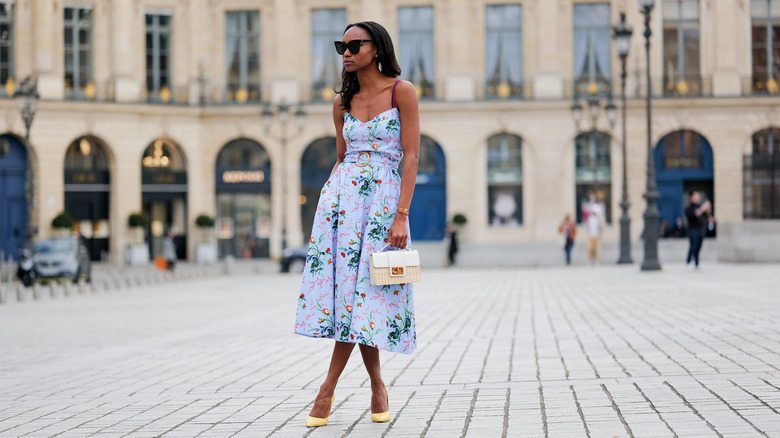 Edward Berthelot/Getty Images
Lighter hues of blue — like sky blue, baby blue, and powder blue — can look effortlessly great with whites, blacks, browns, and darker tints of blue but those are not the only colors you can best pair them with. Bright to deep reds, oranges, mint and lime green, olive green, and even mustard yellow are great colors to wear them with. Orange, particularly, might seem a little out there, but when paired correctly (for example, orange dress with pale blue denim jacket), you'd really be making a statement. 
Lavender and even a deeper midnight blue are some other great colors to combine with lighter blues. Granted lilac and light blue may be unconventional but they feature a soft and elegant look that's hard to beat. For NYC-based celebrity stylist Soneca Guadara, robin's eggs blue is her go-to shade when winter draws to a close. As she told InStyle, "I've incorporated the color by wearing it as a knit sweater to wearing it as a dress and adding a beige boot."
It's easy to disregard the more bright and middle-tier shades of blue — like royal blue, Persian blue, or Mexican blue — when you're putting an outfit together, mainly because the colors are bold in and of themselves. But this doesn't mean they don't pair well with other hues. In fact, royal blue and cherry-red make for an aesthetically pleasing ensemble. So do the blends of royal blue and teal or honey yellow. 
With the deeper blues, the sky is your limit
Darker shades, like navy blue, are easy tints to style. Practically any color goes with it and you don't have to try too hard. We're talking beige, grey, green, white, black, brown, yellow, red, orange, and even pink. 
According to YouTube style expert Gemmawhattowear, "[Navy blue] is a very classy and sophisticated color." To kick up the luxurious feel, try pairing the shade with burgundy. "There's lots of lovely ways to make this combo work. If you have some navy bottoms or even a very dark blue denim, add a burgundy top to them or a burgundy blazer." Granted burgundy might be a difficult color to find — especially as blazers or boots — but as and when you do find them, they work best with those deeper shades of blue you own.
Another thing you can fearlessly do with a darker tint is combine it with different gradients of blue. Just make sure you keep your ensemble simple and also mix up the materials. Jewelry goes a long way too. Accessories like a pale blue handbag or sky blue ballet flats can add just the right amount of layering to make you look effortlessly chic. Blue doesn't have to be a color you play it safe with. In the same way you can dazzle with blue makeup ideas, there are stunning ways to mix shades of blue clothing as well.