Zendaya's First Date Was A Glimpse Into Her Future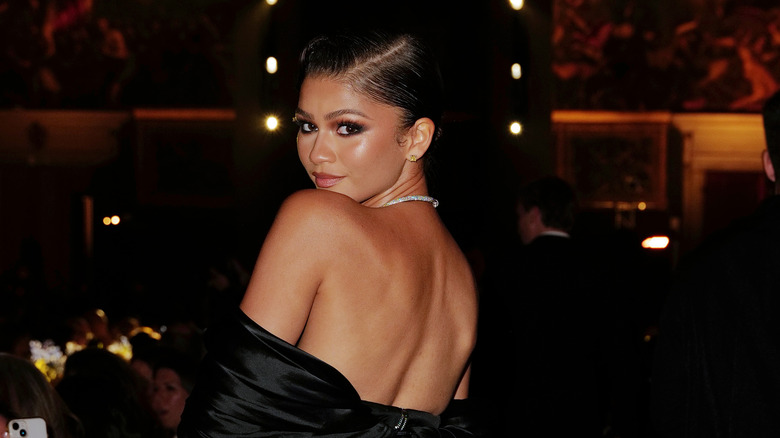 Claudio Lavenia/Getty Images
Zendaya and Tom Holland standing side by side — hands intertwined and smiles on their faces — is a common sight. Their names have been popular in headlines since the couple first announced they were dating back in 2021. A complete timeline of Zendaya's relationships would suggest that the two were flirting as early as 2017. The romance between these two captivated the internet since it first became clear that they were involved with one another beyond professional capacities. The truth about their friendship is that it budded into a relationship.
"They started seeing each other while they were filming Spider-Man," an anonymous source told Elle. "They've been super careful to keep it private and out of the public eye, but they've gone on vacations with each other and try and spend as much time as possible with one another." In 2021 the two went public with their relationship status, and since then, it's shifted from dating to boyfriend and girlfriend. Rumors of an engagement have been circling around the internet since 2022, but there's been no confirmation. However, a ring appearing on Zendaya's finger in a 2023 Instagram story has the internet talking.
An adorable foreshadowing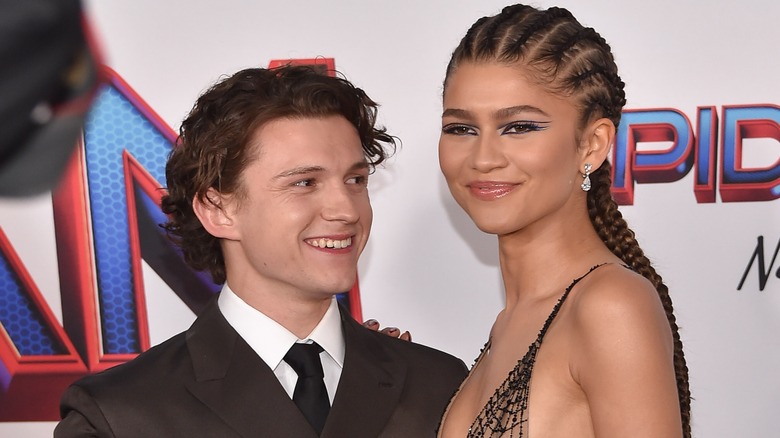 Gotham/Getty Images
Zendaya's dating history revealed a little bit of foreshadowing back in 2011 when she had her first date at age 15. At the CinemaCon's Big Screen Achievement Awards, she won the Star of the Year Award and, during her acceptance speech, revealed a cute tidbit about her first date and its ironic nature given her present. "Literally my first date was when I was 15 years old and it was to go see Spider-Man in 3D," Zendaya said in her speech.
Zendaya played Spiderman's love interest MJ in Marvel's "Spiderman: Homecoming," "Spiderman: Far from Home," and "Spiderman: No Way Home." The love story wasn't exclusive to the screen. Working together gave way to Zendaya and Tom Holland, who plays Spiderman in each of the Marvel movies, starting their own romance.
"One of the best things about playing Spiderman is getting to work with Zendaya," Tom Holland said in an IMDd interview, to which Zendaya responded in the same interview with, "One of the best things about playing MJ is getting to work with Tom Holland."
The nuisance of fame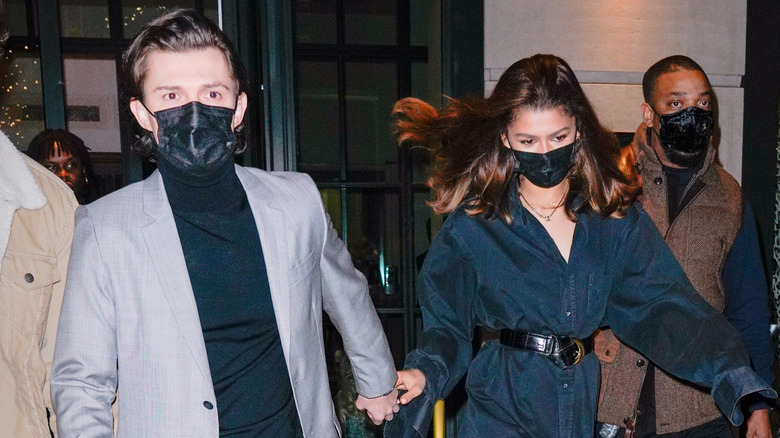 DFree/Shutterstock
Since going public with their relationship, Zendaya and Tom Holland have appeared in many interviews together. Being in the limelight, however, does take a toll. "One of the downsides of our fame is that privacy isn't really in our control anymore, and a moment that you think is between two people that love each other very much is now a moment that is shared with the entire world," Tom Holland told GQ.
Zendaya has 179 million Instagram followers and Tom Holland has 67.1 million, many of which are deeply invested in the love story between the two. While both expressed frustration about it being so public, finding small moments to keep to themselves is something that each prioritizes.
"I think loving someone is a sacred thing and a special thing — and something that you want to deal with and go through and experience and enjoy among the two people that love each other," Zendaya said in a South China Morning Post article.