Tucker Carlson's Disastrous Stint On Dancing With The Stars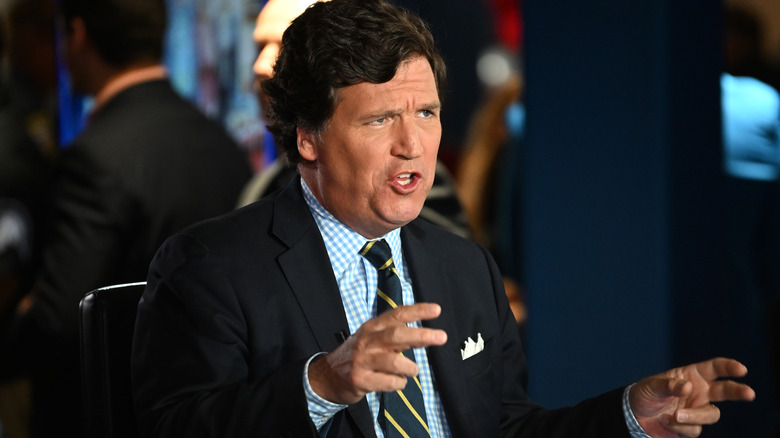 Jason Koerner/Getty Images
Tucker Carlson, TV personality and former Fox News correspondent, has danced with controversy for years now. But controversy isn't the only thing he's danced with. Back in 2006, before he started his now infamous career at Fox, he was on the hit reality show "Dancing with the Stars." At the time, Carlson was still a host for MSNBC, after having jumped from network to network, with his most notable jobs at CNN and PBS.
After his high-profile firing from Fox, people have been wondering what he'll do next. Carlson isn't the only one who was on the chopping block, either; Lara Trump suddenly found herself out of a job at Fox, too. Whatever it is, though, we hope it's nothing dance-related. While you've probably seen much worse dancers at family gatherings, Carlson's performance definitely left a lot to be desired. 
So, is he really that bad of a dancer? How "disastrous" could his short-lived stint on "Dancing with the Stars" really have been?
Who did he dance with?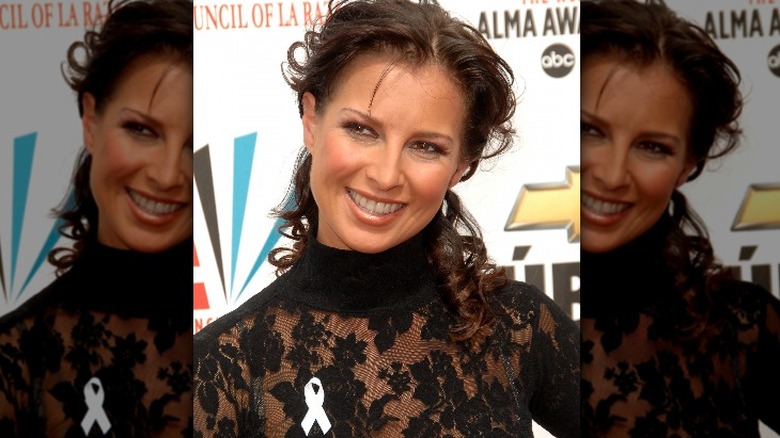 Jon Kopaloff/Getty Images
It is, admittedly, difficult to show off your dancing prowess when your partner is an international ballroom dance champion. On "DWTS," Tucker Carlson performed with Elena Grinenko, a Moscow-born dancer who currently offers personalized dance lessons. In her homeland, she studied dance at the Art Academy of Russia, before moving to the United States. It was there that she earned many of her biggest accolades, competing in a string of competitions and eventually becoming an American rhythm dancing champion, according to her official site. 
Most notably, Grinenko became a lead dancer in the Broadway show "Latin Fusion" in 2002, where she showed off her Latin dancing chops. It's no coincidence, then, that she danced the cha-cha-cha with Carlson just a few years later to the 1964 Motown smash hit, "Dancing in the Street." Also known as the "cha-cha," this dance originated in Cuba and gained worldwide popularity for its energetic rhythm. Grinenko, a formidable Latin dancer, brought the requisite energy to her fun performance. 
And Carlson... well, not so much. Unlike the song, his performance was decidedly lackluster. Grinenko quite literally dances circles around him for the first thirty seconds of the performance, while Carlson awkwardly sits and watches. When he finally does get up, his steps are so slow and clumsy that they'll leave you drowning in secondhand embarrassment.
What made his performance so terrible
Judge Bruno Tonioli didn't hold back with his remarks: He deemed Tucker Carlson's performance an "awful mess," expressing irritation and confusion at Carlson's insistence on sitting down during such a high-energy routine. Tonioli gave him the lowest score out of all the judges, an abysmal 3. Carlson seemed optimistic, though: "You know what?" he told the interviewer, "I'm going to win Bruno over ... the seeds of affection are there, and once he kind of marinates in me a little bit, we'll be friends." 
Carlson did have Tonioli on his NBC show later that year, where the "DWTS" judge assured the host that his criticisms "[came] from love," so maybe Carlson was right about those "seeds of affection" after all, (via NBC News). The other judges were a bit nicer with their critiques — Carrie Ann Inaba and Len Goodman both expressed admiration for Carlson's enthusiasm — but they still gave him low scores, a 5 and a 4, respectively. This totaled out to a disappointing 12 out of 30. 
The audience seemed supportive of Carlson's efforts, booing loudly at the judges' negative comments. Regardless of the audience's sympathy, though, Carlson was eliminated in the first round. Guess he'll never know the truth about winning "Dancing with the Stars" — he barely came close.