What We Know About Hallmark's New Flick, Love In Zion Nation: A National Park Romance
The most popular Hallmark movies have a soft spot in many of our hearts. Thus far, 2023 has not disappointed in terms of Hallmark movies, with newer films like "The Dog Lover's Guide to Dating" and "Sweeter Than Chocolate" capturing the attention of rom-com fans. The channel has moved from focusing only on holiday films to releasing a variety of movies throughout the seasons — and we couldn't be happier. 
The network has also moved to include more diversity within its casts and storylines. Actors like Dan Jeannotte have celebrated the Hallmark Channel's dive into diverse love stories, and fans have been eating up the broader range of films featuring diverse storylines including, but not limited to, "The Holiday Sitter" and "Double Holiday." 
And now, Hallmark is bringing together its commitment to diversity and its year-round movie schedule with the latest release, "Love in Zion Nation: A National Park Romance." Here is everything we know about the upcoming film, including what to expect from this rom-com, when it will air, and what we are most excited about.
A love story with a stunning backdrop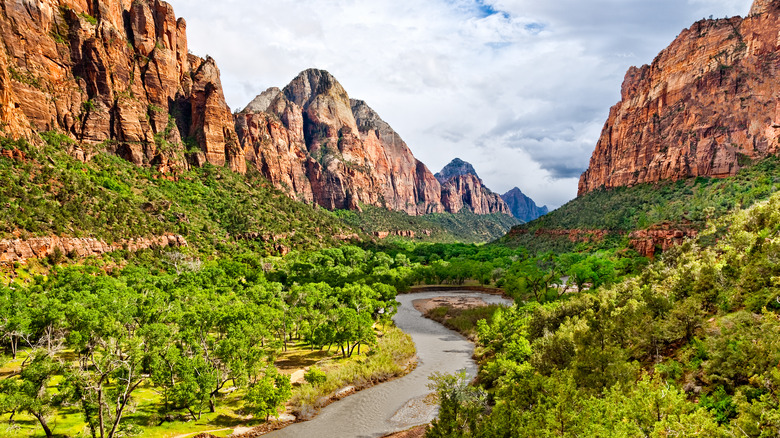 Jeffgoulden/Getty Images
There are plenty of reasons we can't wait for "Love in Zion Nation: A National Park Romance." But first off, we can't get enough of the iconic landscapes of Zion National Park. Located in Utah, this canyon-filled area includes breathtaking sandstones and cliffsides, which we think will only make the romantic comedy even more romantic. 
The film follows a curator named Lauren, played by Cindy Busby, who hopes to prove that a set of vases belong to the Pueblo Nation in Zion. She asks native Puebloans about secret passageways through the canyon and mountains. There, she meets a native Puebloan park ranger, played by David Gridley, and the two quickly start to fall for each other. 
Both Busby and Gridley have plenty of experience in the rom-com genre, with Busby recently starring in "Crown Prince of Christmas" and Gridley appearing in "The DUFF." Fortunately, we don't have to wait long for "Love in Zion Nation" to hit the small screen.
Love in Zion Nation will air May 20
"Love in Zion Nation: A National Park Romance" will air May 20 at 8/7 CT on the Hallmark Channel. Fans who are excited about the movie's release will be delighted to hear that this is not the only Hallmark movie set in a gorgeous national park that also premieres this month. In fact, it seems that May 2023 marks the National Park Romance series debut, meaning there will be a string of national park releases during the month. 
"Marry Me in Yosemite" and "Love in Glacier National Park" are also set to air in mid-May. These nature-set films are also serving as a precursor to Hallmark's June Weddings movie collection. Per usual, romance is in full swing over at the Hallmark Channel, and we are definitely not mad about it. As summer heats up, we're all looking forward to cooling off on the couch with our favorite Hallmark stars surrounded by nature.