Dan Jeannotte Celebrates Hallmark's Dive Into Diverse Love Stories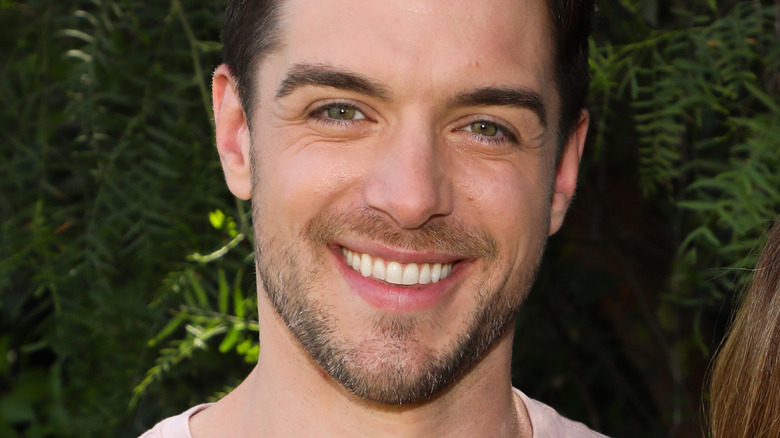 Paul Archuleta/Getty Images
We just cannot get enough of cozy vibes, holiday cheer, and happy endings — all the reasons people love to watch Hallmark movies. The gurus of the made-for-television rom-com have mastered not only the holiday season but a year-round schedule of wholesome and charming movies. "Think of us as your celebration destination," said "Full House" alum and Hallmark star Candace Cameron Bure on the channel's website. From January's Winterfest to the timely Spring Fling series, new Hallmark films consistently hit the small screen.
And these updated Hallmark romantic comedies have begun branching out from the network's traditional roots. The company faced backlash in 2019 after it stopped airing an ad by the wedding-planning website Zola that featured a same-sex marriage (per The Wrap). The network later continued airing the ad and produced movies with more diverse casts. The first time Hallmark included LGBTQ characters was in 2020 with "The Christmas House," featuring Jonathan Bennett and Brad Harder in supporting roles.
One of our favorite Hallmark stars is thrilled about the network's commitment to celebrating romances with LGBTQ and racially diverse casts. Here's what he has to say.
'Sweeter Than Chocolate' star Dan Jeannotte has a sweet message about inclusivity in film
Canadian actor Dan Jeannotte has been one of our TV favorites since his career took off with CW's "Reign" and Freeform's "The Bold Type." Jeannotte is now a Hallmark standout, starring in "Paris, Wine & Romance," "The Royal Nanny," and 2023's "Sweeter Than Chocolate." But Jeannotte's presence isn't only strong on screen. Speaking with journalists while promoting his latest Hallmark film, Jeannotte made his support for diverse movies and television explicitly known.
Jeannotte told Us Weekly that "Sweeter Than Chocolate" was yet another step in Hallmark's journey to becoming more inclusive, saying the film was a "different kind of story" that stood out from past holiday rom-coms. The movie–which follows an investigative reporter who attempts to debunk a chocolatier's claim that eating one of her Cupid chocolates will lead them to love–included LGBTQ couples.
"There gets to be a great diversity of love stories, we have older people falling in love and same-sex couples. There is a nice diversity and that means a lot to me," Jeannotte told Digital Journal. The actor noted that "the other love stories" being explored in these films "show there [are as] many different ways to fall in love as there are different people in the world."
Dan Jeannotte says diverse movies bring him 'joy'
Actor Dan Jeannotte is one of many whose hearts light up as more representation in entertainment. "I feel good to be amongst people who are telling these diverse kinds of stories," Jeannotte told Us Weekly. "[We're] seeing gay love stories, love stories with people who met later in life, older people who fell in love after having a marriage or losing a partner." And seeing such a wide array of characters with different backgrounds warms Jeannotte's heart. "I think it's so important that networks [and] writers are telling these kinds of stories. I'm so happy that Hallmark is doing that now," the rom-com actor added. "It brings me a lot of, of joy ... I feel good to be amongst people who are telling these diverse kinds of stories."
The Canadian actor is not alone in applauding Hallmark for diving into less traditional storylines. "Mean Girls" star Jonathan Bennett, who starred in and executive produced Hallmark's first movie centering around a gay couple, shared his excitement on Instagram leading up to the film's December 2022 release: "'The Holiday Sitter' will make history as the first Leading Gay Couple in a Hallmark Christmas movie EVER! Words can't describe what it feels like to have Executive Produced and starred in such an incredible story that will mean so much to so many!"
Stars and fans alike are excited to see what other diverse stories Hallmark has next.