The 'Spectacular' Role Teri Hatcher Played On This Iconic Seinfeld Episode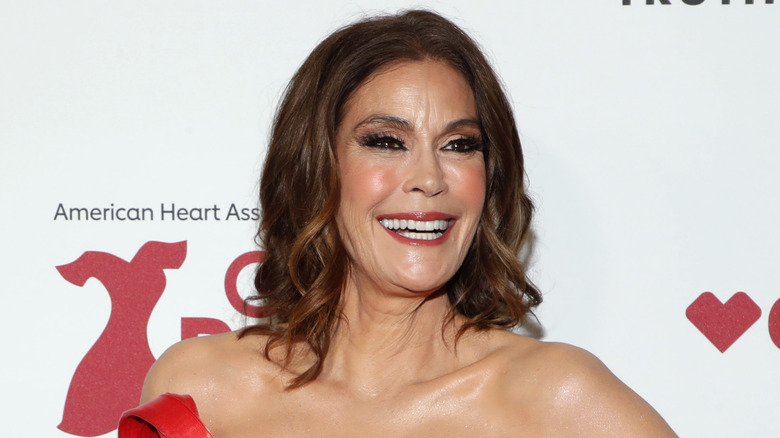 Astrid Stawiarz/Getty Images
With Teri Hatcher's undeniable talent, versatility, and stunning screen presence, she has indeed captivated audiences. Her illustrious four-decade-long career in the industry, from her breakout role on "Lois & Clark: The New Adventures of Superman" to her impressive performances in the hit show "Desperate Housewives," has solidified her status as an accomplished actress in Hollywood. Now that Hatcher has a grown-up daughter, she can proudly share her career accomplishments with her family. 
She has guest-starred in some of the famous shows on TV, and probably one of the most unforgettable stints she did was her guest appearance on an episode of "Seinfeld." In the episode titled "The Implant," Hatcher took on the role of Sidra Holland, a beautiful woman whom Jerry Seinfeld becomes infatuated with. Her chemistry with the cast, especially with Seinfeld, has created a humorous dynamic on-screen. She may have appeared in just three episodes of the sitcom, but she still vividly remembers details of her first guest appearance on the show.
As it turns out, the scene was memorable not only to the audience but to her as well. In 2014, Rolling Stones interviewed notable "Seinfeld" guest actors in celebration of the show's 25th anniversary, and Hatcher spilled some details of her iconic moment.
Her spectacular moment was real but wasn't originally part of the script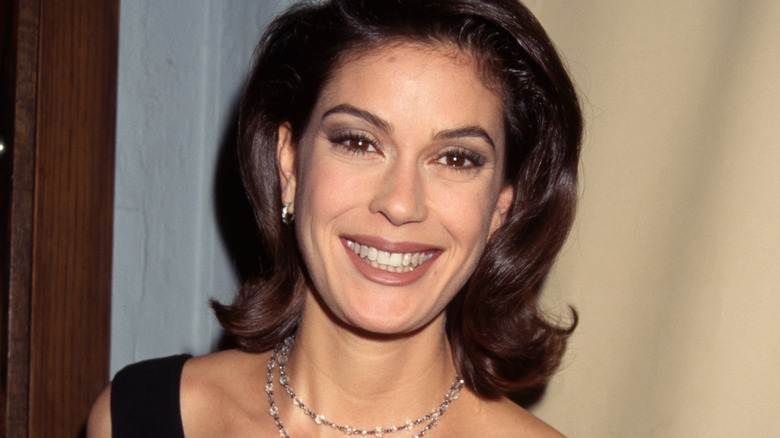 Mitchell Gerber/Getty Images
In a scene where Jerry and Sidra are hanging out in his apartment, Elaine — who had previously "accidentally" felt Sidra up in a sauna — suddenly shows up. Sidra immediately realizes Jerry had sent Elaine to the sauna to check the authenticity of her breasts and decides to break up with him. Before leaving for good, she said the iconic line, "And by the way, they're real, and they're spectacular!"
Teri Hatcher still remembered how that scene went. Regarding "Seinfeld" co-creator Larry David, she told Rolling Stone, "Larry may remember this differently, but in terms of the now-famous line... when you were taping in front of a live audience, Larry would feed you lines. He'd say, 'Okay, go through the door, turn this way, and say this.'" She further explained, "I remember that being one of the lines he fed me when, after I'd said it, it just stuck. I don't think it was the original script; I'm pretty sure he just came up with it on the spot. Larry David deserves all the credit for the joke working so wonderfully. Well, Larry and Mother Nature, I guess." (via Vanity Fair).
Hatcher's success is not without controversy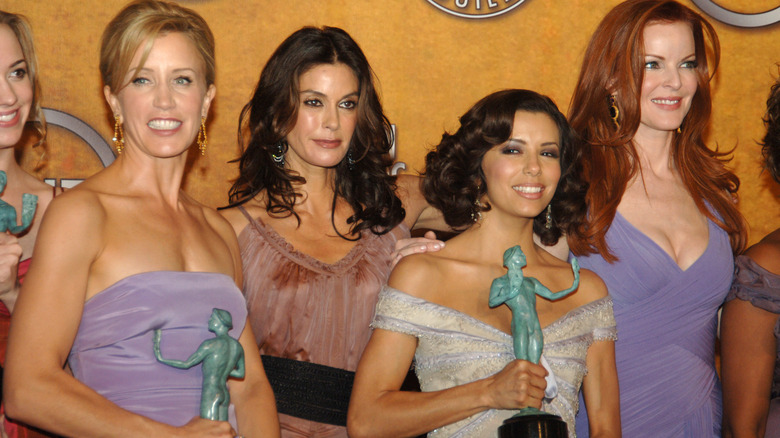 Jeff Kravitz/Getty Images
Aside from her memorable stint on "Seinfeld," another significant show in Teri Hatcher's career is the show "Desperate Housewives." Although the show was a great success with its 8-season run, it was rumored that Hatcher did not get along well with her co-stars on the show. Even though the series ended in 2012, rumors are still swirling in the industry and might be among the reasons why a "Desperate Housewives" revival will never happen. 
In 2013, Daily Mail asked Hatcher about her relationship with her co-stars. Deflecting the question and instead crediting everyone for the success of the show, she said, "What I would and have always said is that the show, while it took many happenings to miraculously make it the success it was — the writing, the time of airing, the director, all that stuff — it was really the four of us in the beginning that just had some sort of magical chemistry."
She was referring to original cast members Eva Longoria, Marcia Cross, and Felicity Huffman, who were on the show since the start. She added, "There's just nobody else who could have brought those characters to life, and I honor every single one of them for what they brought to that journey and have never ever wished any of them anything but greatness and will continue to do that."