The Real Reason A Desperate Housewives Revival Will Never Happen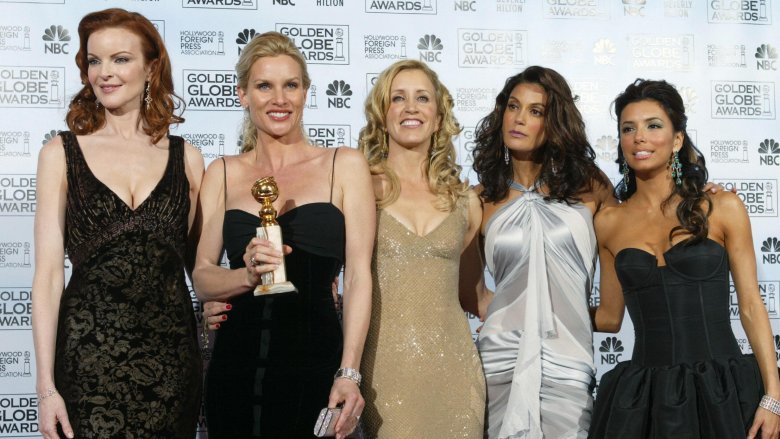 Hector Mata/Getty Images
With basically every TV show ever being revived, it's surely only a matter of time before the ladies of Wisteria Lane return. In fact, fans of Desperate Housewives, which ran for eight seasons on ABC from 2004 to 2012, have been clamoring for a reboot ever since the show wrapped. 
Series stalwarts Teri Hatcher, Felicity Huffman, Marcia Cross, Eva Longoria, Nicollette Sheridan, Dana Delaney, Ricardo Antonio Chavira, Brenda Strong, Jesse Metcalfe, and James Denton would all have to come back for the show to really feel like itself; has too much happened in the intervening years, or is there just no interest? What's holding everyone back from resurrecting a sure thing?
The ladies of Desperate Housewives are totally game for a revival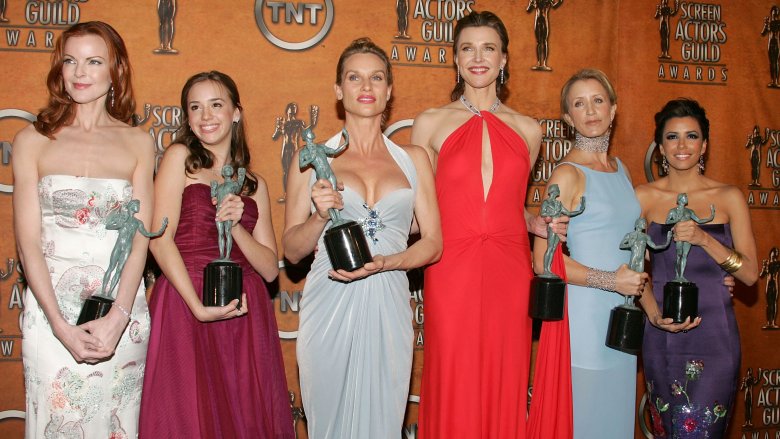 Vince Bucci/Getty Images
In early 2018, during an appearance on UK panel show Loose Women (via Digital Spy), Hatcher shot down the idea of a Desperate Housewives revival simply because she doesn't think revivals in general are very good. However, Hatcher was quick to note it's nothing to do with the stars themselves. 
"It's not the women. I think the women would probably all do it. I'd be the first person. I never wanted it to be over. I love those characters," enthused the actor. Likewise Eva Longoria told Pop Culture in 2017, "I would jump at the chance to play Gaby Solis again. I miss her! I miss her skin and I miss being in her skin." 
Back in 2013, Hatcher even floated the idea of a movie adaptation to satiate fans' appetites for more Wisteria Lane action, but nothing seems to have materialized.
So why won't a Desperate Housewives reboot happen?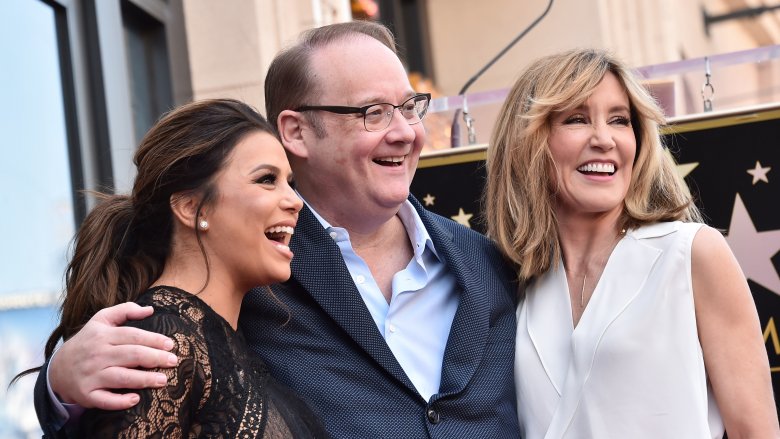 Alberto E. Rodriguez/Getty Images
Unfortunately, in August 2019, Desperate Housewives creator Marc Cherry dashed hopes our of a revival. Cherry, who's working on new show Why Women Kill, took the opportunity to completely shoot down the idea of a reboot.
"I did 180 episodes of Desperate Housewives, unlike a Sex and the City, which was on cable and didn't do as many. I feel like I've done that, and in a weird way, I found a new way to do it because so many of the themes that I get to deal with are on this show," he explained, according to Deadline.
Cherry advised that Why Women Kill is less stressful because it's streaming and is only 10 episodes total, while Desperate Housewives required creating more and more innovative story-lines each season. "'OK, I got to do a cliffhanger every year and their lives have to change completely' — and, oh, God, that's so hard," he admitted.