The Striking Amount Of Money Queen Elizabeth's Funeral Reportedly Cost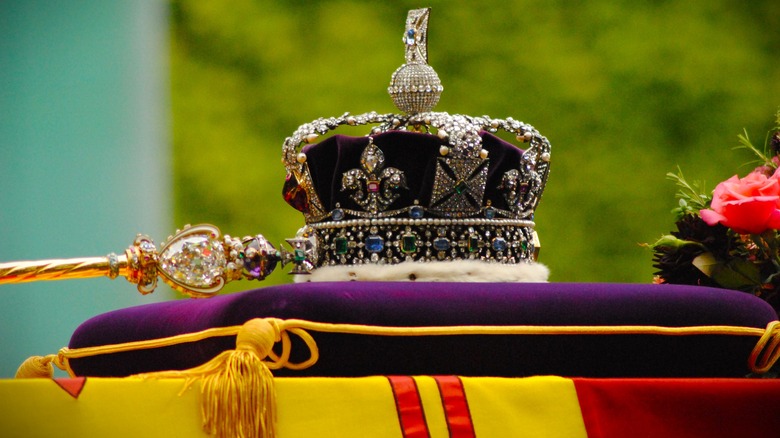 Lwsi Cox/Shutterstock
After Queen Elizabeth II passed away at Balmoral Castle on September 8, the United Kingdom entered 10 days of national mourning that culminated in her funeral. Before the funeral, people waited in line for hours to walk past her coffin as it was lying in state at Westminster Hall. One of the touching moments of that time was when Queen Elizabeth II's grandchildren all stood vigil at Westminster. It was an event that was decades in the planning with nearly 300 people involved in getting all the details right, as reported by The Times.
Along with the funeral itself, there was a procession through London and to Windsor Castle where the queen was laid to rest in St. George's Chapel. And such a grand event doesn't come cheap. The projected costs for Queen Elizabeth II's funeral had some on Twitter seeing red, but at the time of the event, it was just speculation. Now we know exactly what the costs were thanks to a report from the British treasury.
The security costs were the biggest expense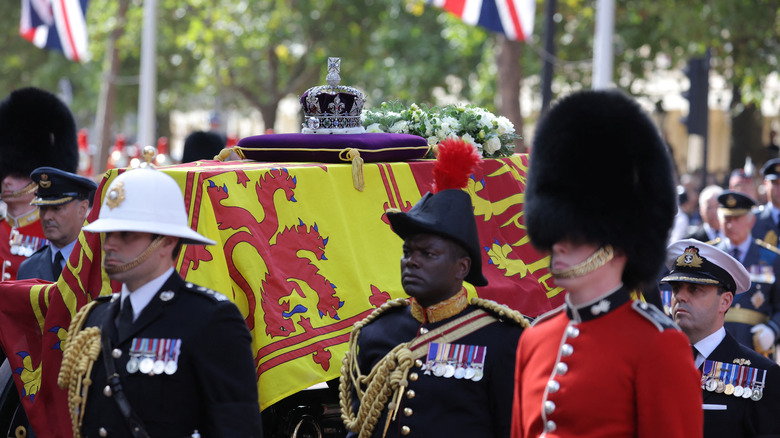 Wpa Pool/Getty Images
In a statement to the UK Parliament, the Chief Secretary to the Treasury John Glen reported that the total estimated cost of Queen Elizabeth II's funeral, including the lying in state, was nearly £162 million, or around $200 million. He said, "The Government's priorities were that these events ran smoothly and with the appropriate level of dignity, while at all times ensuring the safety and security of the public."
There was a breakdown of the costs incurred according to governing body. Costs incurred by the Home Office amounted to £73.68 million. The Home Office is in charge of the police and counter-terrorism, so it makes sense that there was a lot of money spent there considering the scale of the event. It was the largest police operation ever undertaken by the Metropolitan police, surpassing that of the London Olympics, according to The Guardian. Meanwhile, costs incurred by the Department for Culture, Media & Sport amounted to £57.42 million, the next highest amount.
"All figures are the marginal costs, meaning money spent specifically on the events, as opposed to costs that would have been incurred in any case," the statement reads. "Where necessary, additional funding was provided by the Treasury to meet these costs. This included fully refunding the Scottish Government, Welsh Government and Northern Ireland Office for their respective costs, which in turn they were able to repay to partners who also incurred costs."