Twitter Is Moved To Tears As Queen Elizabeth's Grandchildren Stand Vigil At Westminster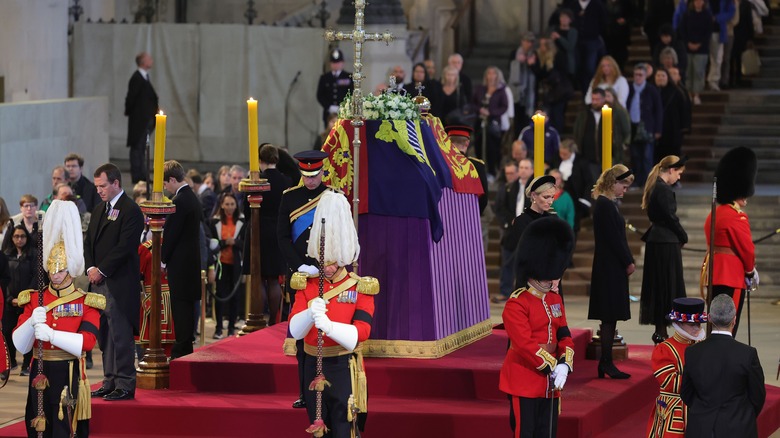 Chris Jackson/Getty Images
In honor of their late grandmother, Queen Elizabeth's grandchildren stood vigil at her coffin on Saturday, September 17, to pay their respects. 
At the vigil, Prince William, the Prince of Wales, and Prince Harry — dressed in uniform – led the grandchildren to a circle around the coffin, where they stood in honor, per the BBC. At the head of the queen's coffin stood Prince William while Prince Harry stood at the opposite end. The queen's other grandchildren stood in a circle, the group including Princess Beatrice and Eugenie and Zara Tindall and Peter Philips. The ceremony followed a similar memorial the queen's children held, during which they stood for 10 minutes to honor the late queen as she lies in state at Westminster Hall. The grandchildren standing vigil at the coffin comes as Queen Elizabeth's funeral is set to be held on Monday, September 19.
And as the grandchildren looked stoically to the floor as crowds passed by, it didn't take long for fans to notice how touching the moment was. Taking to Twitter, one fan noted how poignant the ceremony was, writing, "Omg I'm so emotional watching the queen's grandchildren standing vigil at her casket." Echoing a similar statement, another fan added, "I'm crying watching HRH The Queen's grandchildren keep vigil on their precious Granny. How proud their parents must be." Adding to that, one fan put it succinctly, writing, "The grandchildren's vigil is beautiful," alongside a crying emoji. 
Twitter quickly pointed out a heartbreaking royal parallel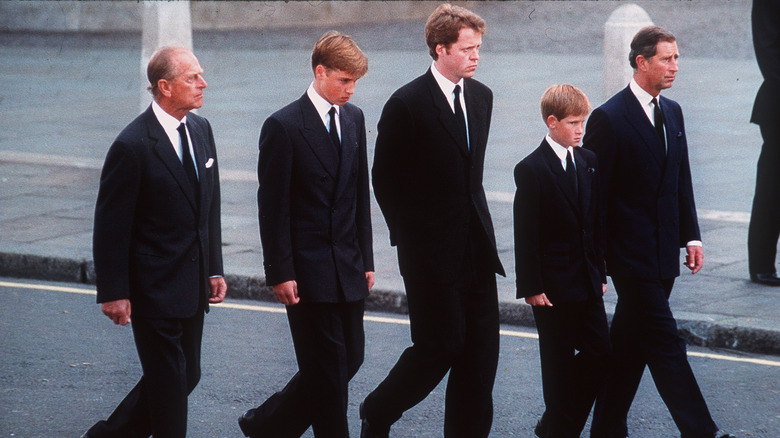 Anwar Hussein/Getty Images
As onlookers watched Queen Elizabeth II's grandchildren stand vigil alongside her casket, users on Twitter were quick to point out a rather heartbreaking parallel between two royal grandchildren. James, Viscount Severn, is the 14-year-old grandchild of Queen Elizabeth II and son to Prince Edward and Sophie, Countess of Wessex. As the young royal stood at his grandmother's side in Westminster Hall with his head cast downward, Twitter couldn't help but note that he looked eerily similar to a 15-year-old Prince William as he attended his own mother's funeral in 1997. 
"Bless all the royal grandchildren for that vigil. Especially the Wessex children: so young and not much in the spotlight, hope someone gave them a hug after. Couldn't help thinking how much James Viscount Severn with his teen floppy hair looked like William at Diana's funeral," one Twitter user poignantly stated. "Extraordinary viewing. How in sync were William and Harry? James looked so much like William in 1997. That was history," wrote another. The Wessex children, James and his older sister, Lady Louise, have stayed relatively out of the spotlight as compared to their royal counterparts, but the two have been front and center amid the queen's mourning and funeral processions. 
Social media also took note of William and Harry's united front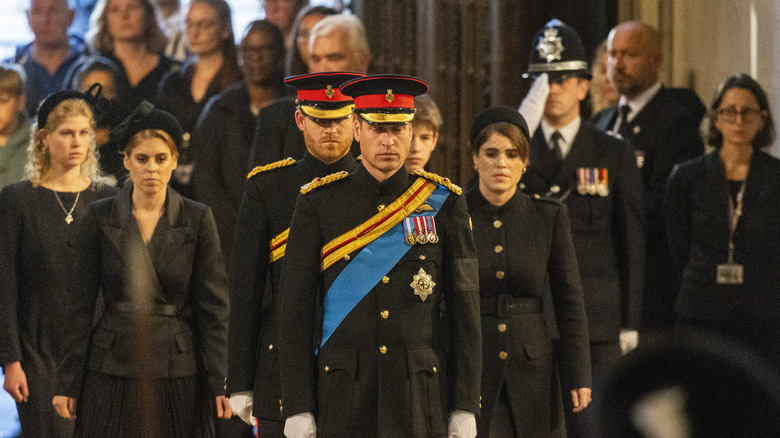 Wpa Pool/Getty Images
All eyes have been on Prince William, Prince of Wales, and Prince Harry, Duke of Sussex, as the two have reunited to mourn the loss of their grandmother, Queen Elizabeth II. While body language, disinvited drama, and reports of icing out have plagued the two feuding royals amid their shared time in the United Kingdom, Twitter was quick to point out that the brothers presented a united front during the grandchildren-led vigil honoring Queen Elizabeth II. 
"Incredibly moving to see Princes William & Harry & the rest of the queen's grandchildren paying tribute to her by holding vigil in Westminster Hall this evening," one Twitter user wrote, with another addressing the naysayers consistently surrounding the Duke of Sussex. "You'd have to have a heart of stone to not be moved by William, Harry, Eugenie, Beatrice, Zara and the other grandchildren standing vigil at the Queen's coffin," they wrote. With the queen's funeral set for Monday, September 19, time will tell if William and Harry's reunion will transform into true reconciliation.