Prince Harry Once Compared Himself To This Character From Friends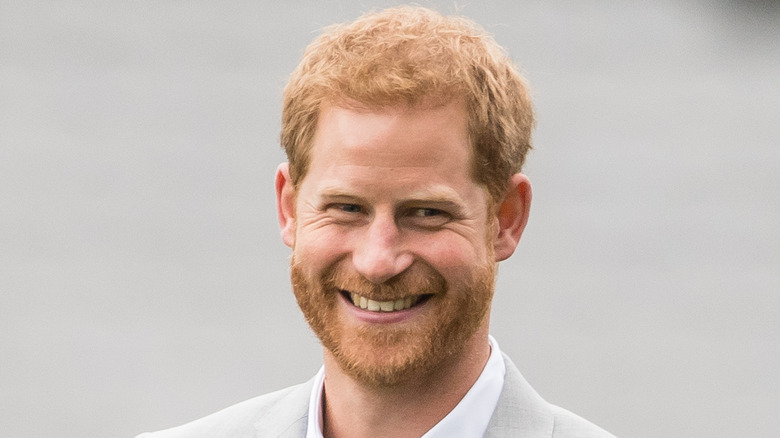 Samir Hussein/Getty Images
Prince Harry has his place in pop culture for multiple reasons. The royal has been making headlines since childhood for things such as his famous family, the women he's dated, and the scandals that have surrounded him. Of course, these days, you can't mention Harry without also talking about his wife, Meghan Markle. The pair are two of the most famous celebs in the world, but that doesn't stop them from being regular people and enjoying things such as popular TV shows. In fact, Harry has admitted that he's a huge fan of the iconic television series "Friends." He's even admitted that he is most like Matthew Perry's character, Chandler Bing, and many fans would likely agree.
"Friends" fans know that Chandler is the jokester of the group and is always good for a snarky comment or quip to break the ice. However, the character can also be insecure and has deeply rooted issues with his parents. During the 10 seasons that "Friends" was on the air, Chandler dated multiple women but couldn't make it work with anyone until he fell head over heels for his close friend, Monica. The two eventually got married and later welcomed a son and a daughter via adoption.
For Harry, "Friends" holds a very special place in his heart, as the show helped him during a difficult time in his life.
Prince Harry was once star struck by Courteney Cox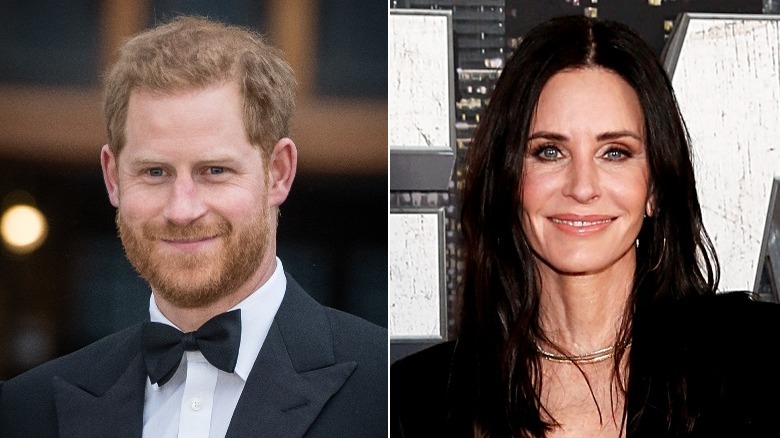 Dominik Bindl & Samir Hussein/Getty
In his book, "Spare," Prince Harry revealed that when he was suffering from mental health issues, he kept away from crowds. Instead, he stayed in and watched all 10 seasons of "Friends" and came to realize that he identified with the character of Chandler. "Day after day, night after night, I sat around eating takeaway, watching '24' or 'Friends.' I think I might've watched every episode of 'Friends' in 2013. I decided I was a Chandler," he wrote (via People). "People often speculated that I was clinging to my bachelor life because it was so glamorous. Many evenings I'd think: if only they could see me now. Then I'd go back to folding my underwear and watching 'The One with Monica and Chandler's Wedding,'" he added.
A couple of years later, Harry got a chance to meet Chandler's on-screen wife, Monica, when he stayed at the home of Courteney Cox with mutual friends. "No complaints from me. As a 'Friends' fanatic, the idea of crashing at Monica's was highly appealing. She was Monica. And I was a Chandler. I wondered if I'd ever work up the courage to tell her. Was there enough tequila in California to get me that brave?" the memoir reads.
Eventually, Harry landed his very own Monica when he met and later married Meghan Markle.
Staffers reportedly referred to Harry and Meghan as Chandler and Monica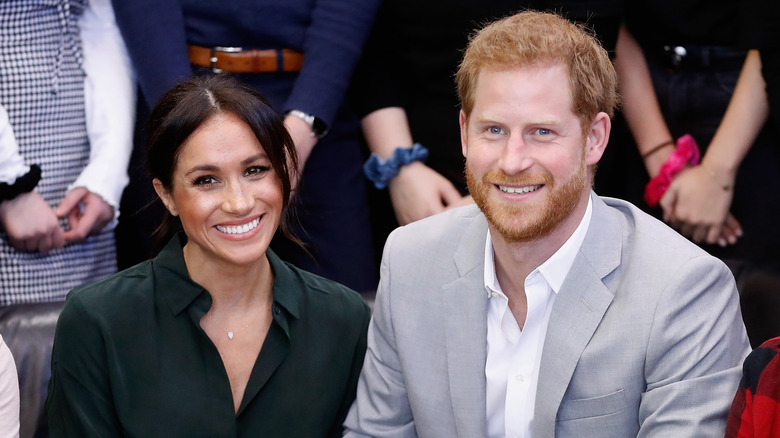 Chris Jackson/Getty Images
While Prince Harry is a self-proclaimed "Friends" fanatic and fancies himself a Chandler Bing, it seems that his wife, Meghan Markle, may also share similarities to Chandler's wife, Monica Gellar. According to the Daily Mail, members of the royal staff allegedly used to refer to the Duke and Duchess of Sussex as Chandler and Monica because of their personalities. Fans of the TV series may remember that Monica was portrayed as a bossy, clean freak who loved to be in control. Meanwhile, Chandler was a goofy yet lovable character who often let his wife take the lead.
Royal author Robert Jobson wrote in a biography about King Charles III that during Harry and Meghan's wedding planning, the prince would often make it clear to staffers that Meghan should be given whatever she wanted in preparation for the big day (via Express). Meanwhile, Meghan's estranged father, Thomas Markle, has also accused his daughter of being controlling.
All "Friends" fans can likely relate to one of the characters, whether they're carefree and fun like Joey or Phoebe, analytical like Ross, self-involved but sentimental like Rachel, sarcastic like Chandler, or controlling like Monica. It's easy to connect to the characters, which is exactly what Prince Harry and millions of fans around the globe have done.