Royals Who Weren't Afraid To Show Their Emotions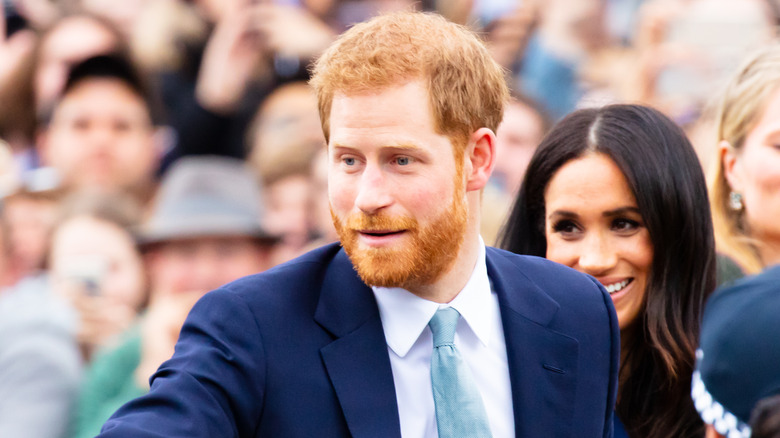 FiledIMAGE/Shutterstock
The following article references suicide.
The royal family members are known for a variety of things — their opulent wealth, their slightly out of touch approach to the public, and their stiff upper lip approach to emotion. Any child of a British family with grandparents of Queen Elizabeth II's generation can tell you that expressing lovey dovey feelings isn't exactly the natural way. While affection can be shown in shared time together, mutual hobbies, or acts of service, expressing how you feel certainly isn't the usual British way — the royals have followed this to the letter.
For all the years she was on the throne, Elizabeth maintained a decorum that was truly mind blowing. She was not pictured crying while disembarking her plane in the immediate aftermath of her father's death, and she kept her composure in the wake of the Windsor Castle fire. Time and time again, she charged ahead with a level headedness that only few can say they've achieved, and she certainly became known for her balanced approach. Still, other royals have let their emotions slip out on occasion, and some have even been steadfast in sharing.
Prince Harry, of course, is known for expressing himself and sharing the realities of royal life. Tremendously open about mental health, Harry has made a name for himself by redefining what it means to be a member of the royal family. Still, others have shared their own feelings on the public stage — no stiff upper lip here.
King Charles III was seen crying following his mother's death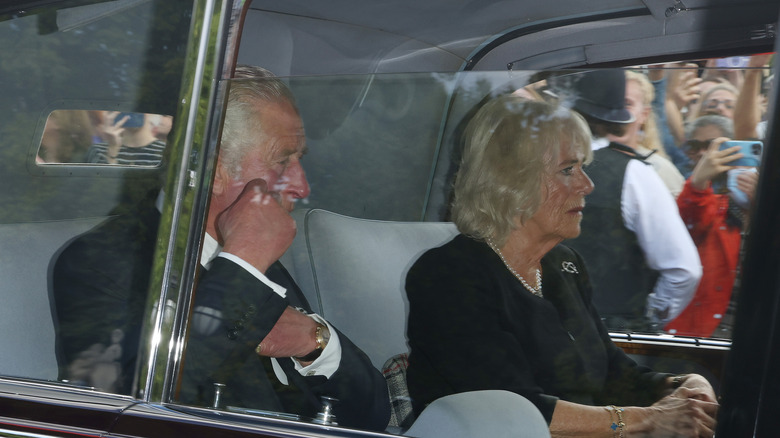 Neil P. Mockford/Getty Images
When Queen Elizabeth II died in September 2022, the world stood still. Her advanced age and declining health made her passing fairly predictable, but it was still a monumental loss, given her dedication to the crown and the length of her rule. Of course, her children had lived the majority of their adult lives with their mother still alive — it was an emotional loss for them on a number of levels, and King Charles III was particularly taken aback by his mother's death.
Given that he became monarch immediately following Elizabeth's death, Charles embarked on a tour of Great Britain in the days that followed to greet mourners and establish himself as the new king. However, doing so amid personal loss was hugely impactful for Charles, and he was seen crying the day after the queen's death. The new monarch subsequently released a heartfelt statement, paying tribute to Elizabeth as both a ruler and a mom.
"The death of my beloved Mother, Her Majesty The Queen, is a moment of the greatest sadness for me and all members of my family," he wrote. "We mourn profoundly the passing of a cherished Sovereign and a much-loved Mother. I know her loss will be deeply felt throughout the country, the Realms, and the Commonwealth, and by countless people around the world."
Prince Harry got emotional while talking about his late mother
After leaving Great Britain for California, Prince Harry embarked on a crusade of sorts to share the realities of royal life. Instead of the castles and wealth and recognition, Harry painted a picture depicting press office backstabbing and a family at war with itself. As part of his efforts, Harry released his tell-all memoir, "Spare," and sat down with Anderson Cooper for an expository interview to discuss the book in length. Reflecting specifically on his mother, the late Diana Spencer, Harry emotionally revealed that not only did he not shed a tear when he was delivered the news of her death at the young age of 12, but that he genuinely believed that it was all a ruse.
"In the book you write, '[King Charles III] says, 'They tried, darling boy. I'm afraid she didn't make it.' These phrases remain in my mind like darts on a board,' you say," Cooper said. "Did you cry?"
"No. No. Never shed a single tear at that point," Harry replied. "I was in shock, you know? ... For a long time, I just refused to accept that she was — she was gone," Harry said. "Part of, you know, she would never do this to us, but also part of, maybe this is all part of a plan ... and then that she would call us and that we would go and join her."
Meghan Markle shed a tear during this viral moment at the queen's funeral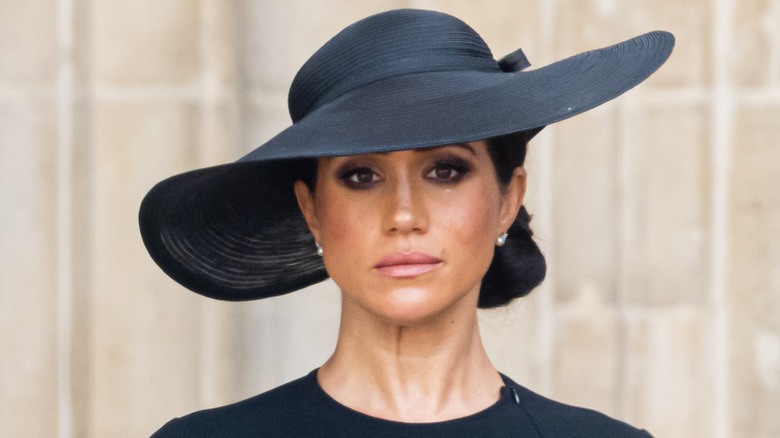 Samir Hussein/Getty Images
Queen Elizabeth II was honored with an official mourning period following her death, culminating in her state funeral. All eyes were on the royals unlike ever before, and some wondered if Prince Harry and Meghan Markle would travel from the United States to Great Britain to attend. Though their relationship with the royals was — and is — rocky, Harry and Meghan made the trip and were seen alongside the members of the family while honoring the queen. It was an emotional moment watching the royals leave Westminster Abbey as the queen's funeral service concluded, and royal watchers were met with a display of sadness on Meghan's part.
Standing outside the abbey next to Queen Camilla and Catherine, Princess of Wales, Meghan was seen wiping away a tear in what quickly became a viral moment. Her emotions were noticed by little Princess Charlotte, who looked up at Meghan, resulting in a sweet smile shared between them. Meghan was the picture of emotional poise, and social media immediately took notice.
Shedding a tear wasn't the only small touch that Meghan offered on the day. She was seen in pearl and diamond earrings gifted to her by Elizabeth throughout her stay in England, nodding to the close — albeit brief — relationship that they shared.
Princess Anne had an emotional moment when saying goodbye to the queen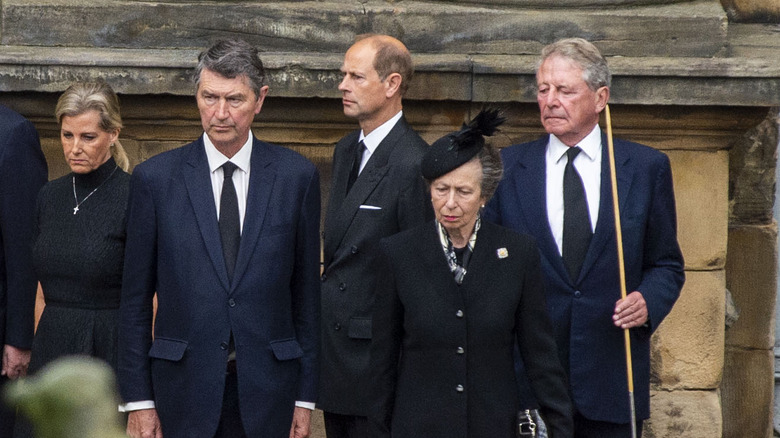 Wpa Pool/Getty Images
Princess Anne could be considered the most stoic of the royals. Queen Elizabeth II's second child and only daughter, Anne is a workhorse who has dedicated herself to the monarchy unlike any other member of the royal family; she is often named the hardest working member of the firm, outshining her older brother with the amount of engagements she attends. Anne is no fuss, all things business, and forthright — seeing emotions on her part is like witnessing a shooting star in the sky, but royal watchers were granted a glimpse into her feelings following her mother's passing.
After Elizabeth passed at Balmoral in Scotland, Anne escorted the coffin as it traveled throughout Great Britain so mourners could pay their respects. There was not a stop along the way that Anne was not present, and her dedication was brought to a new level in the public eye. When the queen's coffin was transported to the Palace of the Holyroodhouse in Scotland, Anne curtsied for what would be the last time to her mother, and the moment was moving.
Caught on-camera, Anne was standing next to her husband, Vice Admiral Timothy Laurence, as she took her final bow to the late monarch. Her face was sullen, clearly distressed, and the subtle emotional glimpse reminded all royal watchers just how much respect Anne had for the queen. It was truly a sight to see.
Queen Elizabeth II let her emotions do the talking during Prince Philip's funeral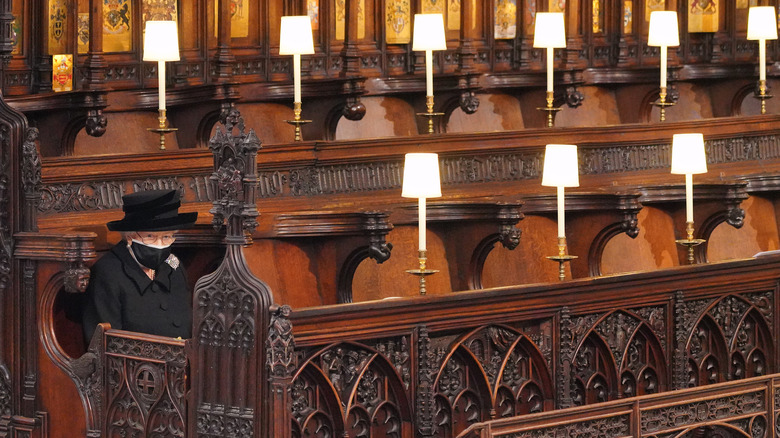 Wpa Pool/Getty Images
For decades, Queen Elizabeth II and her husband, Prince Philip, oversaw Great Britain as a united front. The two were always together, engaging with the public and displaying their dedication to the Commonwealth time and time again. While they were never overly affectionate with one another, their union was seen as a great example of respect and mutual admiration, and it was a sad day when Philip died in April 2021. Like the rest of the world, Britain was under strict COVID-19 protocols to avoid mass infection — as such, plans for a large funeral for the consort were abandoned and instead replaced with a scaled back service featuring just immediate family. What transpired was an emotional moment for the royals, but especially the queen, who was photographed taking in the event with a level of sadness that was truly heartbreaking.
After Philip's coffin was moved from Windsor Castle to St. George's Chapel, the queen sat in the pews to honor her husband for the last time, alone. Wearing all black and a face mask, Elizabeth let her emotions do the talking — the photograph of her sitting far away from her family members due to COVID-19 protocol was truly heartbreaking, and was seen as a stark reflection of the traumatic health event the world was gripped by.
Prince William got emotional when remembering his mom
While Prince Harry has expressed his emotions and shared the realities of royal life, his brother, Prince William, has taken a far more traditional and firm-oriented approach. As the future king, William has arguably embraced the royal system for all its flaws; like his elder family members, he has seldom expressed his true emotions in a way that rejects the stiff upper lip approach. However, one talking point that William has historically been emotionally open about is the death of his mother, the late Diana Spencer, and he spoke about the moment he found out she passed while speaking at the General Assembly of the Church of Scotland.
William and Harry were in Scotland, at Balmoral Castle, on August 31, 1997. They were just 15 and 12 at the time. "Scotland is incredibly important to me and will always have a special place in my heart," William said of the country during his speech. "I've been coming to Scotland since I was a small boy. As I grew up, I saw how my grandmother relishes every minute she spends here. And my father is never happier than when walking among the hills."
"I was in Balmoral when I was told that my mother had died. Still in shock, I found sanctuary in the service at Crathie Kirk that very morning," he continued. "As a result, the connection I feel to Scotland will forever run deep."
Princess Diana was brought to tears during an appearance in Liverpool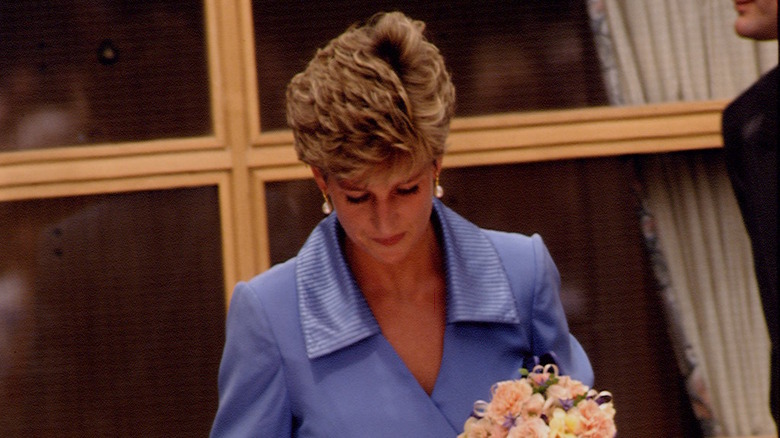 Mathieu Polak/Getty Images
Of all the royals to kick tradition to the curb, Princess Diana was — and arguably still is — unmatched. Rejecting the stiff upper lip and royal decorum, Diana embraced the public with a warmth that was rare. She hugged people on a regular basis, got down to the eye level of children while speaking to them – touch was an integral part of her approach to public life, and she was even brought to tears during a visit to Southport in 1992.
In the early 1990s, Diana and King Charles III's marriage was at bitter odds. Accusations of infidelity were rampant, media wars were a focal point of their relationship, and reports of a separation began to swirl in 1992. While stopping in Southport to mark the opening of the Queens Court Hospice, Diana walked the rope line and greeted well-wishers before breaking down in tears. While some saw her emotional expression as a reflection of the end-of-life facility that she was visiting, others pointed out the timing of her appearance in regards to her faltering marriage. She eventually ended her walkabout before greeting all the crowds, getting into her vehicle while crying.
Per the Liverpool Echo, Colin Edwards, who was in the crowd at the time, later recalled, "I normally get to kiss her hand but today she looked overwhelmed. I think it was all too much for her."
Princess Catherine got choked up when talking about her youngest son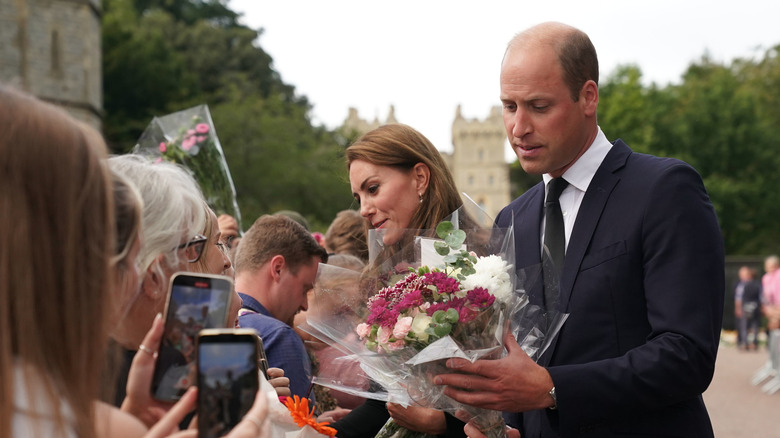 Wpa Pool/Getty Images
If any of the current crop of royals follows in the level-headed footsteps of Queen Elizabeth II, it's Princess Catherine. She is not only dedicated to the crown, but is the picture of decorum. It's seldom that Catherine shares a particularly emotional moment, instead maintaining her game face, but she did crack in the aftermath of Elizabeth's death. Joining her husband, Prince William, and Prince Harry and Meghan Markle — of which we'll get to in a minute — Catherine walked the grounds of Windsor following the monarch's passing and greeted mourners. Taking the time to talk to the crowds, Catherine shared a touching remark about her youngest son, Prince Louis, who comforted her amid the family's loss.
"My little Louis is just so sweet. He said, 'Mummy don't worry, because she is now with great grandpa,'" Catherine said (via Hello!), clearly holding back tears as she recalled her young son's sweet attempt to console her. The world was once again taken aback when Catherine's daughter, Princess Charlotte, was seen crying at the queen's funeral. The emotional moment made William's statement released after his grandmother's death that much more impactful.
"My three children have got to spend holidays with her and create memories that will last their whole lives," he wrote at the time. "I knew this day would come, but it will be some time before the reality of life without Grannie will truly feel real."
Queen Elizabeth II cried public in 1997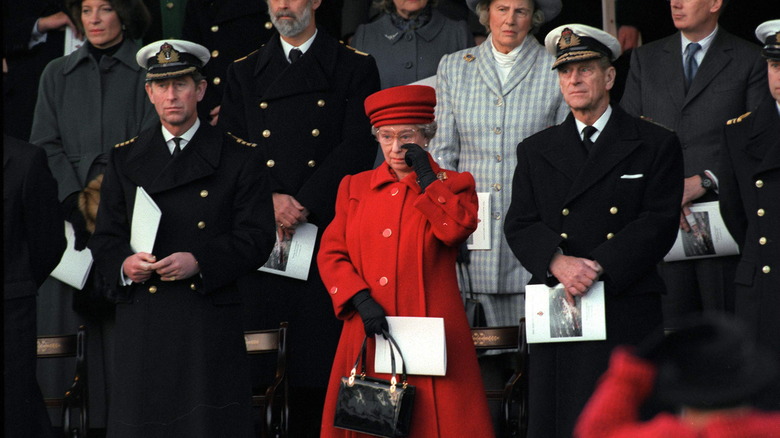 Tim Graham/Getty Images
Queen Elizabeth II assumed the throne in 1952, but you could count the amount of times she cried in public on one hand. One of the queen's more emotional moments took place in 1997. A little backstory: The royals often used the Royal Yacht Britannia to travel around the seas of Britain and Europe. The ship was essentially a palace that floated, and it featured all the lavish touches one would expect. With time, however, the Britannia started to show its wear and tear and was in need of significant work. Then-prime minister Tony Blair decided, controversially, that after 22 years at sea, the Britannia would be decommissioned rather than repaired. In the Daily Mail, royal correspondent Robert Hardman noted Blair no longer stands by this decision, and it was at the decommissioning ceremony that Elizabeth shed her tear. 
Arriving in Portsmouth in 1997 for the event, the queen was pictured crying as her beloved yacht was taken out of commission. Per The Guardian, King Charles III even noted of the yacht's retirement, "There was a kind of exasperated sadness experienced by all and sundry." Harman later noted of the entire debacle with Blair and the decision that caused the queen great distress, "What the royal family may find particularly intriguing — and infuriating — 14 years later, is that Tony Blair now deeply regrets his part in it."
Meghan Markle put on a brave face while recalling her experience in the royal family
When Prince Harry and Meghan Markle announced that they would be stepping back as senior members of the royal family, they hit their final week of engagements with renewed smiles and colorful ensembles. However, the tone shifted significantly when Harry and Meghan sat down with Oprah Winfrey in March 2021, revealing for the first time just how dire the situation was within the firm. From Harry's experience with mental health and grief to an unnamed relative's questions about the skin tone of their first child, the couple shared mind-boggling details that few could've seen coming. For her part, Meghan revealed an emotional experience regarding her own mental state, sharing with Oprah that she had thoughts of suicide while pregnant.
"I went to the institution, and I said that I needed to go somewhere to get help, I said I'd never felt this way before ... and I was told that I couldn't, that it wouldn't be good for the institution," Meghan said, noting that she approach "one of the most senior people" with her issues. She later told her husband about how much she was struggling, adding, "I knew that if I didn't say it, that I would do it — and I just didn't want to be alive anymore."
"My biggest concern was history repeating itself," Harry followed up with, alluding to his mother and the difficulties she too faced.
If you or anyone you know is having suicidal thoughts, please call the National Suicide Prevention Lifeline​ by dialing 988 or by calling 1-800-273-TALK (8255)​.
Prince Harry was moved to tears during a speech in 2019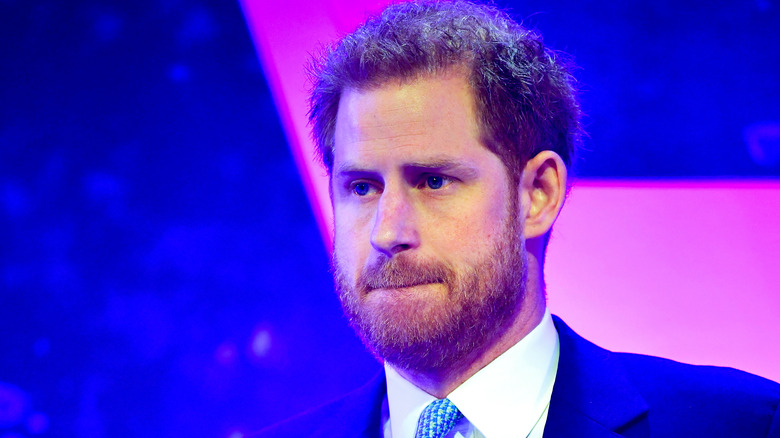 Wpa Pool/Getty Images
As part of his life both as a senior royal and now as a philanthropist, Prince Harry has worked with specific charities and organizations that align with his own values — mental health and veterans affairs are two examples of his work. One specific charity that Harry worked alongside is WellChild, which offers care for children and young people facing life-altering illnesses. WellChild holds its WellChild Awards ceremony every year, and as patron of the charity, Harry spoke at the 2019 event. As CNN reported at the time, he welled up while commenting on his own experience as a parent. When he attended the same award ceremony in 2018, Meghan Markle was pregnant with their first child, Prince Archie, but the news hadn't broken yet — a sweet secret that he reflected on a year later.
"I remember squeezing Meghan's hands so tight during the awards," Harry said, being moved to tears by the charity's important work. "And both of us were thinking what it would be like to be parents one day, and more so what it would be like to do everything we could to protect and help our child should they be born with immediate challenges or become unwell over time. [This ceremony] pulls at my heartstrings in a way that I could never have understood until I had a child of my own."
Princess Catherine found this high-profile appearance troubling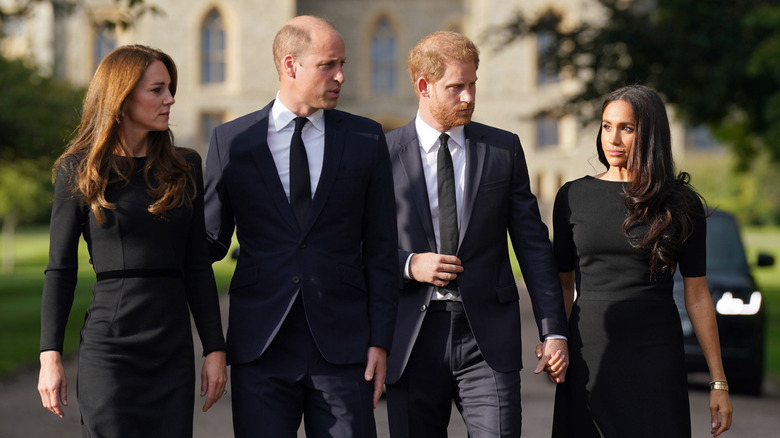 Wpa Pool/Getty Images
When Prince William, Princess Catherine, Prince Harry, and Meghan, Duchess of Sussex, stepped out together on the grounds of Windsor in the aftermath of Queen Elizabeth II's death, the public was shocked. The two couples hadn't been seen together in ages, and the amount of tension between them was palpable. And while all involved parties tried to put on a brave face, Catherine hasn't always been particularly great at keeping her disapproving looks to herself. Meghan and Harry were certainly on her hit list, and royal correspondent Robert Jobson gave more insight into Catherine's emotions in his book, "Our King."
Highlighting the negative feelings Catherine had against the couple that definitely manifested on the day, Jobson wrote (via Daily Mail), "Catherine later admitted to a senior royal that, such was the ill feeling between the two couples, the joint walkabout was one of the hardest things she'd ever had to do. Bear in mind this was before Prince Harry published 'Spare,' the autobiography that not only revealed family secrets but laid bare his resentment of his brother. It was before the cloying Netflix documentary series he did with Meghan, and the succession of TV interviews in which he criticized the royal institution."
He added, "If Catherine found it almost unbearable before all this to share a walkabout with the Duke and Duchess of Sussex, then how — one has to wonder — do she and William feel about them now?"