10 Revelations From Anna Nicole Smith's Documentary: You Don't Know Me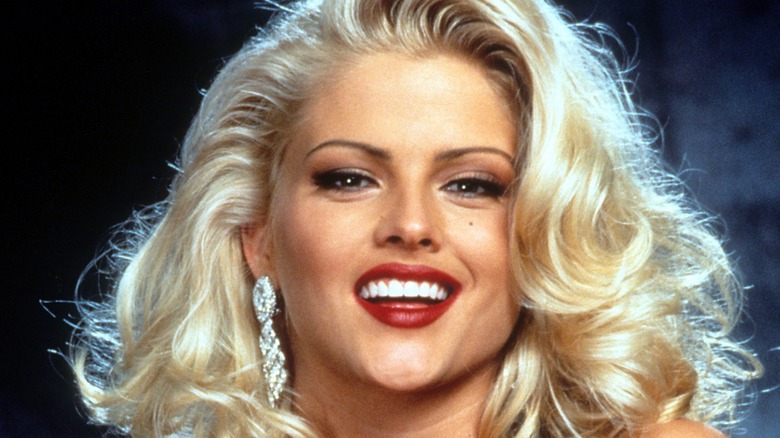 Archive Photos/Getty Images
The following article includes mentions of drug addiction and rape.

Anna Nicole Smith lived a life of fame, fortune, and ultimate tragedy — the mere glimpse people got of her life came with scrutiny, harsh judgment, and bullying leading her down a dark irrefutable path. "[She was] adored by millions, but loved by few," one broadcaster said of Smith in the new documentary about her life. As quickly as she rose to fame, her downfall crept up just as fast, and the media ate her alive.
"Anna Nicole Smith: You Don't Know Me" was released on May 16, 2023, on Netflix. In the documentary, viewers get a glimpse into what Smith's life was really like behind her seemingly glamorous lifestyle. The documentary features intimate stories from close friends, family members, and even paparazzi who share what Anna Nicole Smith was actually like as a person. The documentary humanizes Smith, painting her life in a more sympathetic light which was something foreign to Smith during the time she was alive.
The documentary shows just how incredibly misunderstood and scrutinized Smith was. Born Vicky Lynn Hogan, Smith was a small-town girl from Mexia, Texas who came from a turbulent upbringing and felt she had to do anything necessary to survive, support her son, reach her dreams, and live a comfortable life. The documentary revealed several bombshell revelations about Anna Nicole Smith giving followers a better understanding of who she was and the demons she fought which led to her ultimate demise.
She had an unstable upbringing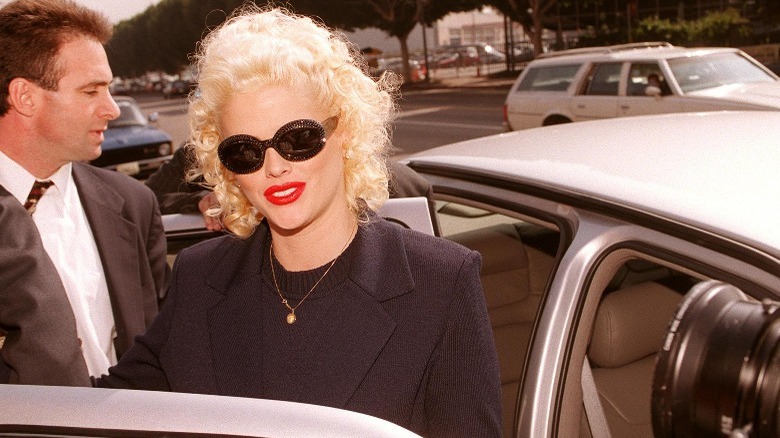 Dan Callister/Getty Images
Growing up, Anna Nicole Smith lived with her mom and stepfather but often spent nights with her aunt and uncle due to the tumultuous relationship with her mother, Virgie Mae Hogan. "Her momma sent her to our place," Smith's uncle, George Beall, stated in the documentary. "They were having troubles with this 29-year-old man that Vicky Lynn was infatuated with ... I had the windows sealed shut."
When asked about her home life once, Smith struggled to answer the question. "I switched around and stayed with my aunt most of the time because my home life ... Umm, I'd really rather not talk about my home life," Smith said in an interview.
When Smith eventually moved away from home and had her son, she moved to Houston and worked as a stripper at an elite club that millionaires and billionaires frequented. During her time there, another stripper named Missy Byrum quickly befriended her and took her under her wing. According to Byrum, Smith often confided in her and told her about her rough upbringing, which Byrum also related to. "[Her mother] was in law enforcement and she was kind of a tyrant where she would handcuff her to the bed and just beat her mercifully," Byrum stated in the documentary. "I had no reason not to believe her."
She got married at age 17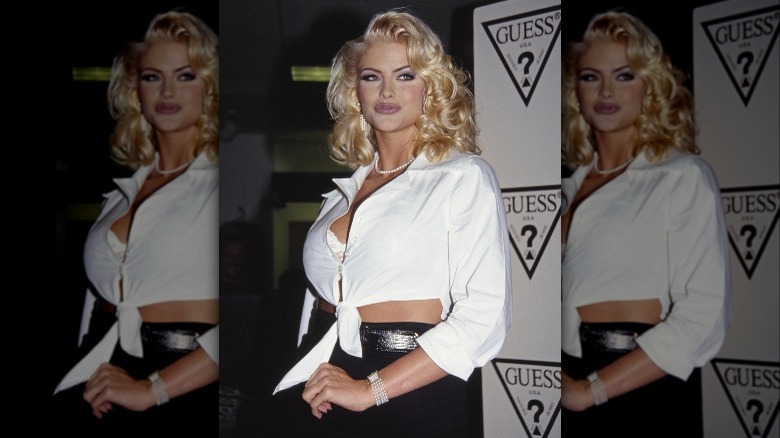 Michael Ochs Archives/Getty Images
At 17, Anna Nicole Smith quit school and started working at a Texan restaurant called Jim's Krispy Fried Chicken. Her mom, Virgie Mae Hogan, recalled how all the men that dined there wanted to take her out. However, when it came to a certain cook, Billy Wayne Smith, he didn't make his attraction to her so obvious. One night, the future model asked Billy Wayne Smith for a ride home, but he refused which led her to chase after him, according to Hogan.
"I thought I was in love. Oh gosh, he was so, so jealous of me. I couldn't go anywhere. I was locked in the house when [he went] to work," Anna Nicole Smith once said (via "Anna Nicole Smith: You Don't Know Me"). "I thought to myself, 'I'm so lonely.' Then I thought, if I have a baby, I'll never be lonely again." And just a little time later, she did just that and gave birth to her son Daniel. The arrival of her baby changed her entire trajectory and inspired her to have a comfortable life for herself and her son. When Daniel was just 6 months, she left her husband.
"She had big dreams." her uncle stated. "There wasn't nothing she wanted in her life from Mexia, Texas." From there, she began stripping at a very elite club that rich men frequented and did well for herself. "Within a week or two, she was like a pro," Missy Byrum recalled.
She told J. Howard Marshall she wouldn't marry him until she made a name for herself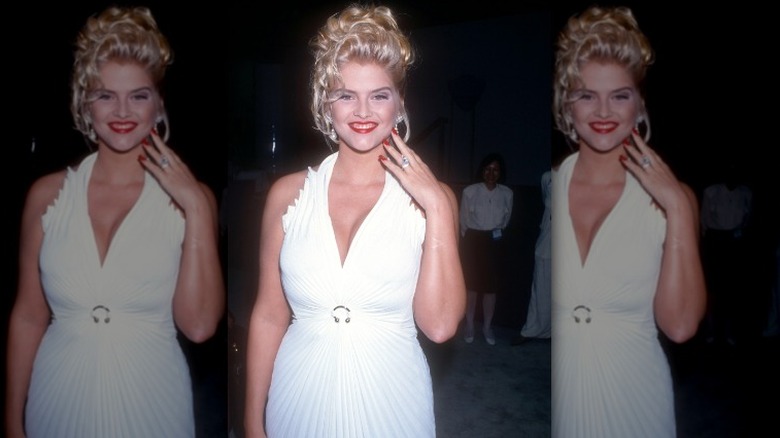 Ron Davis/Getty Images
During Anna Nicole Smith's time as a stripper, she met billionaire J. Howard Marshall II who was 62 years her senior and quickly took a liking to Smith. "His wife had died, so he wanted to marry her and was a billionaire. He bought her a car and home and she quit working at topless clubs," Missy Byrum recalled in the documentary. Contrary to popular belief, it wasn't Marshall who made Smith famous or the reason why she had her big break. In fact, according to Byrum: "She said she wouldn't marry him 'til she had a name for herself."
By 1994, the two had married and Marshall wanted Smith to be secure financially. However, he knew Smith obtaining his savings would be difficult because his son, E. Pierce Marshall, didn't want her to have anything. Marshall even tried to adopt Smith's son, Daniel, which didn't transpire.
Following Marshall's death in 1995, a significant legal dispute unfolded as his will excluded his son J. Howard Marshall III and Anna Nicole Smith. In an effort to contest the will, Smith and Marshall III joined forces. However, E. Pierce Marshall, the other son of J. Howard Marshall II, held the belief that Smith was exploiting their father for monetary purposes and engaged in a legal battle against her. This inheritance trial eventually involved Smith's daughter, Dannielynn Birkhead, long after Smith's death in 2007.
She was terrified to do a photoshoot for Playboy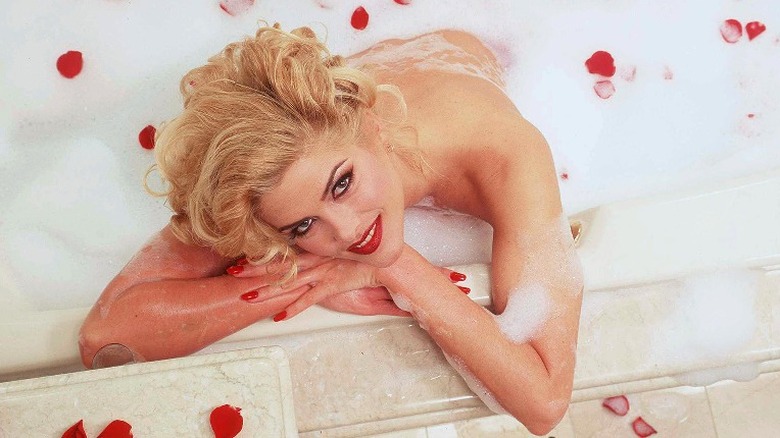 Paul Harris/Getty Images
Playboy is where Anna Nicole Smith's rise to fame really took off. A photographer recommended her as the next cover model for Playboy magazine to Playboy's photo editor, Mo Grabowski. Grabowski noted that Smith's image at the time was the opposite of Playboy's image, which was natural and soft. "I heard from a photographer in Texas," Grabowski recalls of Smith. "He said I have pics of this girl I think would be a good playmate. Frizzed-up hair, a lot of lipstick, a lot of eyeshadow, and ample, to put it mildly. So, I decided to bring her in for a playmate test. My staff thought I was crazy."
Most models were overexcited and eager to pose for Playboy. "Beautiful young girls would want to be playmates," Graboski explained. "It was akin to them as it was being Miss America." But Smith was absolutely terrified. Graboski recalls giving Smith a pep talk before her shoot to ease her nerves. "She was sitting in the corner with a sheet on and she was terrified," she said. "She brought a record with her and they put it on and it was Marilyn Monroe singing 'Diamonds Are a Girl's Best Friend' and the minute I put that record on, all of a sudden, she changed. She was a different person." Smith embodied a Marilyn persona and exuded a different confidence allowing for a successful shoot. "Hef approved the cover right away," Graboski said.
She had a romantic relationship with her friend Missy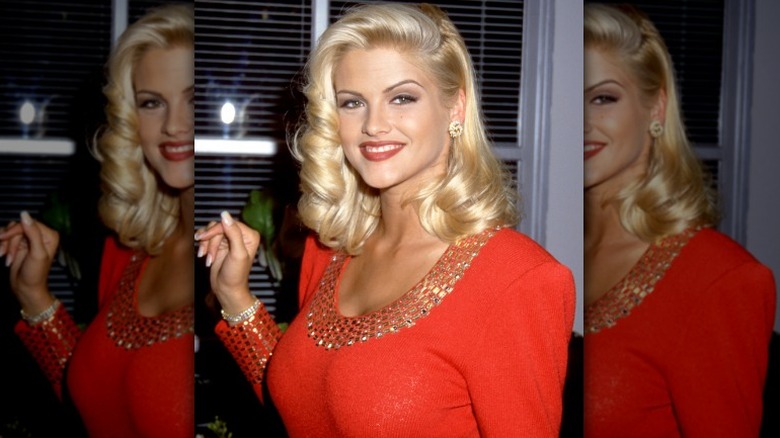 Ron Davis/Getty Images
Another revelation in the documentary was that Anna Nicole Smith and her best friend, Missy Byrum, were lovers. "I was really in love with her," Byrum said of the late model. "I was her first female lover I guess." The two became friends when Smith started stripping at the same club Missy worked at. Missy described having a maternal instinct toward her because she felt she was vulnerable and naive, and it eventually blossomed into a friendship.
"She had an insatiable appetite for sex, just like everything else," Byrum said. "She was a good lover." Byrum further stated how being intimate with Smith gave her a sexual awakening. "I found it impossible to be intimate with a male but found it easy to be intimate with her," she said. The two remained close friends for years until Smith's drug addiction escalated and drove a wedge between her and Byrum.
Her drug addiction began when she started taking prescription pain medication following surgery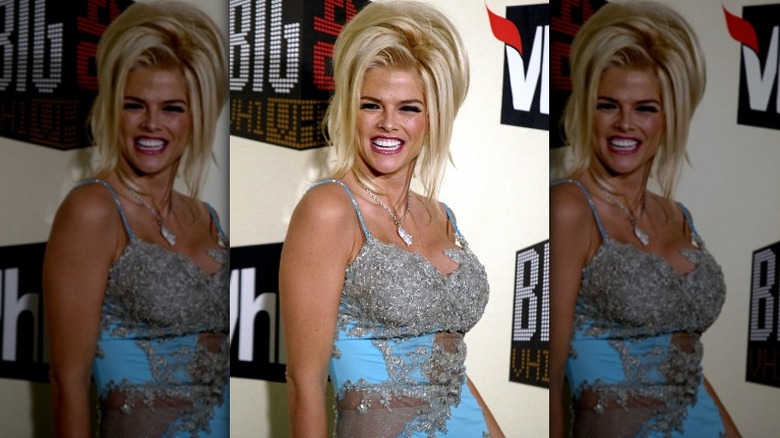 Everett Collection/Shutterstock
In the documentary, it was revealed that Anna Nicole Smith developed a drug addiction to prescription medication after undergoing breast augmentation surgery. Her close friend Missy Byrum recalled that during their stripping days, Smith was always insecure about the size of her breasts. "She told me all the time she was going to be a famous model," Byrum recalled in the documentary. "She was convinced that the only thing holding her back was her boobs."
Once Smith had the money, she proceeded with the breast augmentation and was prescribed medication to ease the pain. "It hurts like hell," Byrum said of the procedure. According to Dr. Joshua A. Perper, the Broward County medical examiner, an examination of Smith's body revealed the presence of various drugs (via The New York Times). These included muscle relaxants, pain relievers such as methadone, and several anti-anxiety medications. Dr. Perper attributed her cause of death to combined drug intoxication, with the main drug identified as the potent sedative chloral hydrate. "From that time on, she was always taking them," Byrum said. "There was nothing she could do to stop." 
If you or anyone you know needs help with addiction issues, help is available. Visit the Substance Abuse and Mental Health Services Administration website or contact SAMHSA's National Helpline at 1-800-662-HELP (4357).
Producers originally wanted her for the lead role in The Mask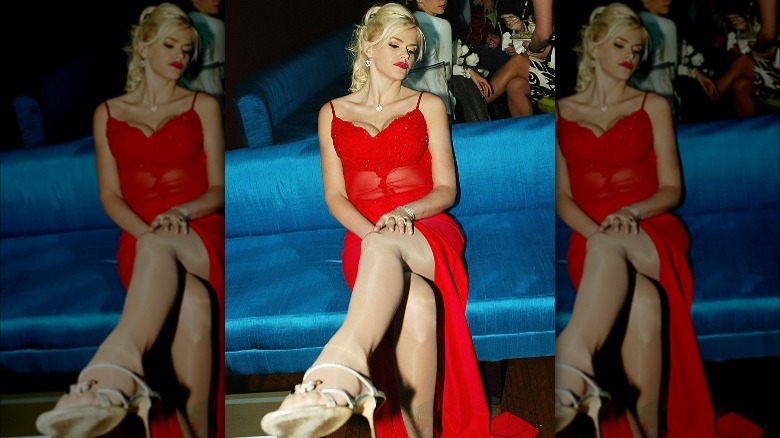 Kevin Winter/Getty Images
Anna Nicole Smith also pursued a career in acting and was even given a few offers for roles in major motion pictures. In the documentary, "Anna Nicole Smith: You Don't Know Me," Smith is seen talking on the phone discussing two roles that overlap with each other, deciphering which one is smarter to pursue. "There's two major movies that want me," Smith states over the phone. "One is called 'The Mask' and one is 'Naked Gun 3.'" 
Smith then reveals how little "The Mask" was willing to pay her. "I love the script but, the thing is, they offered me only, this is embarrassing, they offered me $50,000." Smith then weighs the pros and cons of taking the role over "Naked Gun 3." She said: "I'd love it, and think it would show more of my acting ability."
Ultimately, Smith decided to work in the movie "Naked Gun 3" and played the role of Tanya, working alongside actors Leslie Nielson, Peter Segal, and Priscilla Presley. The role offered to Smith for "The Mask" was later given to Cameron Diaz who costarred in the movie alongside Jim Carrey.
She believed she was the reincarnation of Marilyn Monroe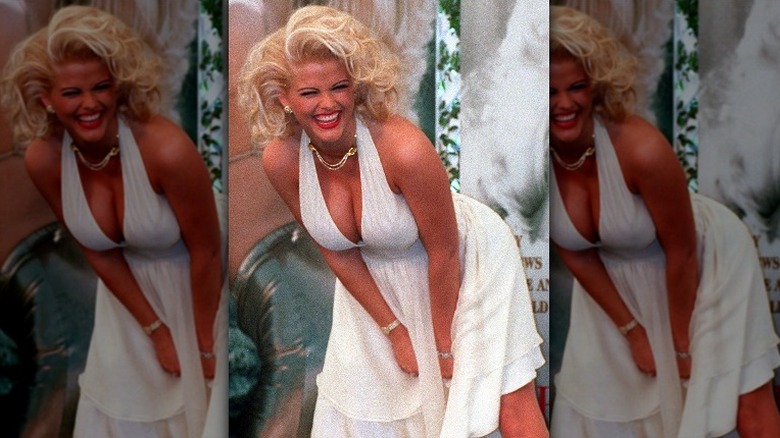 Kypros/Getty Images
It was evident from Anna Nicole Smith's personality, style, and beauty that she idolized Marilyn Monroe. She often spoke about her liking toward Monroe and felt a strong connection to her which made her certain she was a reincarnation of Marilyn Monroe in some way. Monroe, too, was also a Playboy playmate, a sex symbol, and loved by many. However, she was also misunderstood, had underlying traumas, and faced a drug addiction.
Smith's close friend, Ashley Wells Lewis, spoke about her love for Monroe in "Anna Nicole Smith: You Don't Know Me" and just how deeply connected she felt to the movie star who died in 1962. "There was really a deep bond between her and Marilyn," she said. "She really felt that maybe she was Marilyn's reincarnated daughter."
For Playboy's Playmate of the Year celebration in 1993, which honored Smith, she embodied Monroe's iconic look in "The Seven Year Itch" wearing her famous white halter dress, red lipstick, and voluminous curls. Smith even replicated the iconic pose from the movie where Monroe stood over the subway vents letting the breeze blow up the skirt of her dress.
She didn't meet her biological father until the age of 24
Up until age 24, Anna Nicole Smith never knew her biological father. Her mother rarely spoke of him and discouraged Smith from seeing him. Once she had fame and fortune, Smith hired a private investigator to find her father. When she found him, she also found out she had a brother and flew them both to California to meet her. She stayed anonymous about her identity and didn't let them know who she was until she met them.
Upon talking on the phone with her father for the first time, Smith shared: "I was shaking. I was very emotional. He was so happy, like freaking out. He said there wasn't one night he would go to sleep and I wasn't in his prayers." Once the day came, Smith arrived at the airport to pick up her father and brother in a limo. As soon as they sat inside, Smith began explaining the pomp and circumstance. "Okay, I'll tell you what I do," she started as they drank champagne. "I'm a Guess model and also Playmate of the Year, this year." A man off camera then tells the two: "You'll be at the Playboy mansion Sunday night, so you'll meet Hef in person."
Smith's father looks completely stunned then gets emotional and holds Smith in a longing embrace. "At the beginning it was great," her brother Donnie Hogan recalled. "You could tell she wanted a father figure in her life."
Her father made sexual advances toward her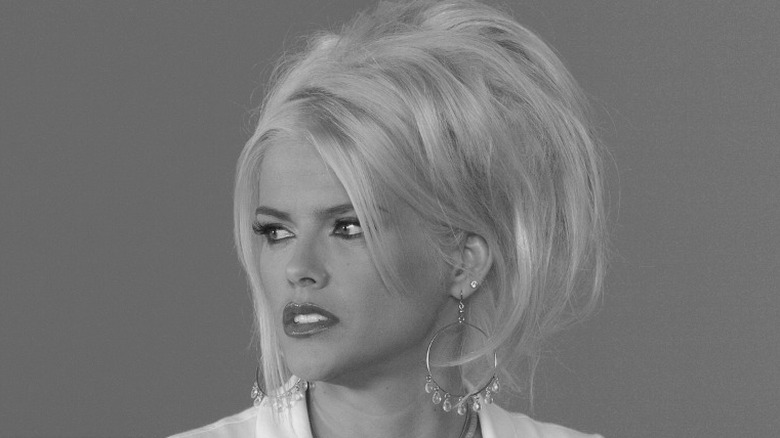 L. Cohen/Getty Images
Upon first meeting her father for the first time, Smith was extremely happy, but that quickly took a turn once his true colors showed. "I wanted Vicky [Smith] to know the truth," her brother, Donnie Hogan, said. "My father is not the type of guy you want to be alone with. You're not going to feel safe. I mean he's a monster." Hogan follows with an extremely unsettling story. "I was about 16 when he told me a story about how he raped his wife's sister. He chased her down to a tree when his wife wasn't around. She was a child." 
When Smith's close friend, Missy Byrum, asked her how the meeting went with her father and brother, Smith initially told her she didn't want to talk about it, however, later she said that her father attempted to make advances toward her and tried to rape her. When Smith's brother was informed about this, he said it sounded like his father, but he wasn't sure how it could have happened since he felt certain that he was with his father the whole trip. He then took a moment to think about it and said: "I guess I wasn't there all the time, so it could be true."
If you or anyone you know has been a victim of sexual assault, help is available. Visit the Rape, Abuse & Incest National Network website or contact RAINN's National Helpline at 1-800-656-HOPE (4673).