Two-Toned Lips Are The Latest Color Craze For Pouty Mouths
Makeup is a dynamic form of expression, and there are always new trends to help you say what you want. So move over classic red, we are going above and beyond with double-color lips. Two-tone lips are a glamorous way to add depth to your pout. Plus, they pack on more color, so you couldn't stop the heads from tuning if you tried. These makeup looks are easy to do. Better yet, they are stunning to pair with a dramatic eye without overpowering your face.
If you only have one shade of lip color, you can still rock this makeup trend. Makeup expert Ada Hsieh shared with StyleCraze, "You can even use a cream concealer to fade out one lipstick color instead of using [two] different colors." Whether you want to pull off vampy ombré lips or like a brazen contrast, there's a two-tone look perfect for your kissers.
Pay homage to the '90s with this retro two-toned lip look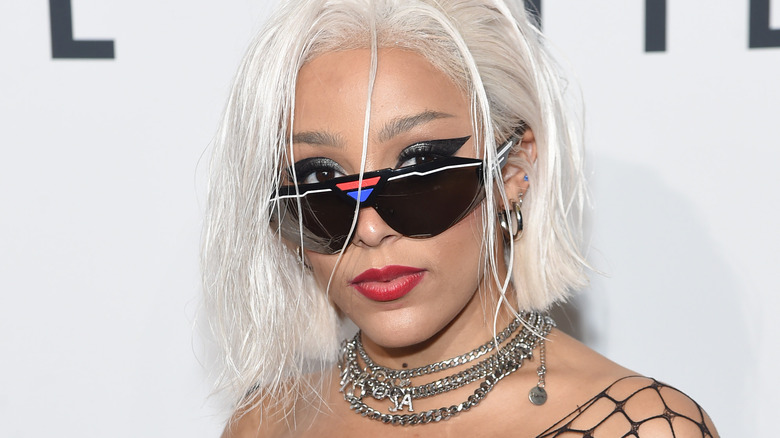 Jamie Mccarthy/Getty Images
Coloring your lips with two different tones is not new. It was a lip trend in the '90s to have a darker outline and lighter stain for the center of your kissers. Megan Thee Stallion, Kylie Jenner, and Zendaya love a dark liner — sporting it at fashion shoots and on the red carpet. While the look decades ago typically had a stark contrast, makeup lovers nowadays blend the liner to create a smooth transition — like an ombré lip.
A contrasting liner to your primary lip color is an easy way to dip your toes into the double-hue look. Nudes, pinks, reds, and browns are soft tones that create a chic pout with the two-toned lip shade style. Celebrity makeup artist Robert Sesnek told Popsugar, "I love using a deeper lip liner and warmer shade of golden brown gloss to make this look more modern and wearable." You can also brighten things up with an orange tone. It still has an earthy neutral feel but will pop.
While this dark liner and light lip are excellent for a minimal makeup look, this colorful lip trend easily lends itself to more glamorous designs.
A modern lip design with double tones
There are elaborate looks to take this two-toned style up a notch. If you're ready to get bold, be prepared to have your top and bottom lip different colors. Yes, distinct shades will create a powerful makeup design that stands out. Or instead of a top and bottom divide, split your cupid's bow down the middle and have different colors on the left and right.
You can go for complementary pairs like pink and orange or brown and red, but why not embrace the color craze with any of your favorite lipsticks? To help blend your two tones, just smack your lips together after applying the different hues. This way, you'll have a fused shade in the center of your pout that smoothly transitions the top and bottom.
Professional makeup artist Shreni Patel made a recommendation in Makeup, saying, "Use a long-wearing matte color lipstick to ensure the colors don't bleed together right away." You want the right quality lipstick or stain, so your varying shades don't muddle.