Courtney Love's Fight Club Feud With Brad Pitt Explained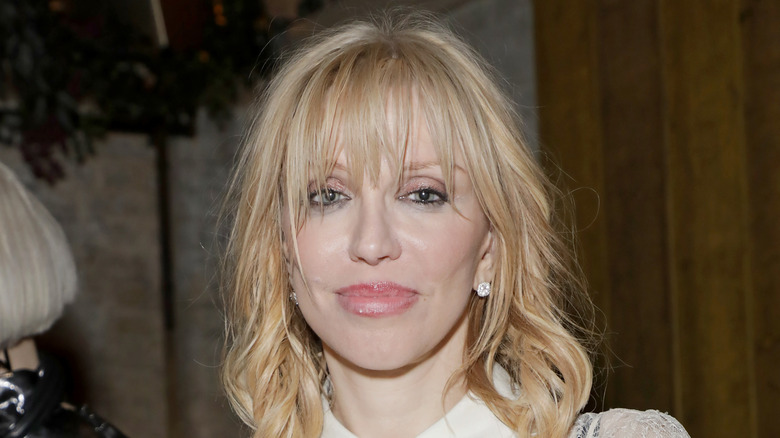 David M. Benett/Getty Images
It's safe to say that David Fincher's 1999 thriller, "Fight Club" is one of the most iconic movies of all time. Considering the film's relevancy decades after its release, you might be surprised to learn that it wasn't a massive commercial success. But the film ultimately ended up becoming a cult classic. Of course, the sharp writing and direction are at the core of its success, but the performances are undeniably phenomenal too with leads Brad Pitt and Edward Norton on their A-game alongside co-star Helena Bonham Carter. 
In an interview with Us Magazine, Norton spoke fondly about his time working on the outwardly dark film, revealing, "The whole experience was an experience of laughter and creativity." Norton added, "It was a funny bunch of people doing a dark comedy, so it was a lot of laughs." When you think of Carter's most memorable roles, meanwhile, Marla Singer definitely comes to mind. 
Pitt recommended Fincher watch her performance in "The Wings of The Dove" and with that, he too fell in love with her. However, after reading the script, the British star had her reservations. In an excerpt from the book, "Best. Movie. Year. Ever." by Brian Raftery, Carter admitted, "I didn't get it when I first read it, either. I thought, 'This is weird. Is this message particularly life-enhancing?'" (via The Ringer). It's hard to imagine anyone else playing the role, but many had auditioned for it. In fact, Courtney Love claims to have almost made the cut.
Courtney Love reckons Brad Pitt got her fired from Fight Club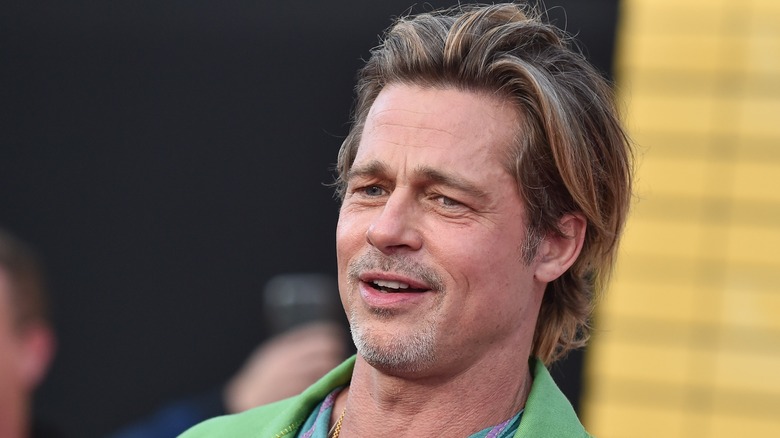 DFree/Shutterstock
Courtney Love has led an exceptionally controversial life, so she's obviously no stranger to public feuds. The singer has had run-ins with everybody from former members of Nirvana to Gwen Stefani, and Brad Pitt seems to be a recent addition to the list. In a podcast interview on "WTF with Marc Maron," Love claimed that she originally bagged the part of Marla Singer, but Pitt got rid of her after director Gus Van Sant and the actor approached her with the idea of making a Kurt Cobain biopic.
She and the legendary grunge singer were married for two years and, naturally, Love and the couple's daughter, Frances Bean Cobain were struggling with his sudden death. In an interview with Rolling Stone, Love shared, "I used to feel like mourning him was really selfish because it would make him feel guilty." She continued, "And the best thing to do was to pray for him and show him joy, so he could feel the vibration of the joy. But now I know he's dissipated, and he's gone. There's not anything left."
Following Cobain's passing, she engaged in substance abuse to cope, frequently got into altercations, and went on several public rants. So, when Pitt asked her if he could play Cobain in the biopic, Love wasn't too thrilled. On the podcast, she recalled their run-in, admitting, "I went nuclear. I don't do Faust." She told Pitt, "Who the f*** do you think are?"
Courtney Love went public with her experience for a reason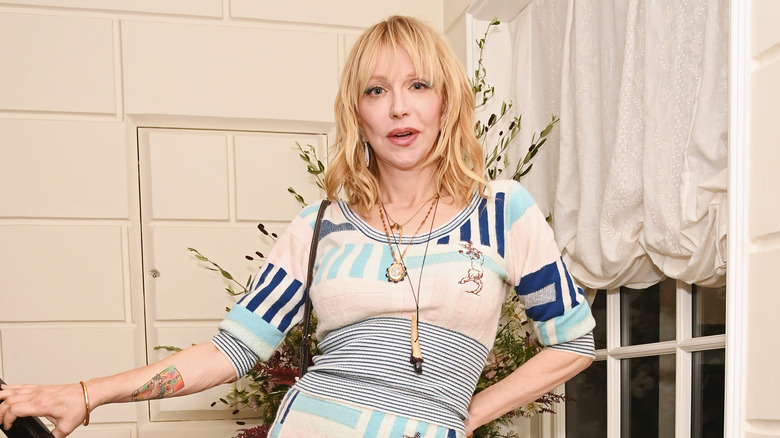 David M. Benett/Getty Images
During her interview with Marc Maron, Courtney Love elaborated on how she told Brad Pitt she didn't want him to appear as her ex-husband in a biopic: "I don't know if I trust you, and I don't know that your movies are for profit." She added, "They're really good social justice movies, but ... if you don't get me, you kind of don't get Kurt, and I don't feel like you do, Brad." She claimed that shortly after, her then-partner and lead actor in the film, Edward Norton, broke the news to her that she was off "Fight Club." 
Love revealed that Norton was sobbing as he told her she was fired and reasoned, "'I don't have the power!'" However, a source close to the film subsequently clarified to People that Love only auditioned for the role of Marla Singer, and she was never formally offered the part. According to the insider, "It's common knowledge that roles are not decided by other actors, but by the director." In a now-deleted Instagram post, Love shed some light on her reasons for speaking up about the incident decades later.
She explained that despite turning him down, Pitt continued pursuing her to get the biopic made. She felt that unless she went public, he wouldn't drop the idea. Pitt apparently pitched the biopic to her again via his production company, Plan B, and she agreed to the meeting to bury the hatchet. But during the call, Love felt "ignored," (via Billboard).