The Ups And Downs Of Frances Bean Cobain And Courtney Love's Relationship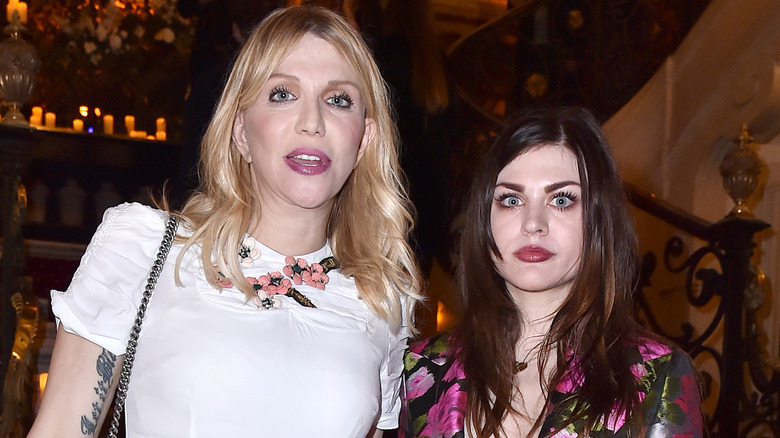 Jacopo Raule/Getty Images
Sometime between 1989 and 1991, Nirvana's frontman Kurt Cobain met his female counterpart in Hole's frontwoman Courtney Love. After dating for a short time, Love found out she was pregnant, and in February 1992, while Nirvana was on tour, they tied the knot in Hawaii. Cobain and Love's relationship was known to be tumultuous and they both famously struggled with drug addiction, but they attempted to rehabilitate when they found out they were having a baby.
Frances Bean Cobain was born on August 18th, 1992. She was named after Frances McKee of The Vaselines, a band her father covered often, while her middle name "Bean" originated from the fact that her parents thought she looked like one during the ultrasounds. Tragically, after a series of overdoses and a short stay in rehab, Kurt Cobain died by suicide on April 5th,1994 before his daughter was 2 years old. This left Frances Bean with just Love to look after her, and the mother and daughter have had a rocky relationship at best.
Thankfully, Frances Bean has grown up to be a beautiful, intelligent, and talented woman, taking after her parents as both a musician and an artist. In recent years, she has also been fairly open about the difficulties she's had with Love. So let's get into all of the ups and downs of Frances Bean Cobain and Courtney Love's relationship over the years.
Courtney Love used drugs while pregnant with Frances Bean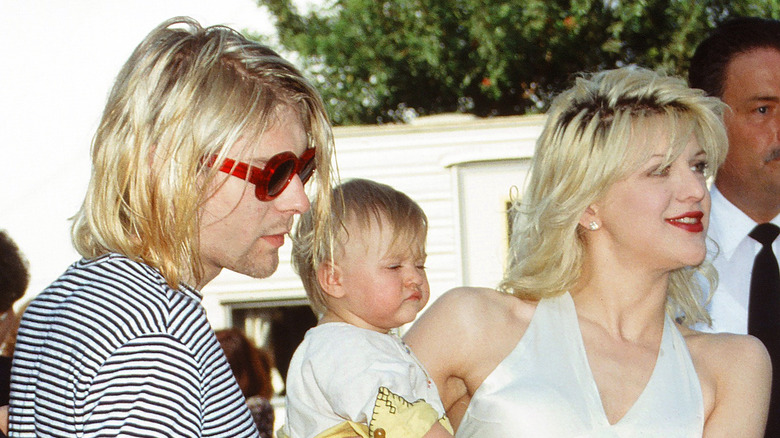 Kathy Hutchins/Shutterstock
It seems any time you see Courtney Love's name appear in the news, it's about something contentious she's said or done. Love has never shied away from controversy, but when an infamous Vanity Fair article came out in 1992 in which Love admitted to doing drugs while pregnant, she and Kurt Cobain faced some serious backlash. She spoke about a time in January 1992, when Love would have been a couple of months pregnant. "We went on a binge," she said. "We did a lot of drugs. We got pills and then we went down to Alphabet City and Kurt wore a hat, I wore a hat, and we copped some dope. Then we got high and went to 'SNL.' After that, I did heroin for a couple of months."
An associate who had been with the couple at the time spoke about this time period saying, "It was horrible. Courtney was pregnant and she was shooting up. Kurt was throwing up on people in the cab. They were both out of it."
In a since-deleted article with The Fix, Love spoke again about doing drugs while pregnant with Frances Bean. She said, "Yes, it's true, I used heroin in the first three weeks of my pregnancy — but so f***ing what?" Although all of this happened before Love had even met little Frances Bean, it was the precursor to a decades-long bitter relationship between the two.
Courtney Love lost custody of Frances Bean several times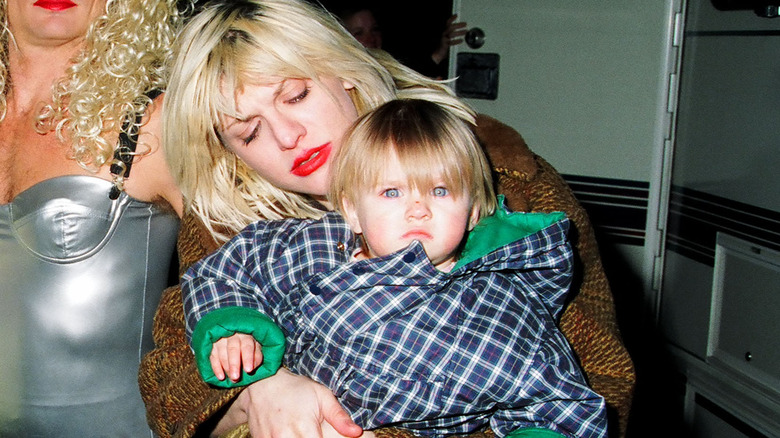 Jeff Kravitz/Getty Images
Given that Courtney Love was very publicly using drugs when she and Kurt Cobain had Frances Bean Cobain, it shouldn't come as a surprise that CPS did a welfare check a few weeks after she was born. The case was dismissed and all seemed well until 2003 when Love was arrested for attempting to break into her ex's house and overdosed on pills. Frances Bean's paternal grandmother was awarded custody and Love was permitted visitation.
Speaking with People after the incident, Love admitted that Frances Bean had been present when she overdosed and even made her mom tea while they waited for an ambulance. "That's the only time my daughter has ever, ever, ever pitched in on one of my little crises. I made it fun. I said it was going to be gross and I was going to have to make myself throw up, but it was going to be okay," she said.
Frances Bean eventually moved back in with her mom, but in 2009 when she was 17, Love lost custody of her daughter yet again. As Love's attorney told People, it was "simply about Frances preferring to live with her grandmother at this time." Love didn't take Frances Bean's decision well and took to Facebook in a since-deleted post to say, "Any kid of mine who pulls this s*** has lost her position ... She was deceptive she lied and shes lying to herself."
Frances Bean resented her mother for many years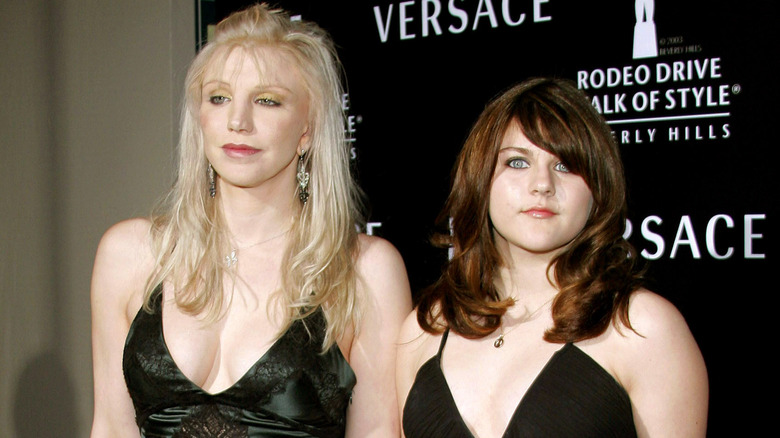 Tinseltown/Shutterstock
It must have been difficult being born to two rockstar parents who battled addiction, let alone to have been raised by a single mother who rarely shied away from conflict. But this is far from the only reason Frances Bean Cobain holds resentment toward Courtney Love. While speaking on RuPaul's podcast "What's the Tee?" in 2019 saying that Love is a really good person but that she tends to become self-destructive when she has to sit with herself, as she's so incredibly empathetic.
Frances Bean goes on to say that it took her a long time to feel this way towards Love because she "was so f***ing bitter and angry and upset and resentful for a really long time." Now, Frances Bean says she just wants her relationship with her mother to be based on, "open communication, love, and truth." It seems that she's been able to work through a lot of her issues with Love over the years, but after what sounds like a traumatic upbringing, it wouldn't be surprising if they're still ironing out the wrinkles in their relationship.
Frances Bean took out a restraining order on Courtney Love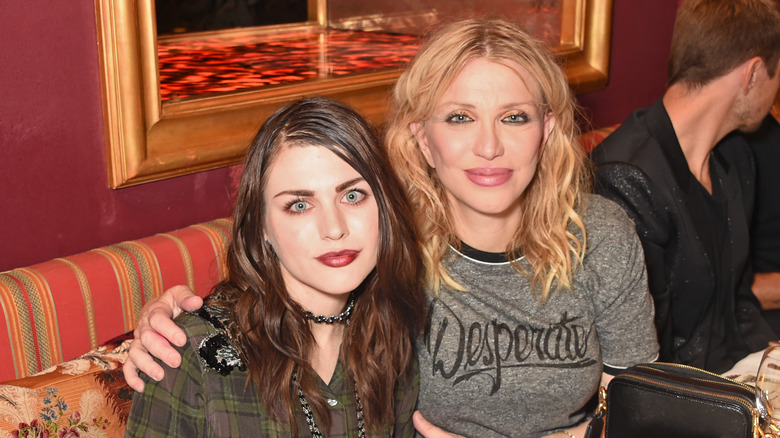 David M. Benett/Getty Images
In 2009, the teenage Frances Bean Cobain took out a temporary restraining order against Courtney Love. The testimony was reported by The Fix in a since-deleted article, in which Frances Bean told the court that Love, "has taken drugs for as long as I can remember. She basically exists now on ... Xanax, Adderall, Sonata and Abilify, sugar, and cigarettes. She rarely eats ... She often falls asleep in her bed while she is smoking, and I am constantly worried that she will start a fire (which she has done at least three times) that will threaten our lives."
In addition to these accusations, France Bean also blames her mother for the death of two family pets, one of which supposedly consumed Love's pills, and that mother and daughter had gotten into a physical fight. Frances Bean's testimony went on to detail, "She incessantly rages about her many theories relating to the supposed incidences of 'fraud.'" The judge granted the temporary order to Frances Bean, her dog Uncle Fester, and her paternal aunt and grandmother. Of course, this was over a decade ago, and the mother and daughter duo have been spotted together numerous times in the last several years.
Courtney Love wasn't invited to Frances Bean's wedding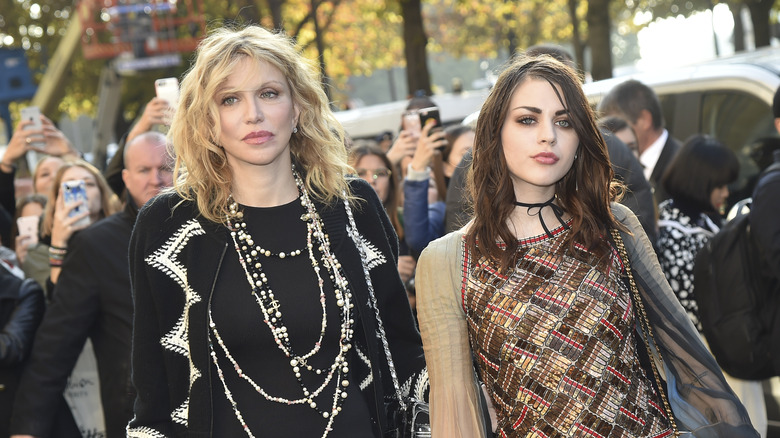 Jacopo Raule/Getty Images
In June of 2014, Frances Bean married Isaiah Silva, frontman of the band The Eeries, after dating for five years. After planning the wedding for over a year, there were around 15 guests in attendance at the intimate ceremony, but Courtney Love wasn't among them. A source for E! News said, "Courtney loves Isaiah, but was devastated to learn that Frances had gotten married without her knowing. Courtney really likes Isaiah and is very happy for Frances. Courtney is sad she wasn't at the wedding." That said, the source confirmed, "This has not caused a rift between mom and daughter. Courtney was sad, but she's cool and Isaiah is a great son-in-law." Neither Love nor Frances has ever commented publicly about the incident.
Unfortunately, the couple weren't meant to be and they divorced in 2017 after being married for less than two years. While Frances Bean managed to keep a hold of the money she received from her father's estate, Silva walked away with one of Kurt Cobain's guitars in the settlement.
Frances Bean and Courtney Love both battled addiction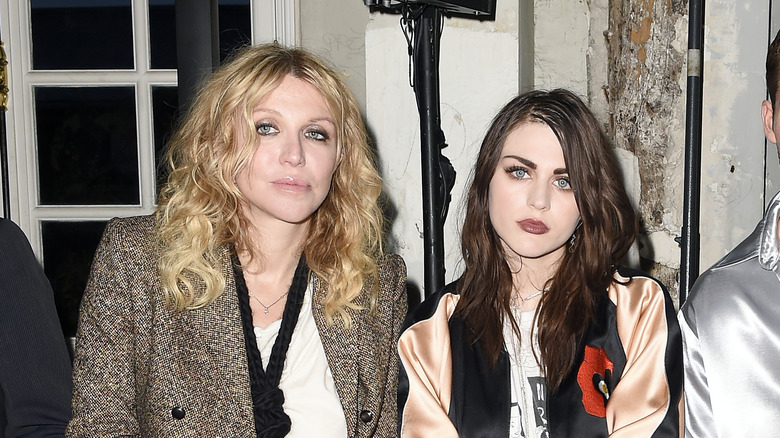 Kristy Sparow/Getty Images
Kurt Cobain and Courtney Love both famously battled heroin addiction and after he died, Love continued to spiral. She once told The Fix in a since-deleted article about the first time she tried heroin. "I was about 16, I guess. It was a horrific experience. At the time, I was working at a dance hall in Taiwan, trying to earn money, so I could afford an apartment in San Francisco." She went on to describe how she tried the drug again at a party in California sometime later, stating that's when her "whole heroin drama" began. Years later, Love announced in February 2020 that she was 18 months sober.
Frances Bean, unfortunately, found herself in the throes of addiction herself. In 2016, a video surfaced of Love and her daughter at Paris Fashion Week seemingly under the influence, raising alarm bells for some fans. Thankfully, in 2018 Frances Bean announced via Instagram in a since-deleted post that she was two years sober. She said, "This moment is a representation of who I am on February 13th, 2018. It feels significant here, now because it's my 2nd sober birthday. It's an interesting and kaleidoscopic decision to share my feelings about something so intimate in a public forum. The fact that I'm sober isn't really public knowledge, decidedly and deliberately. But I think it's more important to put aside my fear about being judged or misunderstood or typecast as one specific thing."
Courtney Love accused Dave Grohl of being inappropriate with Frances Bean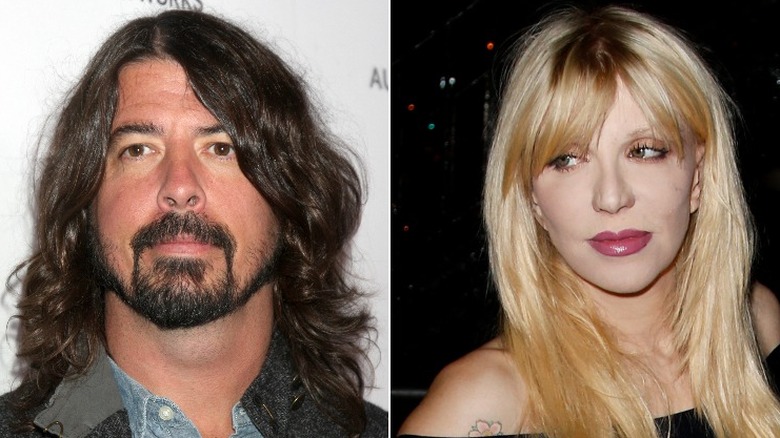 Kathy Hutchins & Debby Wong/Shutterstock
Dave Grohl, now the frontman of Foo Fighters, was the drummer for Nirvana. He was also a close friend of Kurt Cobain and Courtney Love's and was one of the few in attendance at their wedding. Grohl was open about coping with his band mate's death and remained friendly with Love and Frances Bean Cobain for many years. That is until 2012 when Love took to Twitter in a since-deleted post to accuse him of being inappropriate with her daughter. "I hear from frannies roommate that @davegrohl hit on frances, and that she was curious, I'm not mad at her, him I am about to shoot, dead," she wrote. Love went on to exchange Tweets with one of her followers about the incident, admitting that perhaps it was just a rumor, but that, "it's not beans fault she's not slutty in any way, at all, HES OBSESSED."
Grohl responded to the accusations to E! News through his publicist, saying, "Unfortunately Courtney is on another hateful Twitter rant. These new accusations are upsetting, offensive and absolutely untrue." Frances Bean also spoke out to defend Grohl against Love while speaking with Lifeline Live. "'While I'm generally silent on the affairs of my biological mother, her recent tirade has taken a gross turn," she said. "I have never been approached by Dave Grohl in more than a platonic way ... Twitter should ban my mother," she added.
Frances Bean wishes Courtney Love hadn't released her father's journals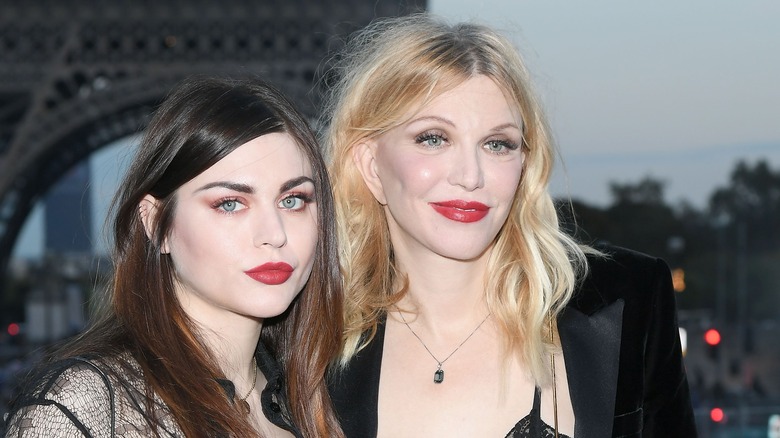 Dominique Charriau/Getty Images
The Newbridge Silverware Museum of Style Icons in Ireland launched an exhibition called "Growing Up Kurt Cobain" in 2018. The exhibition centered around Cobain's life and some of his possessions were on show. But according to a source for RadarOnline, there were some items Frances Bean Cobain didn't realize Courtney Love had allowed to be on show. "Frances didn't know until the last minute Courtney was giving Kurt's diaries to the museum and Frances was devastated she had revealed such private documents. She told Courtney she was just using Kurt for publicity again and has virtually stopped speaking to her again."
Frances Bean met with the The Independent at the museum where she said, "I don't look through his journals. It feels too intimate. I am really regretful that my mom put those out there. I know it was her way of trying to contribute his personal thoughts and I know that people really want to know that. I can't imagine being dead and having people know my intimate thoughts. What an invasion of privacy, I don't think it is merited especially since in his art he decided not to put out that thinking. It is a different thing to get to know him through his art, a deliberate public extension of himself."
They grew closer while watching Kurt Cobain's documentary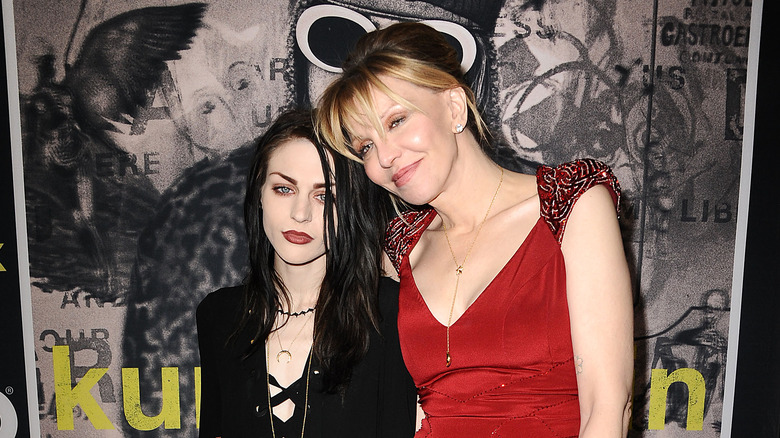 Jason Laveris/Getty Images
Director Brett Morgan released the documentary "Cobain: Montage of Heck" in 2015 with the help of Frances Bean Cobain as executive producer. Courtney Love initially approached him to make the documentary in 2007, but aside from raising the idea and appearing in the film through talking heads and old footage, that was the extent of her involvement. As Morgan told The Hollywood Reporter in 2014, "She gave me the keys to this kingdom and final cut of the film ... At a certain point, I started working more closely with [Frances Bean]. We [all] agreed that because Courtney was a subject in the film, it would be best if she wasn't given editorial control."
A few days before the documentary was released, Frances Bean and Love watched it on a sofa in a private screening room. Speaking with the Rolling Stone that same year, Frances Bean recounted the screening as, "really intense. We were kind of spooning on this big couch. And we were both crying." She said during a particular scene, "My mother held me, cried on me and just said, 'I'm so sorry, I'm so sorry, I'm so sorry.' Just kept saying it over and over. But then she said, 'Do you realize how much your father loved you?' And I said, 'Yeah, I do.'" Love later Tweeted about the film, saying, "So sad yet so uplifting, beautiful and gorgeous. Your daddy would be so proud of you baby."
They teamed up to fight the release of photos of Kurt Cobain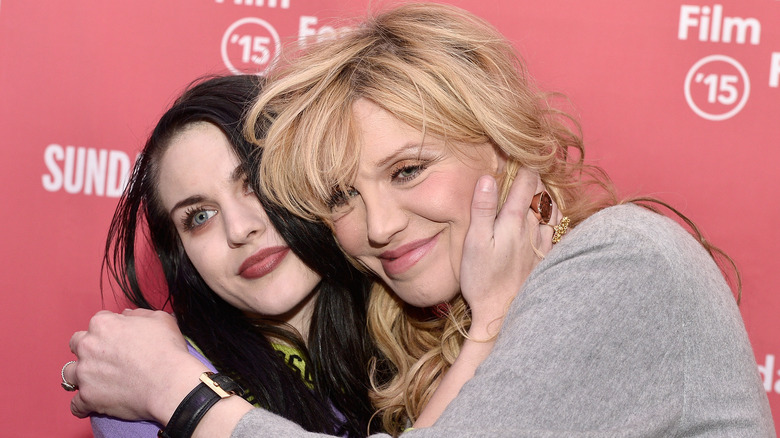 Paul Marotta/Getty Images
There has been a conspiracy theory circling since Kurt Cobain's death in 1994 that he was murdered. Many pinned the crime on the rockstar's wife, Courtney Love, but the case has been determined closed for years and his death was ruled a suicide. But a journalist known for his conspiracy theorists, Richard Lee, filed a lawsuit in Seattle against the city and the police department to release the photos of Cobain's death scene in an attempt to prove that he died by homicide, rather than the previously determined self-inflicted gunshot. The case had been dismissed, but Lee repealed the decision and brought the issue full circle again in 2015.
The court filings, obtained by The Wrap, read, "Most people who have to endure such a personal tragedy are allowed to do so in private but not Courtney Love Cobain or Frances Bean Cobain, due to ... 'the viral nature of the internet.'" Love also testified that Lee made her fear for her safety, as in 2005 he had been arrested for stalking her. Although the matter has been put to rest, the Seattle police department did reexamine the case in 2014, developing a series of photos that had previously been unseen and releasing them to the public. Little can be determined, apart from the gunshot shells, Cobain's drugs, and his suicide note, and his death was again determined to be a suicide.
Frances Bean says she and her mom are now in a good place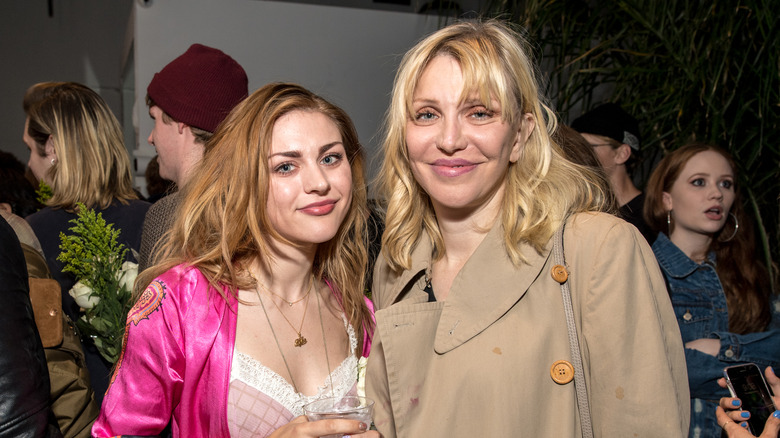 Emma Mcintyre/Getty Images
They've had their ups and downs for sure, but they seem to be in a much better place now. While Frances Bean Cobain was on RuPaul's podcast, "What's the Tee?" in 2019, she spoke about her relationship with her mom, saying, "When my mom is on a right and healthy path, she is one of the most fulfilling, beautiful, intelligent, kind people I've ever met." The pair haven't been seen together publicly in a few years, with Courtney Love having settled in London. 
Love has also become a dedicated Buddist, telling David Letterman in 2015, "I'm a Buddhist, I chant and I'm really serious about it." It's clear they've been working on their relationship for many years and they're both putting in the work to change and heal. As Frances told Rolling Stone in 2015, "[My mom and I] have resolved a lot of our issues. I grew up. And she grew up too."