Y&R's Melissa Claire Egan Leaves Hope For Chelsea And Adam Reunion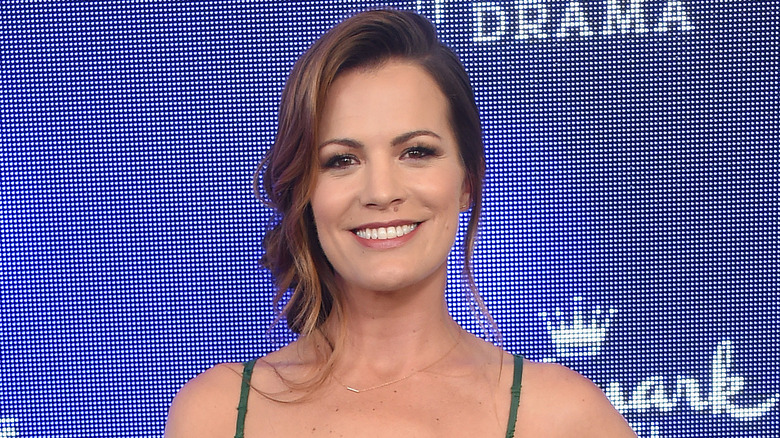 DFree/Shutterstock
The relationship between Adam Newman (Mark Grossman) and Chelsea Lawson (Melissa Claire Egan) on "The Young and the Restless" has had pendulum swings like those of a rather large grandfather clock. Adam was previously played by Michael Muhney and Justin Hartley, with Grossman taking over the role in 2019. Adam and Chelsea have gone back and forth with each other multiple times over the years. While together they can be good for each other, the couple often splits up because one or the other has made a bad choice. 
They have a son named Connor Newman (Judah Mackey), but Chelsea also shares a child with Billy Abbott (Jason Thompson), and the two are starting to get close again. Ever since Billy helped convince Chelsea to not commit suicide, she's tried to turn her life around completely, approaching almost everyone she's hurt over the years — including Billy! — to apologize and make amends for her atrocious behavior. 
Meanwhile, Adam has not only been irritated seeing Billy in Chelsea's orbit so often, but he also had a one-night stand with Sally Spectra (Courtney Hope), and now she's pregnant. Sally is with Adam's brother, Nick Newman (Joshua Morrow), and a DNA test proved Adam is the baby daddy. With this new, irrevocable connection between Adam and Sally, and sparks flying between Billy and Chelsea, a reunion between her and Adam seems unlikely.
If you or anyone you know is having suicidal thoughts, please call the National Suicide Prevention Lifeline​ by dialing 988 or by calling 1-800-273-TALK (8255).
The actor teased fans about Adam and Chelsea's future
During a recent "Young and the Restless" fan event over Zoom, viewers asked Melissa Claire Egan about her thoughts on the future of Adam Newman and Chelsea Lawson's romantic relationship. As Soap Hub reported, one fan asked if there was any possibility for the fan-favorite couple to have another child, as well as whether or not Chelsea would be heading back to the fashion world, as she's worked in that industry with several companies including Jabot. 
Egan explained simply, "Chelsea's gotten into [a] little video game stuff lately." This is in reference to the fact that Chelsea pitched a self-help video game to Daniel Romalotti (Michael Graziadei) for the gaming platform that he's currently developing. Her concept was based on all of the bad choices she's made in life. Egan went on to address the fact that Chelsea and Adam have recently moved on with other people. 
She noted, "I think, you know, he's [got] a lot of good juicy drama with Sally right now, and I'm with Billy [Jason Thompson] now." However, the actor wrapped things up by teasing that there may yet be hope for the couple in the future, pointing out, "It's Chelsea and Adam, you know, they always find their way back to each other eventually. But for now, I think they're both kind of creating a great friendship."