Christopher Sean Makes Another Crime-Fighting Appearance On Days Of Our Lives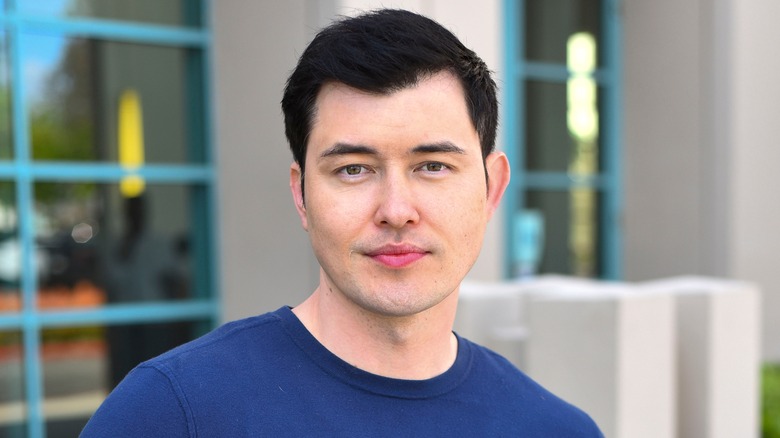 Michael Mattes/Shutterstock
In 2018, rumors abounded that Christopher Sean was leaving "Days of Our Lives" to pursue acting in movies and primetime TV shows. Sean did indeed leave his character, Paul Narita, and has done extensive voiceover work as well as appearing on hit television series like the reboot of "Hawaii 5-0" and "NCIS: Los Angeles." Before exiting the soap, Paul found out his father was John Black (Drake Hogestyn), and he joined him as a private investigator, solving various crimes. Paul was also involved in a love triangle with Will Horton and Sonny Kiriakis — currently played by Chandler Massey and Zach Tinker, respectively.
Although he had left town because he had been inadvertently interfering in Sonny and Will's marriage, Paul returned for the streaming spin-off called "Days of Our Lives: Beyond Salem: Chapter 2" in 2022. In that short series, Paul ended up meeting Andrew Donovan (Colton Little), son of ISA chief Shane Donovan (Charles Shaughnessy), and an agent himself. The two were instrumental in helping to stop the evil Megan Hathaway (Miranda Wilson) from using three strange and potentially magical prisms for her nefarious purposes. Paul and Andrew had become romantically involved, and it's recently been revealed that returning villain Dimitri Von Leuschner (Peter Porte) is holding him prisoner.
Given that Will and Sonny have moved to New Zealand, Paul's return will take him in exciting new directions.
Andrew's in trouble. Can Paul help?
Alongside the major returns of "Days of Our Lives" characters Bo Brady (Peter Reckell) and Hope Williams (Kristian Alfonso), Andrew Donovan has also briefly appeared as he is being held prisoner. Now it's official that Christopher Sean will be reprising his role as Paul Narita on the May 24 episode, according to Soap Opera News. His heroic dad, John Black, will be visiting him in San Francisco, presumably to recruit his help in rescuing Andrew. Sean had previously appeared in March when he and Andrew — who had parted ways at the end of "Beyond Salem: Chapter 2" — had a brief reunion. Soap Hub criticized the episode as everything that led to the two characters breaking up was told through one episode of dialogue rather than being shown as it played out.
But now that Andrew is in danger and Paul is on the verge of returning, it looks like there will be more action, intrigue, and passion as the two will inevitably reunite. In 2022, when a fan asked Sean on Twitter if he would consider returning to the show, the actor responded with his love for "Days" and confirmed his desire to eventually come back and bring along with the large fanbase he's built up from being on other shows.
We're looking forward to seeing what excitement Sean brings when he returns!