All Of Phyllis' Husbands On The Young And The Restless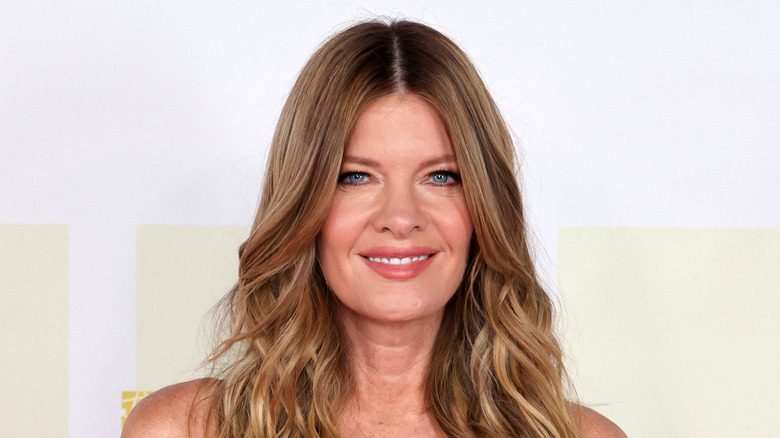 Kevin Winter/Getty Images
Phyllis Summers (Michelle Stafford) is one of a kind on "The Young and the Restless," and only a certain caliber of men in Genoa City are in her league. It takes a specific type of man to offset or match the behavior exhibited by the former owner of the Grand Phoenix Hotel. First arriving on the scene in 1994, Phyllis has been in several high-profile relationships with some of the most eligible bachelors in town. While some of those relationships were given a significant spotlight, like her tryst with Billy Abbott (Jason Thompson) or flirtations with Adam Newman (Mark Grossman), only four men made it down the aisle.
In a tenure spanning nearly three decades, less than a handful of men have been granted the honor of being the fiery redhead's husband. However, having a wedding is one thing, but maintaining a happy marriage is an entirely different animal. Phyllis had exchanged vows with the fathers of her children, Danny Romalotti (Michael Damian) and Nicholas Newman (Joshua Morrow). Still, at other times, like her most recent marriage to Jeremy Stark (James Hyde), a dark deep-seated reason for getting married lay beneath the surface.
Whatever the case was to lead Phyllis and her quadrangle of men down the aisle, one thing is sure: her marriage to Danny, the man who started it all, set the tone for her romantic future.
Danny Romalotti was Phyllis' first husband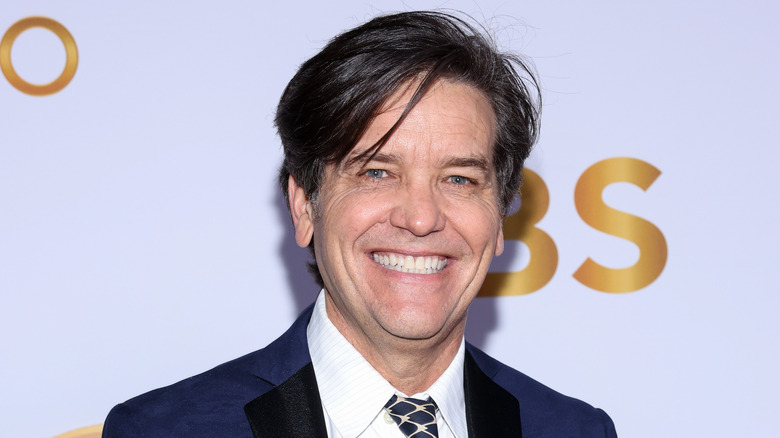 Victoria Sirakova/Getty Images
Phyllis Summers was a bad woman when she first arrived in Genoa City '90s. Not a lot has changed because she's still often up to no good, but she's come a long way from where she began. She started as nothing more than an overzealous groupie to the singer, Danny Romalotti, quickly becoming someone he couldn't shake. Fortunately for Phyllis, her unexpected pregnancy prompted Danny to become a stand-up guy and marry her. It was obvious she was using her child as a means of manipulation, but he agreed to go through with the marriage anyway.
Not only did he marry her once, but he married her a second time. He got a full taste of who she was as a person during their first attempt at marriage, and he still chose to be with her a second time. This shot at a future together didn't go over any better than the first time they tied the knot. Danny was never going to be one of Phyllis' true great loves. Only two men have been able to hold that claim in her life, and it's two of her other husbands, Jack Abbott (Peter Bergman) and Nicholas Newman.
Jack Abbott would be Phyllis' second husband and is the one who got away — even to this day. Despite currently having a highly contentious relationship these days, there's no denying the genuine love Jack and Phyllis had.
Jack Abbott married Phyllis on two occasions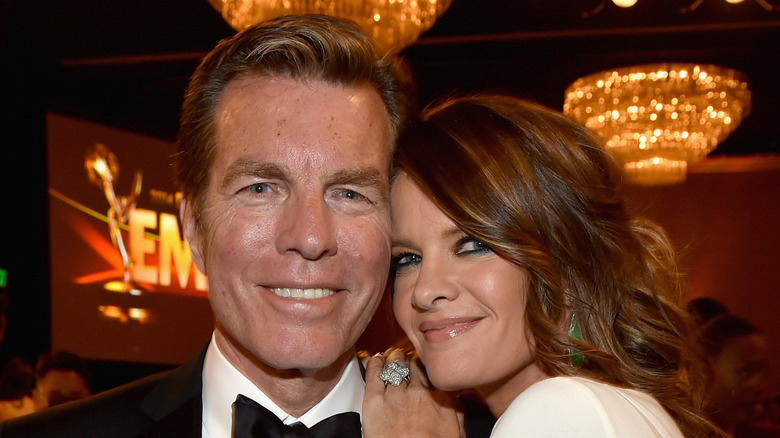 Alberto E. Rodriguez/Getty Images
Jack Abbott and Phyllis Summers may have only been married on two separate occasions, but it feels like their love has lasted a lifetime. Shenanigans always seem to prevent them from finding genuine long-term happiness with each other. Diane Jenkins (Susan Walters) was a major thorn in the side of their marriage in the past, and she remains one in the present as well. They couldn't work things out during their first marriage in the early '00s, which led to her eventually having an affair with Nick Newman and the birth of their daughter Summer Newman.
However, several years later, they fell in love again and gave their relationship another chance. Unfortunately, it was doomed from the beginning because, on their wedding night in 2015, Jack was replaced by an identical imposter, courtesy of Victor Newman (Eric Braeden). The man pretending to be Jack was an awful husband to Phyllis, sexually assaulted her, and ran every aspect of Jack's life into the ground.
Eventually, the real Jack returned to Genoa City, but the damage was done. Phyllis couldn't shake the feeling of what the imposter, Marco Annicelli, did to her, so she and Jack ultimately divorced. They never found their way fully back together, but they did try in 2022. However, Diane's return immediately threw them off track, and their relationship has been spiraling downward ever since.
Nick Newman also married Phyllis twice
Nick Newman is another man that Phyllis Summers has incredible chemistry, and viewers would expect them to last. However, something always goes haywire in their lives, preventing them from maintaining a healthy marriage for too long. They married shortly after the birth of Summer Newman, and while it was great for a while, Nick's heart was still with Sharon Collins (Sharon Case), whom he had separated from after the death of their daughter Cassie Newman (Camryn Grimes). Phyllis and Nick eventually divorced, but many years later, they, too, gave their relationship a second opportunity. This time, things were far more casual than they were in the first incarnation. However, things became more serious in 2021, but by the end of the year, their relationship was hanging by a thread. 
Nick became obsessed with meddling in his sister, Victoria Newman's (Amelia Heinle) marriage to Ashland Locke (Robert Newman), and Phyllis couldn't take it anymore. He was too entrenched in the Newman family drama, and it destroyed everything they'd been building. She called him out on how he was treating her, and it led her back to Jack Abbott for a while. However, when that didn't work out, Phyllis moved on to Jeremy Stark.
Jeremy Stark is Phyllis' most recent husband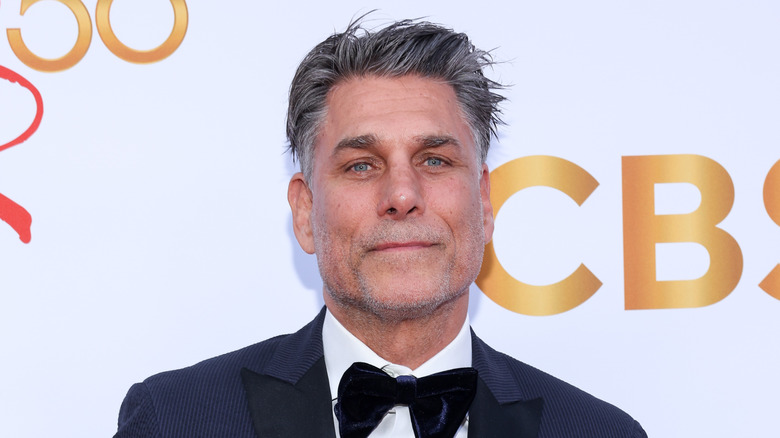 Victoria Sirakova/Getty Images
Dirty businessman Jeremy Stark was bad news from the first moment he arrived in town looking for Diane Jenkins, hoping to get revenge against her for stealing money from him. Phyllis Summers had seen an opening to bring Jeremy to town to aid in her efforts to destroy Diane once and for all, but she wasn't banking on how dangerous of a man he was. After he realized she was the secret force behind bringing him to Genoa City, Phyllis tried to distance herself from Jeremy, but it didn't work. Eventually, the two agreed to work together to eliminate Diane from their lives for good.
The two staged an attack between Phyllis and Diane, faking Phyllis' death and setting Diane up to take the fall. Everyone believed that Diane had poisoned Phyllis, leading her to perish in a subsequent ambulance crash, but Phyllis showed up to her own funeral, having regretted what she'd done. However, her now husband, Jeremy, wasn't going to let her off the hook that easy. He threatened to murder Phyllis to keep his involvement in this plot quiet. During an altercation, Jeremy went after Phyllis with a pair of scissors, but she was able to get them away from him, stabbing him in self-defense. 
Not only did Phyllis have to face the fact she murdered her fourth husband, but she was also forced to explain why she had faked her death. With her current reputation, it might be impossible for Phyllis to ever find love again.