Taylor Lautner Is Gearing Up For The Release Of Taylor Swift's New Version Of Speak Now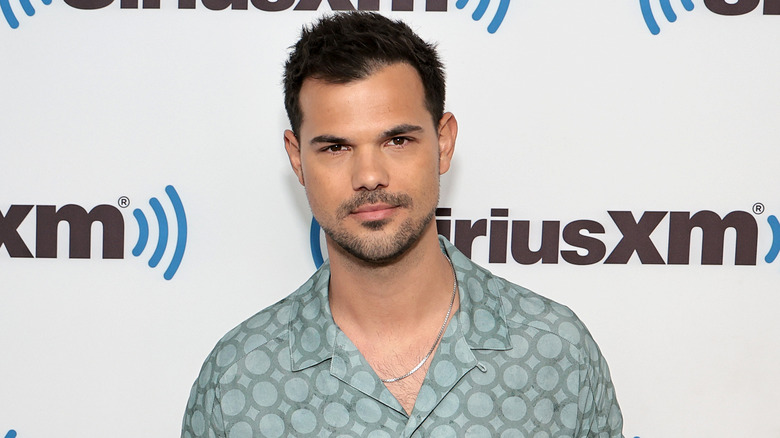 Jamie McCarthy/Getty Images
Amid her highly successful Eras Tour, Taylor Swift revealed that "Speak Now (Taylor's Version)" would be released on July 7, 2023. The pop star further commented on the album, first released in 2010, on social media. She wrote (via Twitter), "The songs that came from this time in my life were marked by their brutal honesty, unfiltered diaristic confessions, and wild wistfulness." One such song is "Back to December," allegedly written about Swift's former boyfriend, Taylor Lauter. Swift and Lautner briefly dated in 2009 after starring in "Valentine's Day." With that said, fans have expressed their joy over this news all over social media.
Moreover, Lautner has good things to say about "Speak Now (Taylor's Version)." In an interview with Today, he said, "I think it's a great album. Yeah, I feel safe." He added, "Praying for John." Lautner's comments, of course, are about John Mayer. Swift and Mayer dated between 2009 and 2010. The relationship was short-lived, and Swift wrote "Dear John" about its demise. Lautner reiterated how he felt about "Speak Now (Taylor's Version)" in a TikTok where he pretends to pray while "Dear John" plays in the background.
This is why Taylor Lautner is 'praying' for John Mayer
Since 2021, Taylor Swift has slowly been re-recording her first six albums. The pop star does not own the masters of these albums, which she released under her former label, Big Machine Records. In November of that year, Swift debuted "Red (Taylor's Version)." The album was initially released in 2012 and is reportedly about Swift's relationship with actor Jake Gyllenhaal, whom she dated in 2010 when she was 20 and he was 29. Swift, per Billboard, later admitted that the album was, in her words, about "heartbreak."
Upon the release of "Red (Taylor's Version)," Gyllenhaal received backlash and hate on social media from Swifties, Swift's fans. Countless tweets and TikToks painted Gyllenhaal as a villain, and even more so when she released the music video for the song "All Too Well." It seems that Taylor Lautner suspects that John Mayer will receive the same retaliation from Swifties with "Speak Now (Taylor's Version)." Lautner later told "The Happy Hour" on SiriusXM (via People) that he was "joking" about praying for John and said, "I personally think John is a very talented musician, but I am aware of a couple songs that were on that album."
 According to Page Six, Mayer experienced a surge in online harassment after the release of "Red (Taylor's Version)," with one Swiftie telling him to "choke on something." Moreover, Mayer told Rolling Stone in 2012 that he was "humiliated" by "Dear John" and described Swift's music as "cheap songwriting."
Taylor Swift on why she wrote 'Back to December'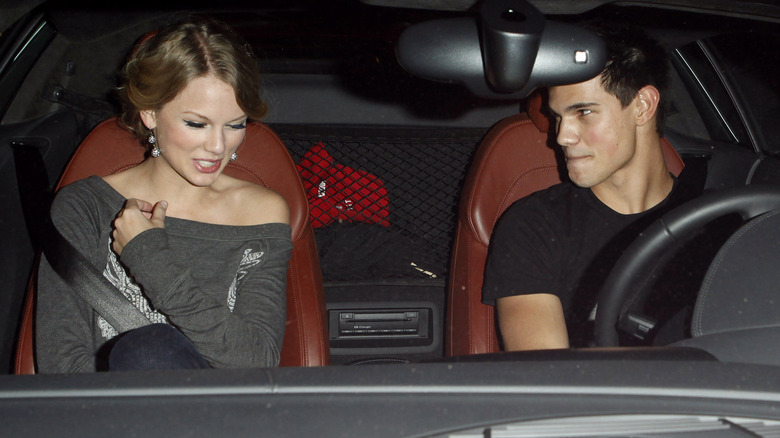 Jean Baptiste Lacroix/Getty Images
While Taylor Lautner believes that John Mayer might need some spiritual help to deal with the possible backlash from "Speak Now (Taylor's Version)," he does not appear to be worried about himself. Lautner and Taylor Swift broke up in December 2009. A source told People that the relationship was never serious and did not work out because of their "busy schedules." Another source told Us Weekly that Lautner was more committed to Swift than she was to him. Nevertheless, the two remained on good terms. Swift reportedly wrote "Back to December" about the end of their relationship.
Although she did not say who the song was about, Swift told MTV News in 2010 that the song was about regret and forgiveness. She explained, "I've never felt the need to apologize in a song before. But in the last two years I've experienced a lot, [including] a lot of different kinds of learning lessons," she said. "And sometimes you learn a lesson too late and at that point you need to apologize because you were careless." 
In 2016, Lautner admitted that the song was about him, but he has never said anything negative about his ex. People reports that he even told "The Happy Hour" that his wife, Tay Dome Lautner, is a "diehard Swiftie."