How Taylor Swift's Style Changed When She Started Dating John Mayer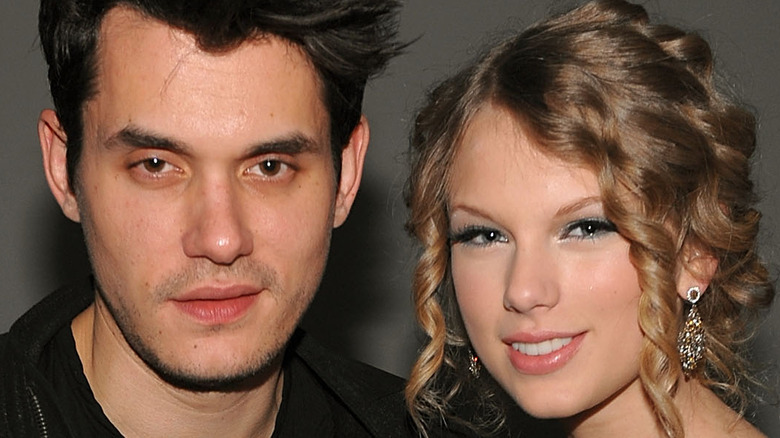 Dimitrios Kambouris/Getty Images
Although she is now very happy in a relationship of over six years with Joe Alwyn (via Cosmopolitan), Taylor Swift's dating history has served as a catalyst for some of her most iconic looks. Throughout the years, we've seen Swift match her aesthetic to each new album era, whether that's cowboy boots, enough sparkly dresses to outfit a hundred proms, or lots and lots of red lipstick.
When Swift first started dating John Mayer, she was 19 years old. The relationship began in November 2009 and fizzled out in early 2010 (via Cosmopolitan). The result? One very sharp song on her next album titled "Dear John", included the lyrics: "Don't you think 19 is too young to be played by your dark, twisted games?" She would later go on to date Conor Kennedy, another relationship where Swift's style notably changed.
When she and Mayer were dating, it's obvious that Swift underwent a small style transformation to become the icon she is today over 10 years later.
At one memorable performance, the singer showed off a new makeup choice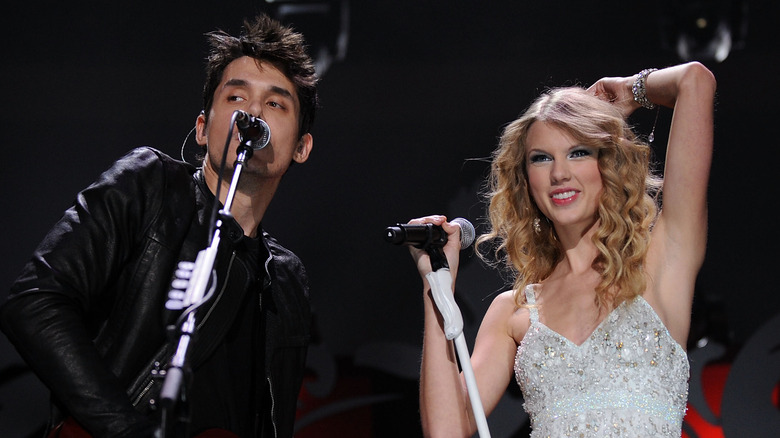 Bryan Bedder/Getty Images
As reported by the New York Post, Taylor Swift didn't differentiate too much from her favorite shimmery dresses much inspired by 1920s flapper style when dating John Mayer. However, there was something that was different about Swift's look, despite the similar fashion choices. At the 2009 Z100 Jinglebell performance, at which Swift performed alongside then-boyfriend Mayer, she could be seen rocking a bright red lip (via the New York Post). Though not the craziest fashion statement, before this point Swift always kept things neutral on her lips, instead opting for a simple smoky eye. With this subtle change, she was perhaps signaling to the world that she was growing up and changing her style.
Plus, from that moment on, Swift seemed to sport red lips far more often. Just a couple of months before she started dating Mayer, Swift was seen wearing a gold ballgown to the 2009 Country Music Awards, with her hair down in ringlets and her lips a peachy pink (via Cosmopolitan). However, at a number of events throughout 2010, she can be seen with the red lip that would later become her signature for her 2012 album, aptly titled "Red".
Taylor Swift's style became darker and more mature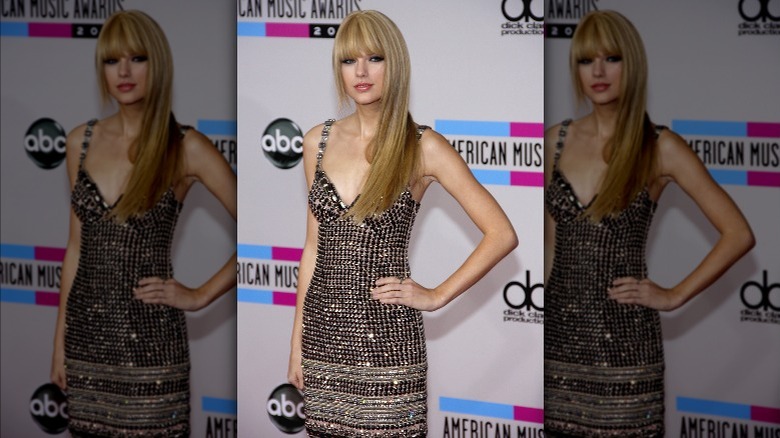 Tinseltown/Shutterstock
Moreover, the New York Post notes that Taylor Swift also tended to shift toward darker colors during the period of time when she was dating John Mayer. For one event that took place in winter 2009, Swift wore an all-black outfit that had only a hint of silver — a rarity for her back then. This could potentially be because she was trying to fit in with Mayer, who's style consisted of mostly black items to go with his rockstar appeal. She was also seen in a black dress at the 2010 American Music Awards and even straightened her hair (per E! News).
By the time Swift and Mayer broke up in 2010, Swift can be seen wearing noticeably wearing less princess-style clothing and is instead starting to experiment with more mature looks. Though she was still partial to a cowboy boot and shift dress combination, the midnight blue shimmering gown she wore to the 2010 Grammys was the start of a major style evolution (via Cosmopolitan). 
Nowadays, almost two decades after she debuted in the music industry, Taylor Swift is still full of style surprises — we can't wait to see which era she draws inspiration from next.