How Being On TV Escalates Kardashian Family Drama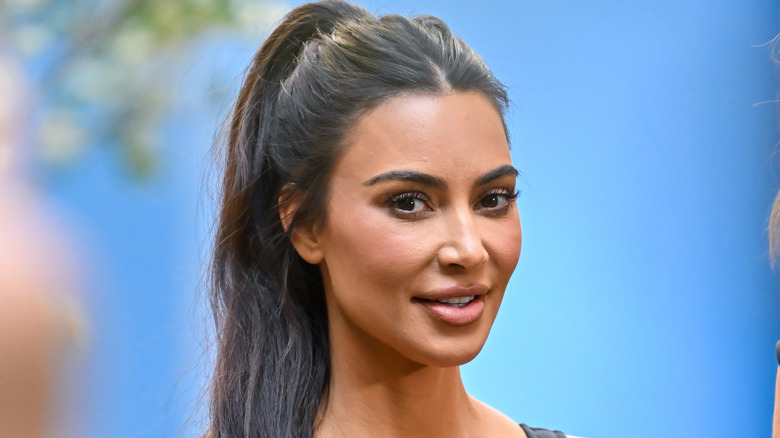 James Devaney/Getty Images
In 2022, reports surfaced that Kim Kardashian and her older sister Kourtney Kardashian's relationship was on the rocks. The two had been in public feuds in the past, and fans of their reality show know that the two often don't see eye to eye. However, in the Season 3 trailer of "The Kardashians," it's revealed that Kourtney believed Kim stole some of her wedding day thunder by becoming the face of Dolce & Gabbana shortly after Kourtney's wedding to Travis Barker, in which the reality star wore a lavish Dolce & Gabbana wedding dress. The rest of the family also wore the brand's designs to the wedding. "My sister used my wedding as a business opportunity," Kourtney said to the camera. Later, Kim's sisters Khloe Kardashian and Kendall Jenner explained that Kourtney was unhappy with Kim for the incident.
During a 2023 interview on the "Today Show," Kim opened up about the bad blood between her and Kourtney, revealing that they had smoothed things over. However, Kim did admit that having their lives filmed and edited for their reality show, brings about more drama than there should be in many situations due to the fact that you can see what your family members are saying behind your back. Kim explained that things can be difficult when it comes to re-watching tough moments in life. Although, she says that the family always comes out on top. "We've been there before, and we'll always be okay. We're always family. That's how we were raised," she said.
Kim shares the negative side of reality TV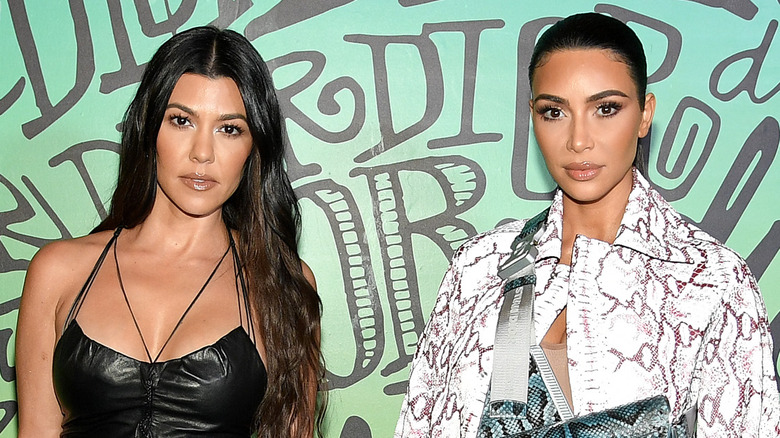 Dimitrios Kambouris/Getty Images
When it comes to sharing their lives on television, the Kardashian family knows all too well that there may be consequences. Sadly, those consequences may come at the expense of their own family members. While speaking about her conflict with her sister, Kim Kardashian opened up about how tough it is to watch the show at times. "You film it, we think we're good, and we make up, then you edit it, and I'm seeing all the things she's saying behind my back and she's seeing all the things I'm saying behind her back, and the tension rises all over again," Kim explained. "It gets really tricky, and it gets really emotional. But at the end of the day, we still love sharing our life."
Fans who have followed the Kardashian family saga on reality TV through the years know that the famous brood has its fair share of drama. While outside factors often contribute to the family's headline-making lives, many times there is conflict internally. 
Over the years, viewers have witnessed the Kardashian family go through many ups and downs, including fights among each other. Khloe Kardashian and Scott Disick have had bad moments in the past, as well as other members of the family. Most famously, Kim and her older sister, Kourtney Kardashian Barker, have been at the center of several family arguments, which have been caught on camera. The two have even gotten into a physical altercation in the past.
Kourtney's relationship with her sisters has changed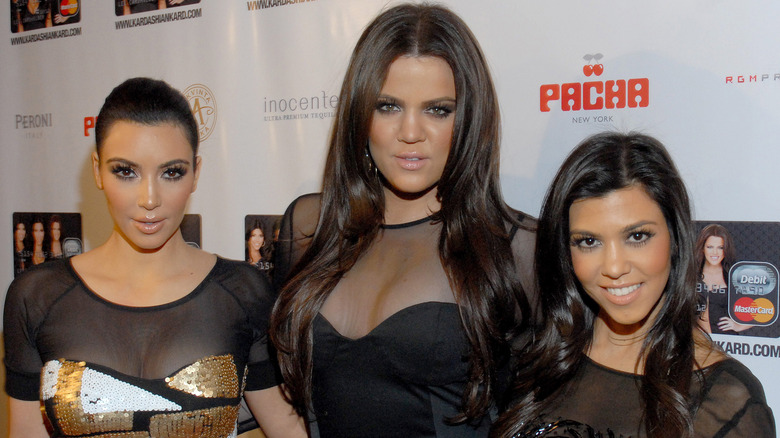 Michael N. Todaro/Getty Images
During a late season of "Keeping Up With The Kardashians," Kim and Kourtney clashed over their work ethics, with Kim telling Kourtney that she was more committed to working and filming the reality show that her sister. Kourtney became angry and things escalated when she threw her water bottle at Kim and lunged toward her as the sisters got physical. Kourtney later cried, and described working with her sisters as "torture."
In 2018, Kim and Kourtney fought over scheduling family photos, which led Kim to say her now-famous line about how Kourtney is the "least exciting to look at." After the family's reality TV series moved from the E! network to Hulu, things didn't get much better. In fact, Kim and Kourtney are still butting heads, and in clips from Season 3 of "The Kardashians," it's clear that there is some bad blood between the two oldest sisters. "They're always feuding with each other. They're always at each other's throats," a source told the US Sun. "They're the siblings in the family that feud most often and are the most dramatic sisters in the family. They fight a lot." 
Meanwhile, in 2023, Kourtney confessed to ET that she's not as close to her sisters as she used to be, revealing "I love to keep my little bubble and as they say, 'Protect your energy.' And I just like to be in my own little world and enter it when I choose and then slip back in." She added, "We're good. I think just life isn't the same. I think I'm in a different place."