The Best Blow Drying Technique For Straighter Styling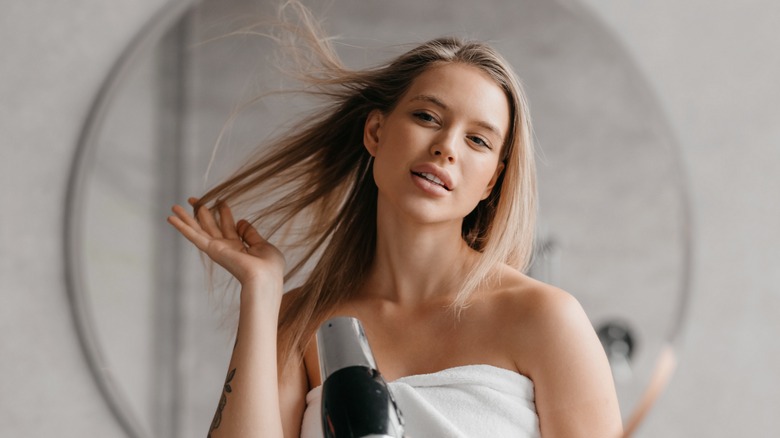 Prostock-studio/Shutterstock
When trying to mimic the work of a professional hairdresser, you may find that your finishing product tends to fall flat. There's nothing that solidifies this more than trying to recreate a hairstyle that you received at the salon. Whether it's a dye job or cutting low-maintenance shag bangs, the end result rarely ever looks as good as what you get from your stylist. 
Even when simply blow drying your hair, trying to get it completely straight can seem nearly impossible. On most days, you may have no issue with busting out the hair straightener to get your strands as sleek as possible. However, when you're in a rush, spending another hour to ensure that your hair is sans frizz isn't something that you'll want to do.
Sometimes blow drying hair can just make your hair puffier than you imagined it could be, depending on your natural hair texture. However, with a different technique, you can get straighter hair when you apply heat to your mane.
How to get straighter hair when blow drying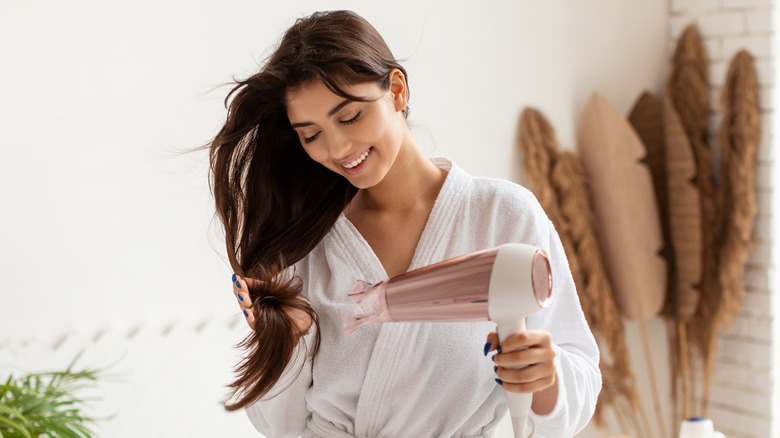 Prostock-studio/Shutterstock
After washing your hair, try to squeeze out as much water as possible — more water means a longer drying time. Gently wring out the excess moisture and dry your hair with a microfiber towel. Next, using a wide tooth comb, gently detangle your hair from tip to root. Apply your heat protectant and then get your blow dryer ready. In order to get your hair as sleek as possible, you'll need to use a nozzle attachment.
Split your hair into sections, placing a round hairbrush underneath the first chunk of hair. Starting at the top, move the nozzle back and forth to evenly distribute the heat. A nozzle allows a large amount of heat to be concentrated in one area, so the movement is necessary when it comes to even drying and avoiding heat damage.
It's also important to hold the dryer about six inches away from your head so the high temperature of the air it produces doesn't damage your locks. Once an area is dry, go over the section with cold air to hold the style in place.
Shop the best products for blow drying hair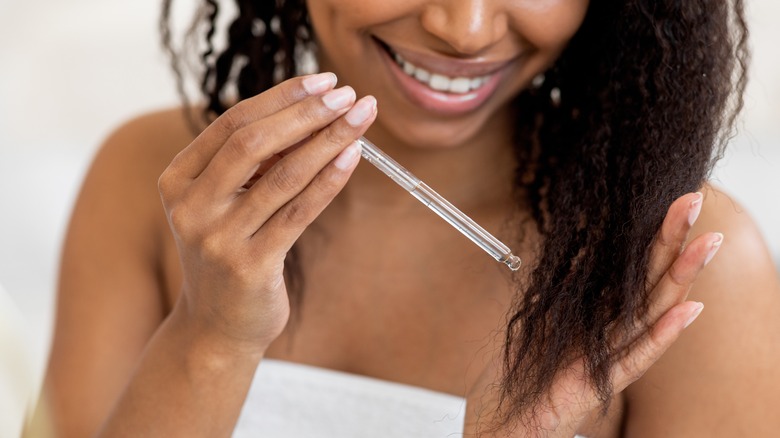 Prostock-studio/Shutterstock
To get hair that's as sleek and frizz-free as possible, you'll need a blow dryer that can meet all of your needs. One of the best hair dryers of 2022, the Bio Ionic 10X Pro Ultralight Speed Dryer uses special Bio Ionic Moisturizing Heat Technology to dry hair while keeping it healthy, hydrated, and frizz-free. It comes with a nozzle for concentrated heat and can dry hair in less than 10 minutes thanks to its motor that's 50% more powerful than the industry standard.
For a frizz-free blowout, try the Living Proof No Frizz Vanishing Oil. Made with Amaranth seed extract, hemisqualane, and a Biomimetic five-oil blend, the lightweight oil sinks into hair easily, nourishing it without adding weight and heaviness. It's formulated for all hair types and blocks humidity while leaving hair smooth and shiny.
Using high temperatures on your hair requires a heat protectant that can prevent damage from affecting your strands. The Briogeo Farewell Frizz Blow Dry Heat Protectant Cream protects hair from heat up to 450 degrees Fahrenheit. It's made with rosehip, coconut, and argan oil, perfect for deeply moisturizing hair while combating frizz in all hair types.