What We Know About George Clooney's Friendship With Meghan Markle And Prince Harry
Matteo Chinellato/Shutterstock
It is no secret that celebrities tend to hang out with other celebrities — even those from across the pond. It would be difficult not to do so when working in show business. While these relationships are not quite as widely discussed as celebrity romantic relationships, fans still enjoy hearing about famous friendships like Sarah Paulson and Pedro Pascal or Niall Horan and Lewis Capaldi.
Some celebrity friendships might seem unlikely. Others stand the tests of time or public scrutiny. All of these descriptors apply to George Clooney's relationship with Prince Harry and Meghan Markle. Given that Harry and Meghan have dealt with so much family drama accentuated by tabloids, it may be difficult to maintain a sense of normalcy within their inner circle. However, Clooney has proved to be quite sympathetic toward the couple and is not afraid to publicly support them.
Prince Harry and Meghan visited George Clooney's Italian home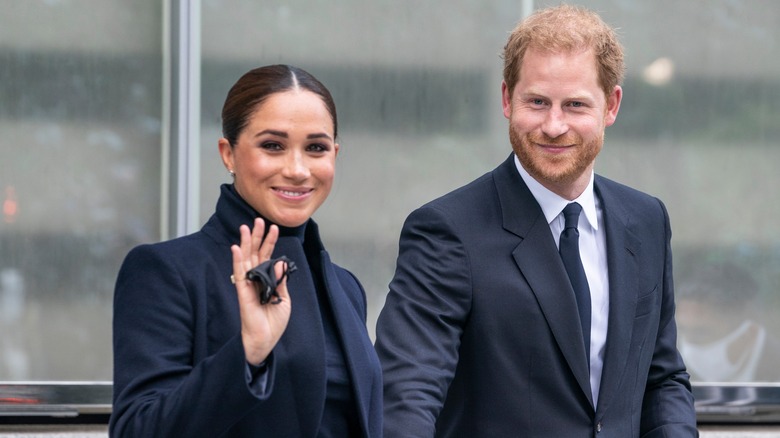 lev radin/Shutterstock
As with previous British royal weddings, Prince Harry and Meghan Markle's 2018 wedding at Windsor Castle was a momentous occasion celebrated by millions. There were also plenty of A-list guests like David and Victoria Beckham, Oprah Winfrey, and George and Amal Clooney. According to Boris Johnson's sister in Air Mail, George Clooney told Carolyn Bartholomew at the time that he did not know the newlyweds personally. However, just a few months after their wedding, ABC News' royal contributor Omid Scobie reported that Harry and Meghan visited the Clooneys at their Italian villa on Lake Como, apparently via George Clooney's private jet. It seems like Meghan and Amal were friends first, but upon their stay at the villa, a source told Us Weekly that "Harry and George have a special bond and friendship." During the trip, the guys reportedly bonded over Clooney's motorcycles and basketball.
As Harry and Meghan stepped down from royal duties and began opening up about why they chose to do so, the public has been divided. Some are team Harry and Meghan, while others have questioned the validity of their revelations. Through it all, Clooney has remained a supportive friend to the couple.
George Clooney said that Meghan Markle has been vilified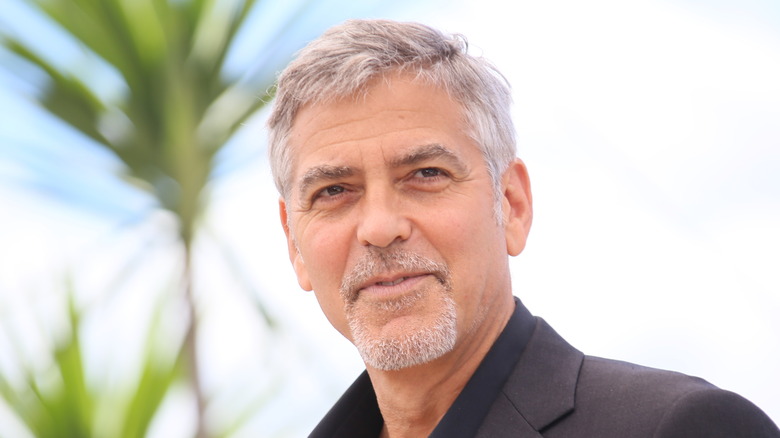 Denis Makarenko/Shutterstock
In 2019, George Clooney stuck up for Meghan Markle. "They're just chasing Meghan Markle everywhere, she's been pursued and vilified. She's a woman who is seven months pregnant and she has been pursued and vilified and chased in the same way that Diana was and its history repeating itself. We've seen how that ends. I can't tell you how frustrating that is," he stated to Who Australia. Clooney opened up about his views on Prince Harry and Meghan to "Good Morning Britain" as well. "They're a wonderful, loving couple," he said. The actor also referred to Markle's treatment in the media as "unfair."
Given their friendship, it's ironic that Clooney and his wife attended the Prince's Trust Awards in May 2023, an organization helmed by King Charles III. Harry and Meghan did not attend. Clooney has not been photographed with or commented on Harry or Meghan for a couple of years as of these awards, making it unclear whether they are still close.