What To Know About Sarah Paulson And Pedro Pascal's Longstanding Friendship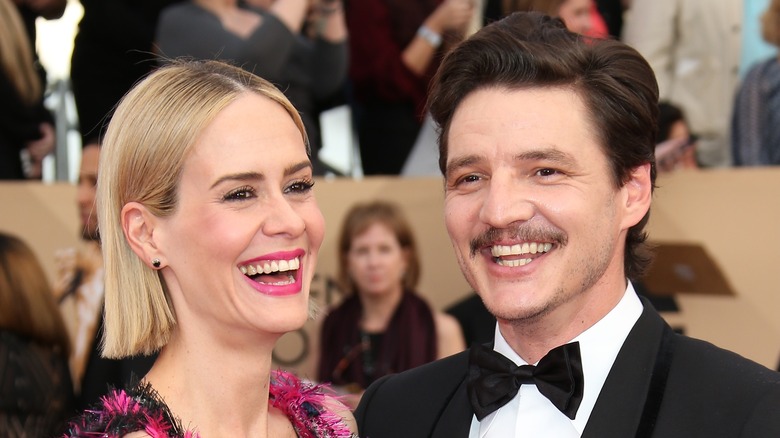 Dan Macmedan/Getty Images
Pedro Pascal has been an actor for over 20 years. However, his recent roles in "The Mandalorian" and "The Last of Us" have turned more people into dedicated fans and have made him an in-demand star. He even hosted "Saturday Night Live," attended the Met Gala, and had a viral TikTok trend of him nonchalantly eating toast. If all this was not enough to make him even more lovable, the veteran actor also has a sweet friendship with fellow showbusiness fan favorite Sarah Paulson.
Time Magazine named Paulson as one of the most influential people of 2017. She also has an Emmy and a Golden Globe for her work on "American Crime Story," along with multiple other nominations. Showbusiness can be a small world. Actors, singers, and the like can easily cross paths even if they do not work together as co-stars or collaborators. This was the case for Pascal and Paulson.
Pedro Pascal met Sarah Paulson through a mutual friend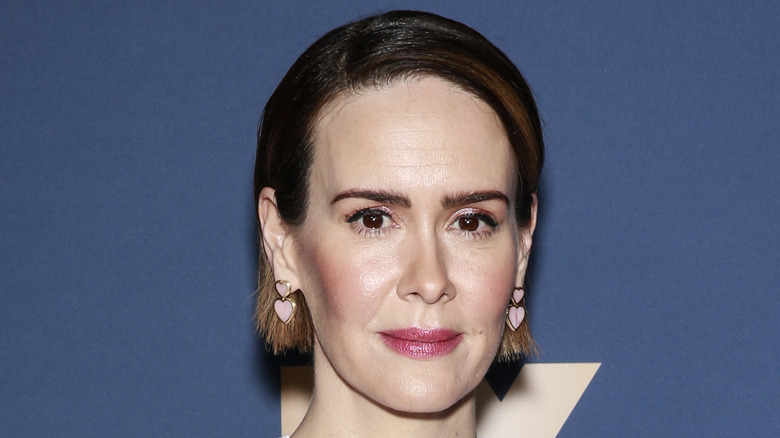 Ovidiu Hrubaru/Shutterstock
Sarah Paulson met Pedro Pascal when she was only 18 years old. In September 1993, Pascal had just moved to New York City. The two met through a mutual friend. "I was really lucky because my first friend at NYU lived in Brooklyn, Kristen, and went to high school with you, so your guys' posse kind of adopted me," Pascal recalled to Paulson in Interview. The entire group of friends cried together while watching "Fearless" in theaters. NYC antics continued that day, such as "running down Fifth Avenue, and getting knocked down by a cabbie." Paulson recalls it all well. "It's a wonder we survived," she joked.
Both of their careers took off within the coming years. Paulson landed a small role on an episode of "Law and Order", recurring roles in "American Gothic", and even a Hallmark Christmas movie. Pascal had several one-off television roles as well. However, they only lost touch for a few years as they both began moving between Los Angeles and New York City.
Sarah Paulson and Pedro Pascal have attended awards ceremonies together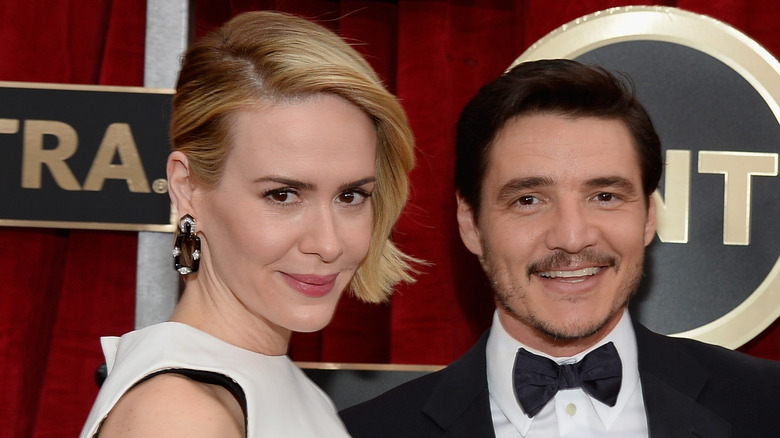 Kevork Djansezian/Getty Images
Being friends for nearly 30 years means Sarah Paulson and Pedro Pascal have been able to cheer each other on as both evolved from playing minor characters to becoming award-winning stars. Over the years, they have frequently met up at award ceremonies like the SAG Awards (pictured above) and the Producers Guild Awards, sometimes even attending these events as each other's dates. Paulson and Pascal have also posted endearing birthday tributes to each other on Instagram. For Pascal's birthday, Paulson captioned a post with "I love you now and always. Here's to more of all of it." Then for Paulson, Pascal posted a video of her dancing and called her a "goddess" in the caption.
Aside from their love for acting, it is easy to see why Paulson and Pascal are close friends. They are both passionate about social activism. On Instagram, she often posts in support of trans rights and encourages people to vote in government elections. Pascal often posts about Pride Month and reproductive rights on his own Instagram page.