The Benefits Of Mixing And Matching Your Shampoo And Conditioner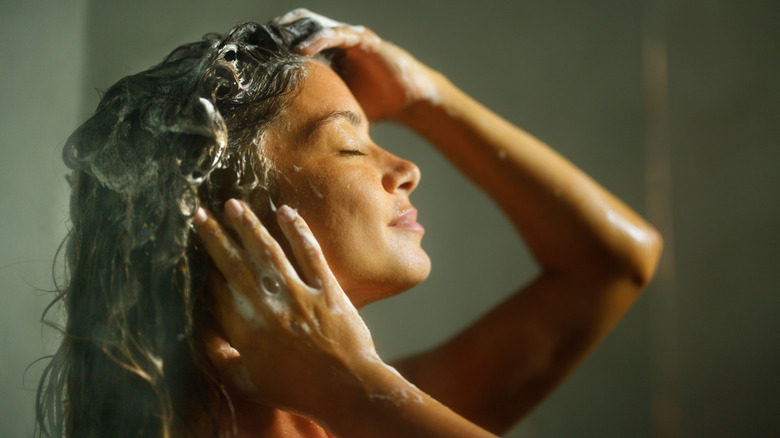 Skynesher/Getty Images
When we're in the mood to socialize and hit up our favorite restaurants and hangouts, we all want to look dazzling — especially when it comes to our hair. There is a lot to consider when trying to get the look we want from our hair, whether it's working out which shampoos and conditioners are suitable to our hair type or it's deciding when and how often these products should be used in order to keep our hair healthy.
It's important to understand the science behind shampoo and conditioner so that you can be sure you're choosing the right products in the first place. Shampoos aim to thoroughly cleanse your scalp and hair by clearing out dirt and excess oil. Shampoos can also contain ingredients that nourish your hair and keep it prime for growth. Conditioners aim to preserve moisture in your hair and protect it from sunlight exposure — not applying conditioner can lead to damage and even result in hair breakage.
But how do we know if we are using the right products to get the best results? Should we brand-match our shampoo and conditioner, or should we go rogue and mix it up? As it turns out, if you find the ideal shampoo and conditioner for you, they can still give you the results you're after — even if they're from different brands. Take a look at how to choose the right shampoo and conditioner, and understand the benefits of matching and mixing.
Choosing the right type of shampoo and conditioner for you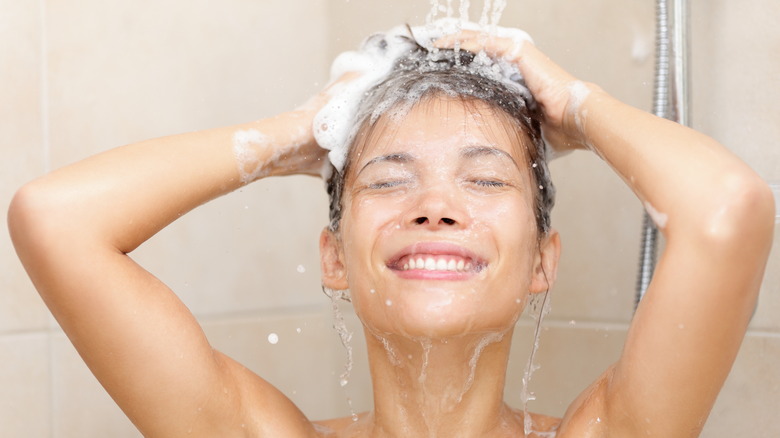 Ariwasabi/Getty Images
A practical jumping-off point in selecting the right shampoo for you is identifying your scalp type. "A scalp that feels tight after washing (or just by itself) or a scalp that is itchy (with or without flakes) are signs that you may have a dry scalp," Sharleen St. Surin-Lord, certified dermatologist, tells Byrdie. "An oily scalp ... may be shinier, and someone with an oily scalp and dandruff can have flakes that appear clumped together." Meanwhile, when choosing the right conditioner, it's important to consider the thickness of your strands. "Quite simply, you need to choose a conditioner based on the weight and thickness of your hair," Antony Rawlings, a salon creative director, told Marie Claire.
Once you've decided which type of shampoo and conditioner you need, it's time to find the right products. It might be best to pick one brand instead of mixing your shampoo and conditioner brands. Buying a matching set can be cost-effective as they are often sold together as part of a promotional deal. Furthermore, matching products contain ingredients that complement one another. "Companies often design one with the other in mind," hairstylist Wesley O'Meara told InStyle. "So yes, it is beneficial to use both, but not necessary."
One instance where matching products may be essential is combating dandruff outbreaks, as Rolanda J. Wilkerson, Ph.D., a scientist for Procter & Gamble, explained to Women's Health. For example, using an anti-dandruff shampoo with the recommended brand's anti-dandruff conditioner would maximize its benefits, she said.
Opposites can attract when it comes to haircare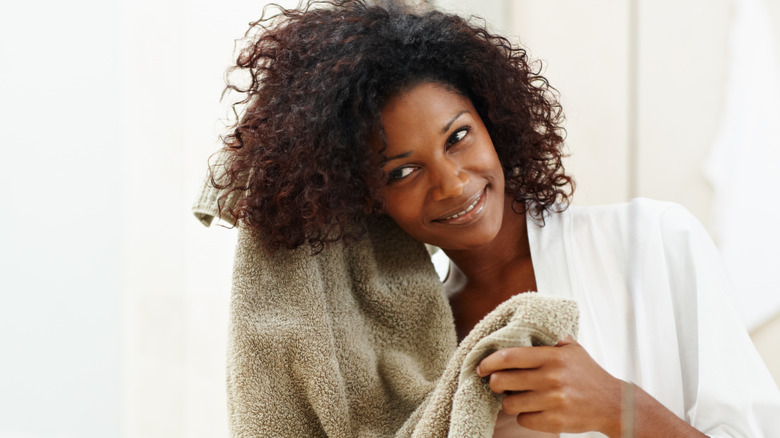 Globalstock/Getty Images
Some hairstylists and health experts say that mixing shampoo and conditioner products is not only beneficial but should be common practice if our hair calls for it, so don't feel pinned down by one brand if it doesn't work for you. We all have individual hair types with specific needs, so carefully selecting a shampoo and conditioner for our needs is ideal — even if the brands do not match.
"Buy shampoo based on what your scalp and roots need, and conditioner based on what ends need," hairstylist MariLynne Cosmillo recommended in an interview with Mind Body Green. For example, you might use a shampoo meant for color-treated hair and a moisturizing conditioner for dry hair. Another aspect to consider is your hair's texture, as hairstylist Tyler Colton told InStyle. "Mixing and matching for hair texture is a great idea. If you have thick hair or curly hair, you might need products with more moisture and some product lines may not offer what you need," Colton said.
Once you figure out what you want from your haircare, it's time to stock up on bottles or maybe try something new. Check out some of our favorite shampoos for ideas.