Kelly Ripa's First Office On Live Was No Prized Location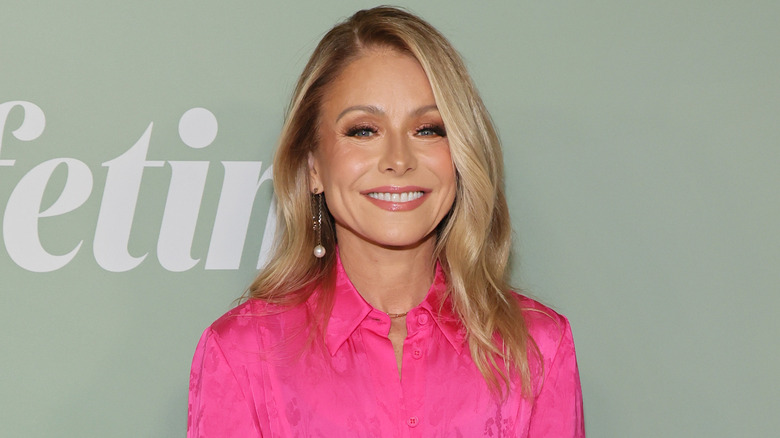 Dia Dipasupil/Getty Images
One familiar face has greeted "Live!" viewers every morning for the past twenty-two years. In 2001, Kelly Ripa replaced Kathie Lee Gifford as co-host to Regis Philbin, and the show became "Live with Regis and Kelly." A decade later, Ripa became the main emcee, wracking up her own long list of co-hosts.
Today, the show is a stalwart of morning programming and runs like a well-oiled machine despite a few stumbles along the way. But things haven't always been easy. Ripa has recalled the hardships she faced initially, telling Dear Media's "Not Skinny But Not Fat" podcast, "I was struggling publicly," and that she was "a person real, real unsure as to what it was they were doing."
When she joined "Live!" decades ago, she was first told that Regis didn't want a co-host and that her position was temporary. What may have really driven this point home was Ripa's first office — an actual janitor's closet.
Ripa was 'the new guy'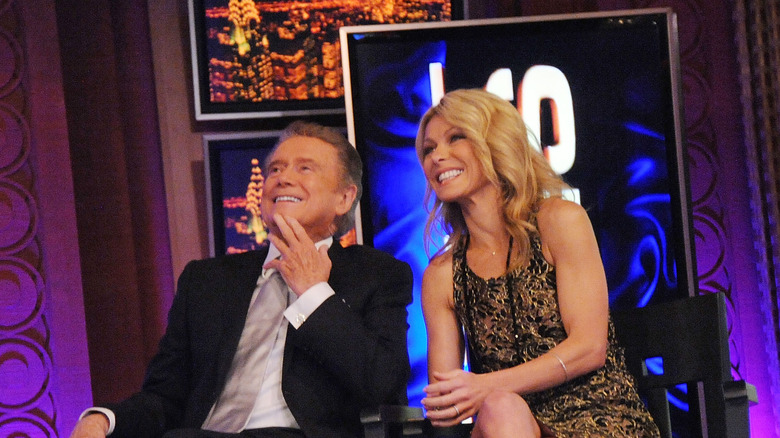 Bobby Bank/Getty Images
On-screen, Kelly Ripa is often cheerful and bubbly. The same can be said for her early days with Regis Philbin. Both the beloved hosts seemed cheerful on-screen, though Ripa hinted at the challenges they experienced when the camera cut. Telling the New York Times, "Regis had a mandate: Absolutely no talking off-camera."
This left Ripa prepping for the show and taking breaks in her designated office space, an empty janitor's closet. At first, there was much debate about whether or not the former soap opera actress could have an office. After all, Ripa believed she was just filling in for a day, and the staff didn't say otherwise. When it became apparent that she was staying on the show long-term, those behind the scenes allegedly told her that all the other empty offices in the New York studio were unavailable because they had to be reserved for when executives came to visit (via Us Weekly).
It wouldn't be until Ripa's fourth year co-hosting "Live with Regis and Kelly" that a desk was added to the closet after staff gave it a quick cleaning. The year 2011 brought Philbin's departure, and with it, Ripa assumed a new office. However, she had to force her way in after staff told her they were saving it for "when the new guy comes." The 5-foot-2-inch star packed up all her things and inserted herself into the office, saying, "I am the new guy." However, she claims prized office space wasn't the only concession given to male hosts.
Ripa elbowed her way in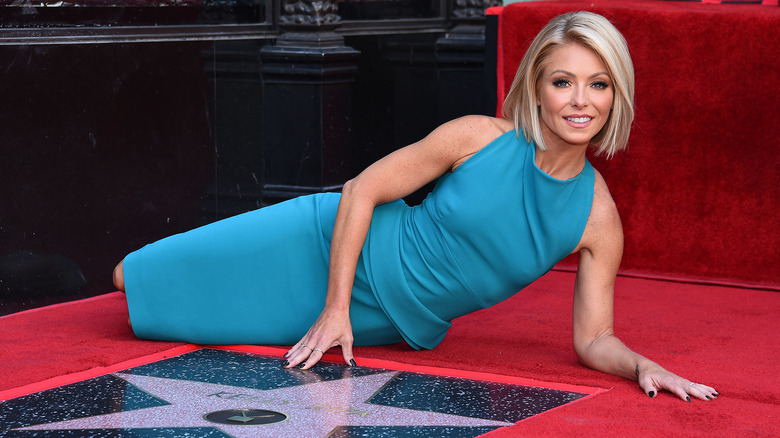 DFree/Shutterstock
Even though Kelly Ripa was undoubtedly the most senior member on the show following Regis Philbin's departure, she wasn't exactly treated as such. Telling Us Weekly that not only were the reserved offices made available to men but that she saw "walls knocked down to make them twice as big." Ripa also alleges that she had to queue up in the audience bathroom line as she wasn't offered a private restroom.
More recently, while making the promotion rounds for her first book, Ripa told People, "There were good days and bad days. ... It took years to earn my place there and earn things that are routinely given to the men I worked with." The famous morning show celeb said in a Variety interview that she wasn't afforded maternity leave, paid vacation time, or even a budget for a wardrobe.
Ripa's perseverance through the years and rise from co-host to host may have given her a little more sympathy when welcoming new faces to the syndicated morning show, whether it be individuals filling in for a day or those signing on for the long haul, like her hubby Mark Consuelos. Ripa confessed, "These transitions don't have to be dramatic. I know what it's like to feel like you're not wanted somewhere." Today, at the show's helm, Ripa seems to have settled in and appears to make it just as comfortable for all her co-hosts.