The Country Star Who Almost Passed Out Meeting Gwen Stefani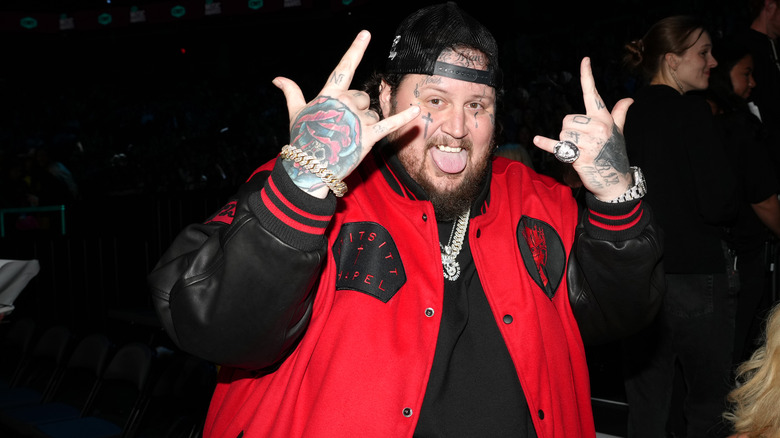 Jeff Kravitz/Getty Images
Apparently, celebrities really are just like us — they also feel like they're about to faint when they meet their idols. Jelly Roll (Jason Bradley DeFord) had a totally relatable fan freakout moment when he spotted pop legend Gwen Stefani at the 2023 CMT Music Awards. It was quite the night for the up-and-coming musician, who took home three awards for Male Video of the Year, Digital-First Performance of the Year, and Breakthrough Male Video of the Year. He also gave a beautiful performance of his new single, "Need a Favor" complete with a full choir accompanying him. Seeing Stefani in the flesh was the cherry on top of an already amazing night. 
On the day of the awards, the rising star told Entertainment Tonight: "This is my first everything. First live TV performance, first TV show performance, first award show nomination, first time I've done anything like this. This is a big night of firsts for me. I'm somewhere between nervous and cloud nine, so I'm just, I'm excited man. It feels so good." Jelly Roll is a pretty fascinating public figure in his own right, and his fanboy moment with Stefani couldn't be sweeter. 
All about Jelly Roll
Jelly Roll is a name to watch out for in the country music world these days, but that's not where the musician got his start. The 38-year-old Nashville native made rap and rock music before transitioning to country in 2021. He opened up to Music Mayhem Magazine about shifting into the genre. "I was born and raised in Nashville, so [country music] is always second nature to me," he said. "It's incredible." The artist found success in his transition quickly; his debut country single, "Son of a Sinner," reached No. 1 on the Billboard Country Airplay chart. 
He's been candid about being raised in a middle-lower class community, struggling with addiction and alcoholism, and spending about a dozen years in and out of jail. These days, the artist is committed to giving back to incarcerated youth — in October 2022, he donated $250,000 to build a recording studio at the Davidson County Juvenile in Nashville. 
The singer has been married to podcaster Bunnie DeFord since 2016, and he has two children from a previous relationship: a 14-year-old daughter, Bailee, and a 6-year-old son, Noah. In a May 2021 Instagram post, Jelly Roll thanked his wife for becoming a mother when she "didn't have to be." He wrote, "I wouldn't have been able to pull this off without you stepping up and standing by my side. I'm beyond blessed."
Here's what happened when he almost met Gwen Stefani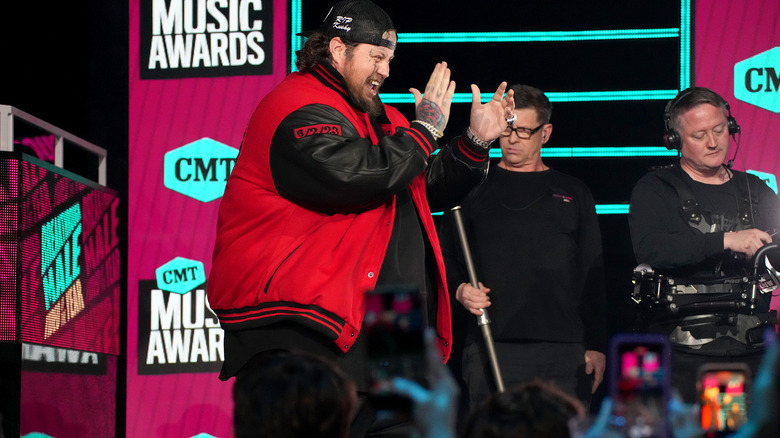 Jeff Kravitz/Getty Images
During a pre-show interview with Entertainment Tonight, Jelly Roll recalled the moment he spotted Gwen Stefani on the red carpet at the 2023 CMT Music Awards. The rapper revealed that he came close to fainting at the sight of the iconic singer. "My second concert ever was No Doubt," he explained. The artist remembered, "We was at an amphitheater, it s**t storm rained, I mean just rain storm, we were mud sliding dancing to 'Spiderwebs,' it was awesome." 
Jelly Roll also shared with ET that he got to see a preview of Stefani's performance; he didn't spill too many details ahead of the show, but called it "a real throwback." And it was a real throwback indeed; the songstress performed her 1995 hit "Just a Girl" alongside singer/songwriter Carly Pearce, and the crowd went wild. Surely, Jelly Roll was cheering her on just as loudly as all her not-famous fans.