How Royal Titles Prohibited Prince Philip From Ever Wearing A Crown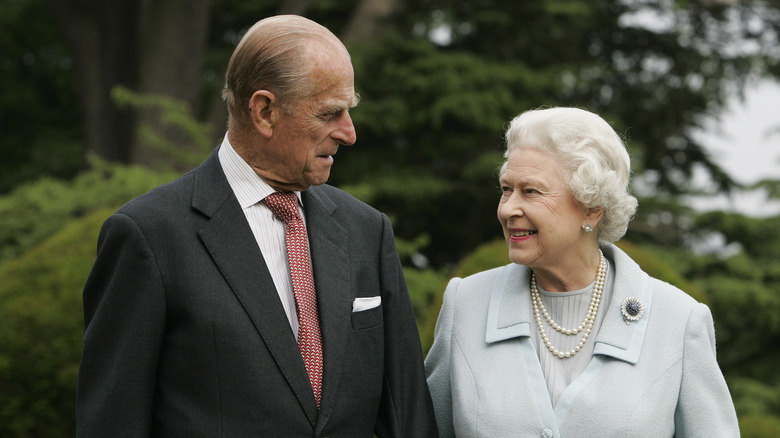 Tim Graham/Getty Images
After watching the coronation of King Charles III and his wife Queen Camilla on May 6, and witnessing the spouse of the monarch become crowned at the same time as her reigning husband, some may be wondering: why didn't Prince Philip, husband of the late Queen Elizabeth II, ever receive the same honor? The answer lies not at all in whether or not Philip was as important as Camilla, but rather, in the gendered history of the power that the titles of King and Queen hold. 
Before Camilla was crowned Queen, she was considered Queen Consort, a title that Charles asked his mother, Queen Elizabeth, to grant to Camilla once Charles eventually took the throne. Initially, the plan was for Camilla to be referred to as Princess Consort, which is what many expected. But Queen Elizabeth agreed to grant Charles' request, and when The Queen passed away in the fall of 2022, and Charles officially took up the title of King, Camilla became Queen Consort. 
It wasn't until the coronation on May 6 that Camilla would be called, simply, "Queen." 
But what about Prince Philip? 
The history of Queens and their consorts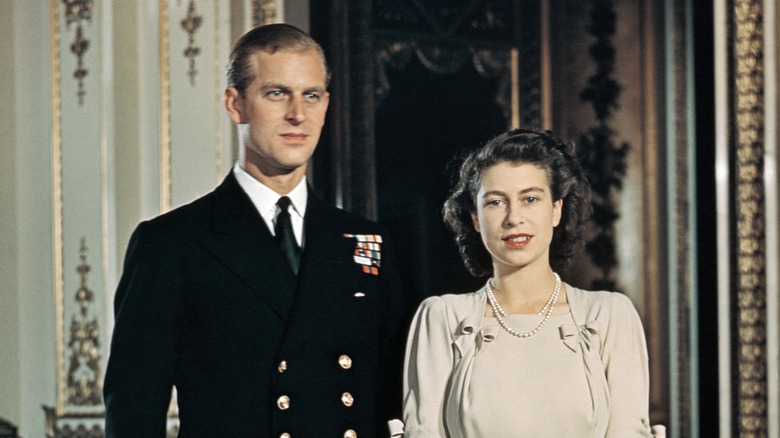 Bettmann/Getty Images
Though Queen Elizabeth II was already married to Prince Philip when she was coronated in 1953, Philip was not crowned alongside her, unlike what we all witnessed with the mutual crowning of Charles and Camilla this spring. The reason, however, is not because Camilla is held in higher regard to Philip or because of changing times, but because the titles of King and Queen mean quite different things from one another, thanks to a history in which men have, for the most part, been the ruling monarchs of the realm.
In all of British history, it has only happened five times that a woman inherited the throne in her own right and then also took a husband to be her consort (via Insider). The most recent of these instances was in 1857 when Queen Victoria named her husband Albert Prince Consort. So why Prince, and not King?
Because rulers of the realm have been overwhelmingly male since the ancient dawning of the British monarchy, the term King outranks the term Queen. Even if the ruler who inherited the throne through a birthright is a woman, if her husband were to take the title of King, he would likely be considered to outrank his wife. And this is why, while Camilla is now called Queen, Philip remained Prince throughout his 73-year marriage to Queen Elizabeth. 
It was still controversial for Camilla to be called Queen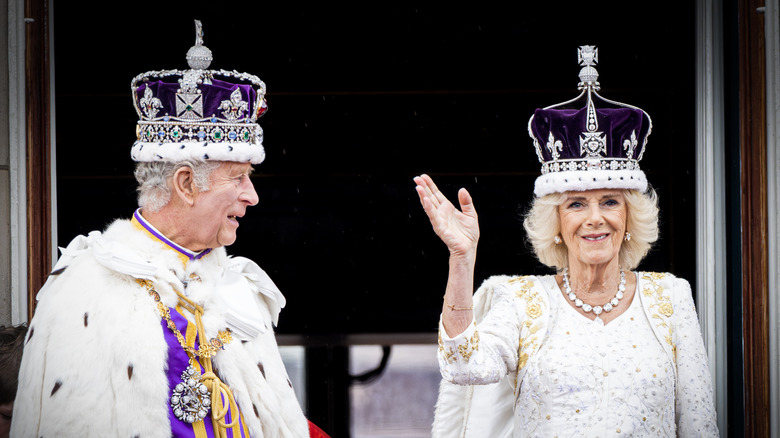 P Van Katwijk/Getty Images
This is not to say, however, that there hasn't been any controversy surrounding Camilla being given the title of Queen Consort and then, later, Queen. When the then-Prince Charles married Camilla in 2005, Buckingham Palace published a press release stating that, "It is intended that Mrs. Parker Bowles should use the title HRH The Princess Consort when The Prince of Wales accedes to The Throne" (via People).
However, during the celebration of Queen Elizabeth's 70th anniversary as monarch, The Queen herself announced that, "when, in the fullness of time, my son Charles becomes King, I know you will give him and his wife Camilla the same support that you have given me; and it is my sincere wish that, when that time comes, Camilla will be known as Queen Consort as she continues her own loyal service."
This stark contrast to the 2005 announcement took many by surprise, and those who are not the biggest fans of Camilla, thanks in part to the controversy surrounding the extramarital relationship she shared with Charles when he was married to Princess Diana, took offense to this change. Nonetheless, What Queen Elizabeth requested has come fully to pass, and Camilla is, as she was crowned on May 6, Queen.