These Iconic Rihanna And Beyonce Songs Were Originally Meant For Britney Spears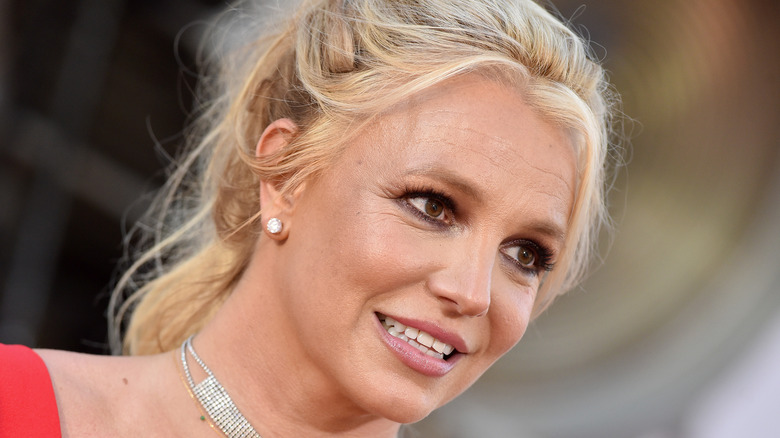 Axelle/bauer-griffin/Getty Images
Britney Spears has a string of hits under her belt, but did you know she actually passed on quite a few songs that ended up in the hands of other famous artists?
We all know the words to Rihanna's song "Umbrella" (ella-ella-ella). It was the song that propelled her toward becoming the global pop star/business owner she is today, though it actually isn't her debut song as is often mistaken (that's "Pon De Replay"). Released in 2007, the song, which also featured Jay-Z, made her a household name. However, before it went to Rihanna, "Umbrella" was offered to Britney Spears — or rather, her management. Due to Spears still being under her conservatorship at this time, she had no say about the song and reportedly never even got to hear it before her team said no. Interestingly, Mary J. Blige also turned down the song, leaving Rihanna to take the reins.
Spears also turned down another major hit. Lady Gaga and Beyonce's hit "Telephone," which was released in 2009, marked an iconic collaboration between the two megastores. Nevertheless, the song, which was written by Lady Gaga herself, was originally pitched to Spears. Spears got as far as recording a demo for it, but evidently decided it wasn't right for her and passed, leaving Beyonce and Lady Gaga to take the song for themselves.
The popstar has somewhat of a history of turning down hits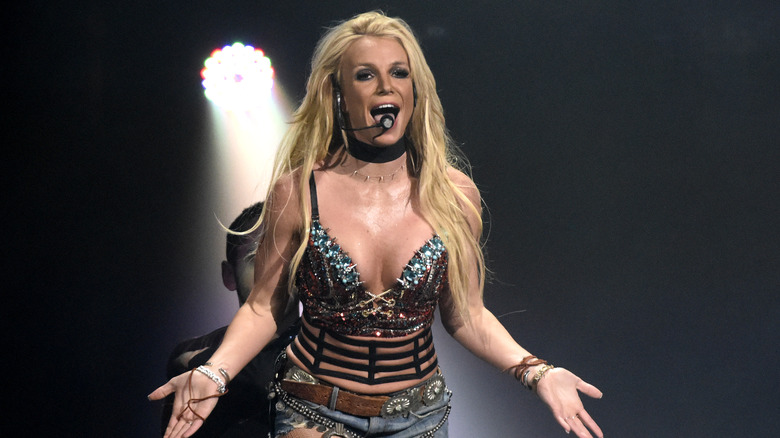 Tim Mosenfelder/Getty Images
Spears didn't just reject songs that went on to become hits for Rihanna, Beyonce, and Lady Gaga.
Kelis' song "Milkshake" is a throwback noughties anthem. Perhaps surprisingly, the song wasn't intended for Kelis at all, but was written specifically for Spears' fourth album "In The Zone." Spears rejected it, leaving Kelis to take the song and turn it into the 2000s pop hit we all still sing in our cars today.
On the flip side, there was one song Spears took when it was rejected by another artist, and that's "...Baby One More Time." Her breakout debut single and still one of her most popular songs despite the fact it was released over 20 years ago, Spears never would have gotten the chance to put her stamp on the song if TLC hadn't rejected it first. Speaking to MTV News, TLC member T-Boz stated, "I was like, I like the song but do I think it's a hit? Do I think it's TLC? I'm not saying 'hit me baby.' No disrespect to Britney. It's good for her. But was I going to say 'hit me baby one more time'? Hell no!"
Sometimes a song just doesn't fit an artist's vision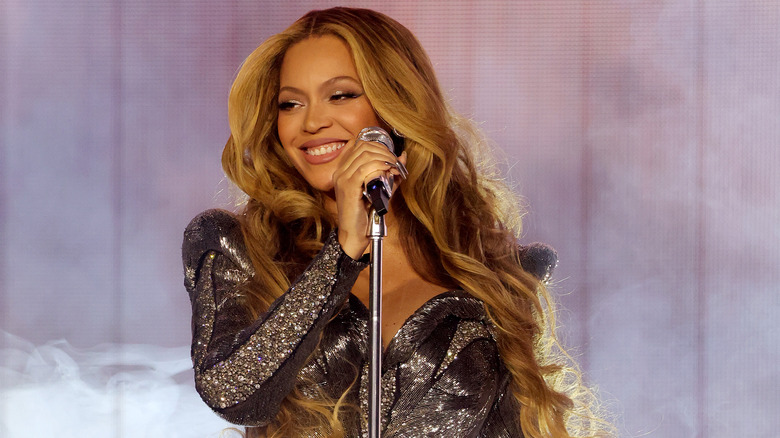 Kevin Mazur/Getty Images
It isn't just Britney Spears rejecting songs left, right, and center though — Beyonce has turned down her fair share of songs too. Turning down songs is a relatively common practice in the music industry, though not all rejected songs become hits. One rejected song that did become a hit was Meghan Trainor's self-love anthem "All About That Bass." The song was pitched to Beyonce and Adele, but both turned it down. Trainor decided to take on the song herself and it became her first hit, launching her onto the map.
Beyonce seems to have a little bit of a track record of turning down songs she isn't enthusiastic about. Coldplay frontman Chris Martin told Rolling Stone that the music icon turned a song called "Hook Up" down "in the sweetest possible way." According to Martin, Beyonce had doubts about the song, telling him: "I really like you, but this is awful."
Sometimes, you gotta go on instinct. Besides, who knows if the hits Spears and other artists turned down would have performed the same if they had decided to take them on?