Kelly Ripa Gifted Ryan Seacrest 'Something Special' Before Their Final Episode Of Live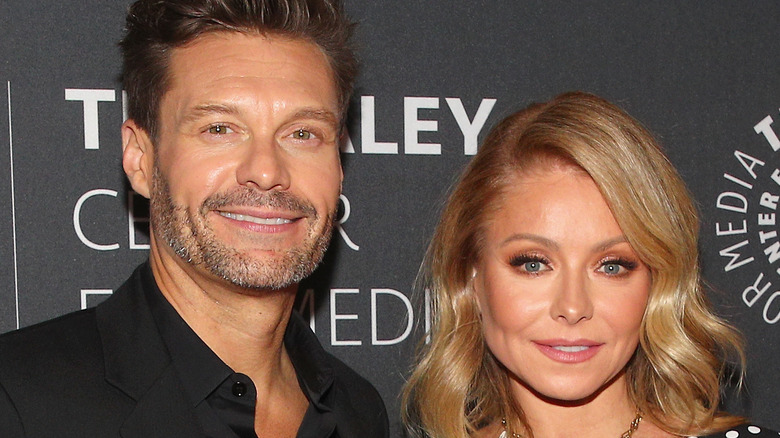 Astrid Stawiarz/Getty Images
Ryan Seacrest has an incredibly lengthy resume, often holding down more than hosting one role at a time. From radio to television, Seacrest is on air day and night. He has been the host of "American Idol" since the show's inception in 2002. He has hosted a morning radio show on 102.7 KIIS FM in Los Angeles since 2004. In 2023, he rang in the new year for the 18th time on "Dick Clark's New Year's Rockin' Eve." In 2017, "Live with Kelly and Michael" with Kelly Ripa became "Live with Kelly and Ryan" when Seacrest became the show's new co-host after Michael Strahan left to join "Good Morning America." However, Seacrest left that last gig behind in April of 2023. Ripa's Husband Mark Consuelos replaced him.
Rumors as to why Seacrest chose to leave "Live with Kelly and Ryan" have swirled. Some speculated that tensions between the two co-hosts were to blame. But Ripa's sweet parting gift should help put these rumors to rest.
Kelly Ripa's gift to Ryan Seacrest relates to one of his hobbies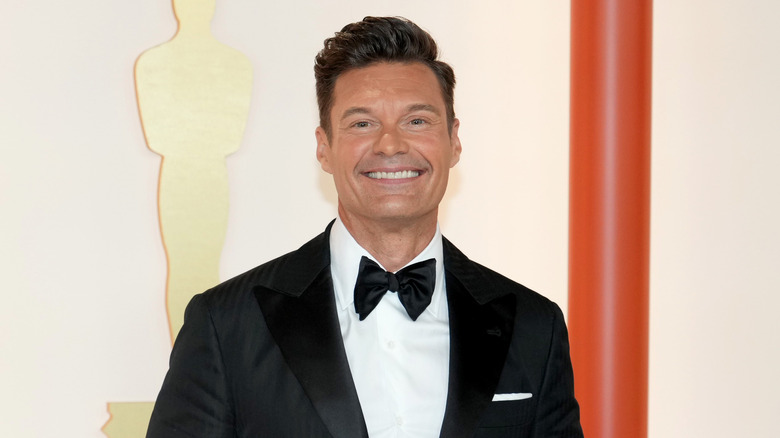 Jeff Kravitz/Getty Images
Before Kelly Ripa and Ryan Seacrest gave their last broadcast as a duo on "Live with Kelly and Ryan," Ripa gifted what Seacrest described as "something special" that he "can't wait to get out and use." Somehow between all of Seacrest's jobs, he has found the time to take up some new hobbies. "I'm starting to get sporty now. I'm into tennis, I'm into golf — meaning I've gotten some equipment. Kelly has heard and seen the photo evidence of me wanting to get into golf. So she and [her husband] Mark purchased me the most beautiful, elegant, designer golf bag," Seacrest told People. He also explained that the bag included personalized golf balls with his face on them.
Seacrest recently put his golf skills to the test on "The Kelly Clarkson Show." Aside from reuniting with Clarkson — who Seacrest has known since she won the first season of "American Idol" — they competed in a fun golf game. Ironically, Seacrest lost.
Ryan Seacrest enjoyed his time on Live with Kelly and Ryan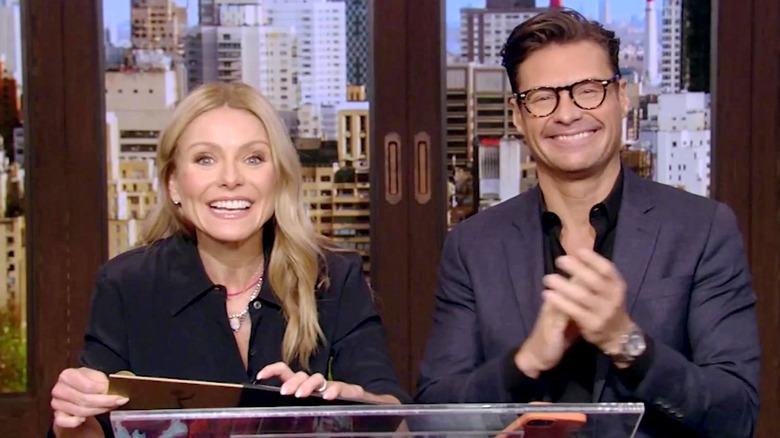 Daytime Emmy Awards 2021/Getty Images
As previously mentioned, Ryan Seacrest definitely keeps busy in his professional life. Some may assume that Seacrest chose to leave "Live with Kelly and Ryan" because he was just too busy. The truth is not far off. In an Instagram post prior to his departure, Seacrest explained that he was only slated to co-host the show for three years, but enjoyed it enough to stay longer. His post also made it sound like he wanted to leave in order to prioritize his other commitments. "I'll be transitioning out of 'Live' this Spring to shoot the 21st season of 'American Idol' in LA, continue my radio show on KIIS-FM and 'Dick Clark's New Year's Rockin Eve,' and focus my summer on opening three more Ryan Seacrest Foundation Studios in pediatric hospitals," he explained.
Just a month after his last episode as co-host, Seacrest returned to "Live with Kelly and Ryan," this time as a guest to talk about the "American Idol" finale. "There's this fascinating thing I've experienced called time, he joked to Kelly Ripa and Mark Consuelos (posted on YouTube). Perhaps he is filling this time with golf and using the bag from Ripa and Consuelos.