Julia Louis-Dreyfus' Wiser Than Me Podcast Takes An Important Stand Against Ageism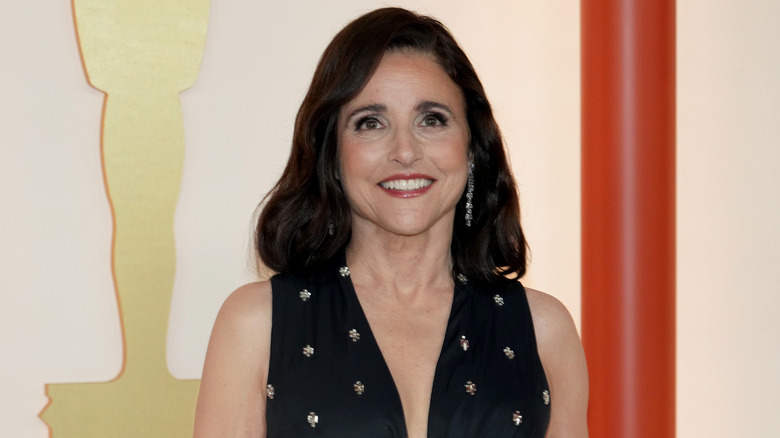 Jeff Kravitz/Getty Images
Julia Louis-Dreyfus has been in the entertainment industry since the early '80s when she was the youngest female cast member at the time on "Saturday Night Live." For the past four decades, she's collected 11 Emmys, starred in dozens of movies and TV shows, and used her platform to spread breast cancer awareness and promote civic engagement. Now, 30-plus years after "Seinfeld" premiered, Louis-Dreyfus' career shows no signs of slowing down — her recent credits include everything from independent films to the Marvel Cinematic Universe.
That being said, the beloved comedy star is the exception for female actors in Hollywood, not the rule. Once women reach 40 (nay, 30), roles start to dwindle. "When you're in your teens or 20s, there is an abundance of ingenue parts which are exciting to play," "Lord of the Rings" actor Liv Tyler explained to More Magazine (via The Washington Post). "But at [my age], you're usually the wife or the girlfriend — a sort of second­-class citizen." Men make up approximately two-thirds of on-screen credits, according to data collected by economists Robert Fleck and Andrew Hanssen. While men in their thirties and older claim 80% of lead roles, women of similar ages claim only 20%, they also found. Spot the difference?
Although Julia Louis-Dreyfus has seemingly escaped this Hollywood curse, she's still vocal about ageism. Her new podcast "Wiser Than Me" gives older and knowledgeable women the chance to share what they've learned.
Julia Louis-Dreyfus interviews friends, colleagues, and idols
In the first episode of her podcast "Wiser Than Me," which premiered on April 11, 2023, Julia Louis-Dreyfus makes her stance on ageism pretty clear, specifically as it pertains to women. "When women get older they become less visible, less heard, less seen in a way that really — it just doesn't happen with men. We are ignoring the wisdom of, like, more than half of the population," she points out, adding this was the inspiration for her podcast. "I want to know how they do it; how they did it. How do they navigate aging and life?"
Her debut episode features none other than Hollywood legend Jane Fonda, who's still headlining movies well into her 80s. According to Fonda, aging isn't as scary as people seem to think. What's more, "You can't really know how to go forward if you don't know where you've been," the A-list actor and activist shares. Fonda encourages those entering their so-called "third act" to review where they've come from and address their regrets. As for those under 30? "It's really, really hard to be young," Fonda notes. Give yourself some grace.
So far, the "Seinfeld" alum has talked to other icons over and around the age of 70, including writer Fran Lebowitz, singer Darlene Love, legendary fashion designer Diane von Furstenberg, and chef and food writer Ruth Reichl. They all have advice — and juicy stories — to share with listeners. Louis-Dreyfus also brings on her mother, Judith Bowles, for additional perspective.
Julia Louis-Dreyfus parodied ageism in a 2015 sketch
Ultimately, Louis-Dreyfus' own tidbits of wisdom from her 40-plus years in the industry on "Wise Than Me" are in themselves worth a listen. After all, Julia Louis-Dreyfus' conversations surrounding ageism in Hollywood are nothing new.
In a 2015 "Inside Amy Schumer" sketch, she teamed up with Tina Fey, Patricia Arquette, and Amy Schumer to critique how women "age out" of certain acting gigs. "In every actress's life, the media decides when you finally reach the point where you're not believably f***able anymore," Louis-Dreyfus casually explains. Tina Fey even offers up an example: "You know how Sally Field was Tom Hanks' love interest in 'Punch Line' and then like 20 minutes later she was his mom in "Forrest Gump'?" Casting director Allison Esrtin confirms all this in a conversation with Refinery29, explaining that women get cast as moms much, much younger than men get cast as dads — sometimes while still in their early 20s. 
Although the industry has made steps to address these issues in the last few years, progress is slow going. Nonetheless, Louis-Dreyfus is happy that her years of experience have allowed her to pass along wisdom to her sons, Henry and Charlie, who are on their way to becoming actors too. "I hope by living my life powerfully ... by living my life bravely and failing and recovering from failing and getting up, I hope [it sets] a very powerful model for my kids," she tells People.