How Julia Louis-Dreyfus Feels About Her Sons Becoming Actors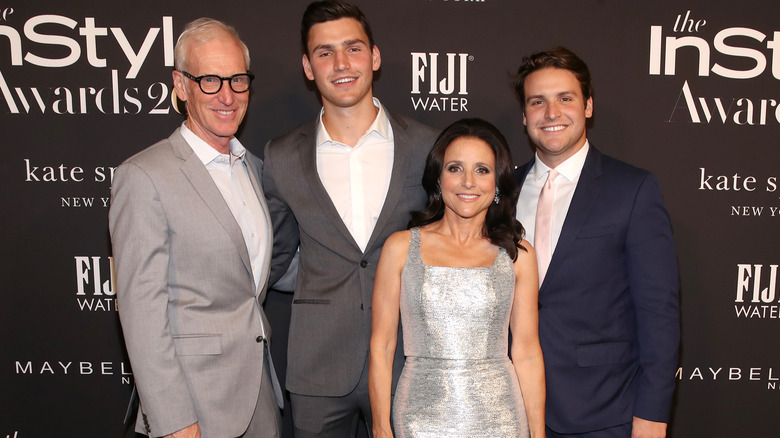 Randy Shropshire/Getty Images
Julia Louis-Dreyfus and her husband, "Saturday Night Live" alum Brad Hall, have definitely passed on their acting skills to their two sons, 25-year-old Charlie Hall and 30-year-old Henry Hall. Louis-Dreyfus, of course, is best known for portraying Elaine Benes on the NBC sitcom "Seinfeld," and these days, both of her children are following in her comedic footsteps. Henry has appeared in projects like Peacock's "Rutherford Falls" and the HBO political drama "White House Plumbers," while his younger brother stars in the hit HBO series "The Sex Lives of College Girls" and in the Freeform comedy "Single Drunk Female." 
In 2016, Henry shared with Rolling Stone that it's "great" to have a family of creatives. "I really respect [my mom's] opinion on all things creative," he noted. Louis-Dreyfus is thrilled that her sons have caught the acting bug, and Charlie and Henry have her full support. Despite her and her husband's successful careers on television, the "Veep" star still calls her sons' shared passion for acting a "big surprise."
She calls it a 'surprise' and a 'gift'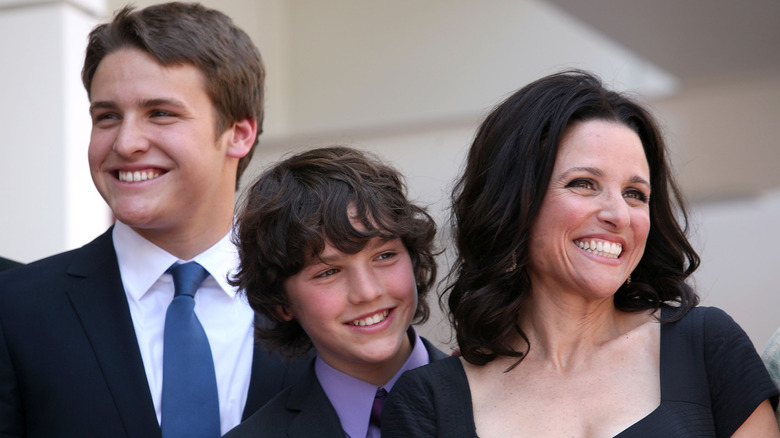 Valerie Macon/Getty Images
During a March 2023 interview with People, Julia Louis-Dreyfus shared her thoughts about her sons, Charlie Hall and Henry Hall, becoming actors. "I love it!" She said. "It's a big surprise." The actress also mentioned Henry's musical projects and gushed over creative careers in general — it sounds like she's truly grateful that her sons are in entertainment. "I love the arts and I think that to be a creative person, and to be able to make a living as a creative person, is an absolute gift," the "Seinfeld" star told People.
She added, "The fact that my children are able to pull that off gives me endless joy." Louis-Dreyfus also expresses her pride in their accomplishments on social media. On August 15, 2022, she posted a photo of a Deadline article announcing Charlie's role in "Sex Lives of College Girls." She wrote in her Instagram caption, "That's my boy!"
She can laugh about Charlie's racy scenes
Nathan Howard/Getty Images
In HBO's "The Sex Lives of College Girls," Julia Louis-Dreyfus' son, Charlie Hall, plays a biology student named Andrew, who is the lab partner and romantic interest of one of the main characters, Whitney. Naturally, there are some pretty spicy scenes with the two characters (including one where they hook up in the school library), but Louis-Dreyfus just goes with it when she's watching. On January 25, 2023, the actress appeared on"Jimmy Kimmel Live," and she and Kimmel talked about her son's role on the sitcom. 
"That's a racy show," she noted. "It's a very racy show. I think he was, you know, really great. He was adorable." The actress joked, "He was f****** some girl in the library, and I thought it was ... dynamite." Kimmel quipped, "Makes you feel good about teaching 'em how to read, right?" to which Louis-Dreyfus said, "Yeah," and laughed.