What James Kennedy Has Said About Ex Raquel Leviss' Affair With Tom Sandoval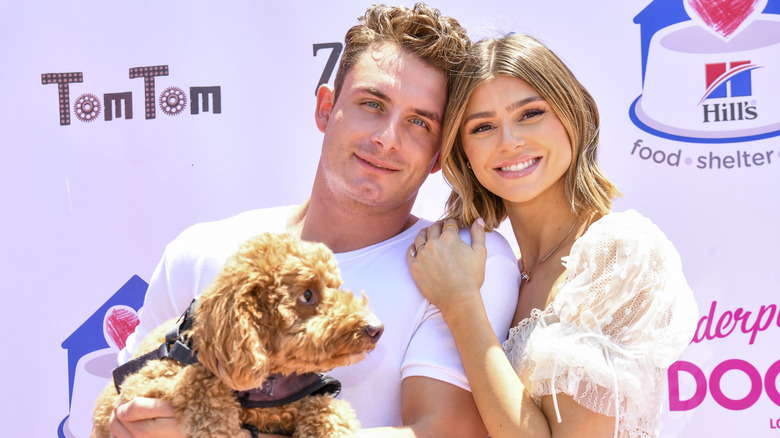 Rodin Eckenroth/Getty Images
"Vanderpump Rules" star James Kennedy was shocked to learn of the affair between his ex-fiance Raquel Leviss and co-star Tom Sandoval. The scandal, known now as "Scandoval" has sent fans reeling — not to mention Sandoval's girlfriend of nine years, Ariana Madix! The woman was reportedly blind-sighted by the side romance, which came out during filming.
Sandoval denied cheating multiple times, even trying to downplay his relationship with Leviss as just two friends. However, after Madix found a screen recording of an intimate FaceTime call and messages that revealed the rendezvous. Neither Leviss nor Sandoval could deny their sneaking around any longer. Both issued public apologies to Madix, with Leviss saying she was seeking mental health counseling after the affair.
"There is no excuse, I am not a victim and I must own my actions and I deeply regret hurting Ariana," Levis wrote in a March 8th Instagram post. Sandoval also used social media to express his regret for hurting Madix in such a public manner, calling his actions "selfish" and "reckless."
Since Kennedy spent five years engaged to Leviss before calling it quits two years ago, he knows her pretty well. Still, even he was not prepared to learn that she was carrying on a secret relationship with Sandoval. Surprisingly, he did not have anything negative to say about the two.
James Kennedy hopes Raquel and Tom can last through the backlash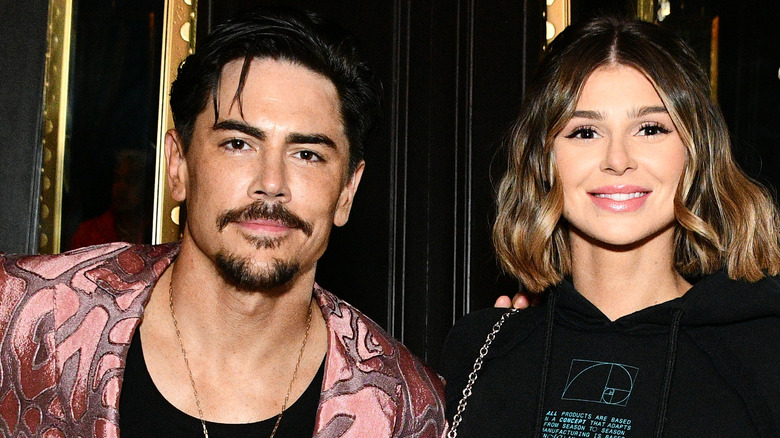 Araya Doheny/Getty Images
DJ and reality star James Kennedy joined an April 26th taping of "Watch What Happens Live," where he dished on his VPR co-stars Raquel Leviss and Tom Sandoval having an affair despite him being with another cast member Ariana Madix. Host Andy Cohen got right to business, asking Kennedy if he feels Leviss and Sandoval could actually work as a couple now that their secret is out.
"You know, in like a weird way I hope so," Kennedy replied. "Because just think about all the dreams they're gonna have in each other's bed and all the traumatic s*** they're gonna go through." He went on to add that he wished them the best, especially if they can overcome such controversy.
Kennedy and Leviss announced they were calling off their engagement in December 2021. At the time, the two attributed their split to "different goals." However, during a January 2022 appearance on the "Scheananigans with Scheana Shay" podcast, Levis revealed that she realized months into their engagement that she no longer wanted to be with Kennedy. Leviss said that Kennedy and her family were not getting along, which posed a problem for their future, especially when considering bringing children into the mix one day.
James Kennedy says the signs of an affair were there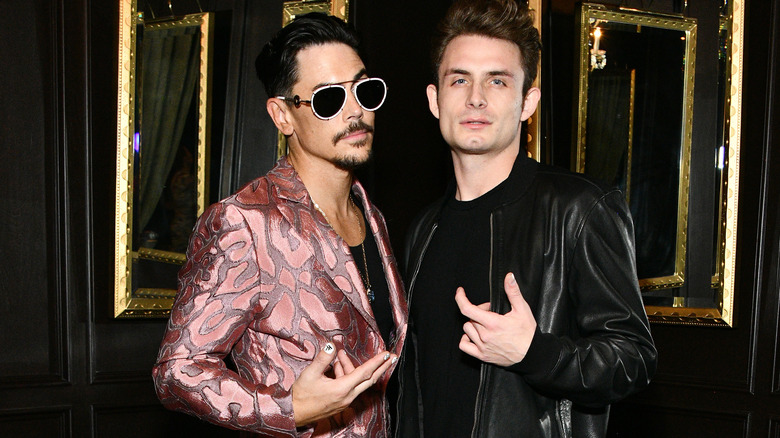 Araya Doheny/Getty Images
While waiter turned music producer James Kennedy spent years with "Vanderpump Rules" co-star Raquel Leviss, he could have never guessed that she'd end up in the arms of taken VPR frontman, Tom Sandoval.
"For the whole day I was pretty speechless," he told Andy Cohen during his "Watch What Happens Live" interview last month.
Even in his shock, Kennedy admits there were lingering signs of Leviss' strong admiration for the restaurateur. He referred to his former fiance as a "massive Sandoval fan." He also theorized that Leviss and Sandoval just got too close. Others on the show were less caught off guard. Leviss' former friend Scheana Shay confronted her shortly before the public apology to Ariana Madix was issued. Shay wanted Leviss' to come clean about the affair and their confrontation eventually became physical. Leviss filed for a temporary restraining order against Shay, which was later dropped.
Needless to say, Leviss and Sandoval's secret romance has affected the entire cast in one way or another. The future for the pair remains unclear. During an April sit-down with Howie Mandel's podcast, Sandoval said he and Leviss were "taking a break." Hopefully, the heartache they caused Madix and the entire "Vanderpump Rules" crew was worth it.