Who Is Julia Louis-Dreyfus' Husband, Brad Hall?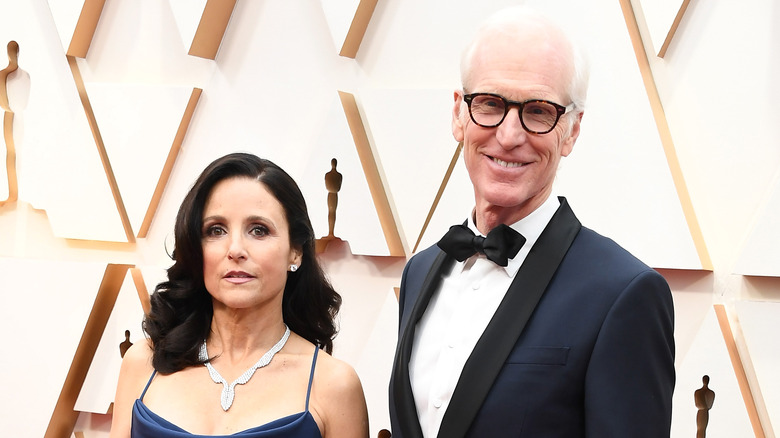 Steve Granitz/Getty Images
From her stints working for J. Peterman to her memorable dance moves, the character of Elaine Benes — as made famous by Julia Louis-Dreyfus — was one-fourth of "Seinfeld's" main cast. The series ran from 1989 to 1998, over which Jerry, George, Elaine, and Kramer encountered their fair share of misunderstandings, failed relationships, and coffee shop conversations. In the 20-plus years since the famous "show about nothing" ended its run, Louis-Dreyfus has starred as Selina Meyer on "Veep," appeared in the MCU, and even reunited with "Seinfeld" creator Larry David on the set of "Curb Your Enthusiasm." She's also been honored for her comedic contributions with 11 Emmys and a Mark Twain Prize for humor. 
Although "Seinfeld" made Louis-Dreyfus a household name, she actually got her start on "Saturday Night Live" a few years before, becoming the show's youngest-ever female cast member in 1982 — she dropped out of college to pursue a full-time career in comedy. As the actor admitted to Variety decades later, "I had no understanding about performing in this new medium." For Louis-Dreyfus, "SNL" was a high-stress environment. That being said, it's also where she connected with "Seinfeld" creator Larry David and shared the screen with another very important person — her now-husband, Brad Hall. Their marriage has been going strong for more than three decades. Here's what you need to know about the filmmaker and comedian.
Brad Hall was a Weekend Update anchor on SNL
Julia Louis-Dreyfus met Brad Hall while she was still in college. Hall and fellow Northwestern grad Paul Barrosse founded The Practical Theatre Company, which hosted sketch shows and comedy revues from a former wig shop in Chicago. Eventually, the duo decided that their all-male troupe needed a female cast member, and Barrosse was quick to recommend Louis-Dreyfus. The "Veep" star remembered her first time meeting Brad Hall in a conversation with The New Yorker. "He was gorgeous," she recalled, adding, "He looked like [Swedish tennis player] Björn Borg or something. I remember thinking early on that this was the guy for me, but I didn't dare tell anyone, for fear they would say, 'That's ridiculous. You're so young—you don't know what you're talking about.'"
Eventually, members of The Practical Theatre Company (including Louis-Dreyfus and Hall) were asked to join the cast of "SNL" in 1982. Hall was let go after two seasons but had a memorable stint as "Weekend Update" anchor. After leaving the world of late night, Hall began an impressive writing and directing career. He penned the short film "Picture Paris" and the TV series "Watching Elle," both of which starred his wife. He directed three episodes of "Veep" and appeared onstage in the play "The Effect." 
The secret to the couple's long marriage seems to be laughter. Plus, as Louis-Dreyfus joked with The New Yorker, she's never been interested in other men. For them, it was about as close to love at first sight as you can get.
Their sons are also in the acting business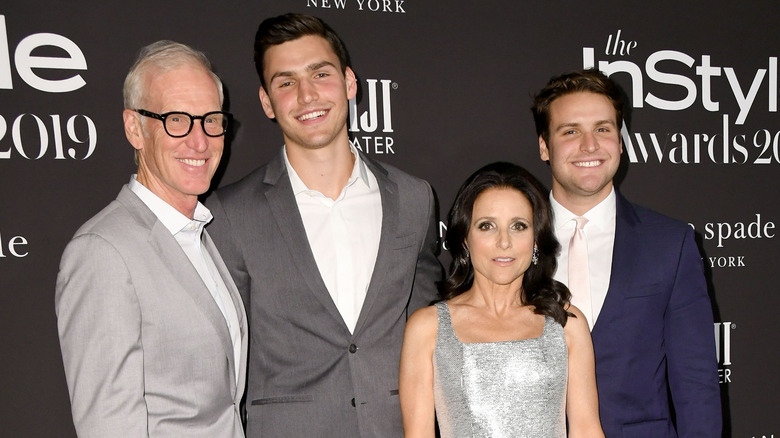 Quinn Jeffrey/Shutterstock
Together, Julia Louis-Dreyfus and Brad Hall have two children. Henry was born in 1992 and Charlie in 1997 (yes, she had to cleverly conceal both pregnancies while filming "Seinfeld"). Not only has Henry had bit parts in "Rutherford Falls" and "Curb Your Enthusiasm," but he's also a successful solo musician. After playing basketball at Northwestern University, Louis-Dreyfus' youngest son Charlie decided to pursue acting. So far, he's starred in "Sex Lives of College Girls," "Single Drunk Female," and "Bel-Air." "I love the arts and I think that to be a creative person, and to be able to make a living as a creative person, is an absolute gift," Louis-Dreyfus told People, speaking about her sons' careers. "The fact that my children are able to pull that off gives me endless joy."
Charlie Hall's success and family connections even earned him a spot in Vulture's viral guide to "nepo babies." He spoke about his path to acting in a conversation with W Magazine. "I was never against going into the industry, but up until college, my life was very basketball-oriented. Not that I wanted to do that professionally, but I loved it enough to where I wasn't really thinking about anything else," he explained. Hall recognizes the benefits that come with having parents in the business. "I get free advice whenever I need it from people who know what they're talking about," he shared.