The Hairstyle That Pairs Perfectly With Unicore Aesthetic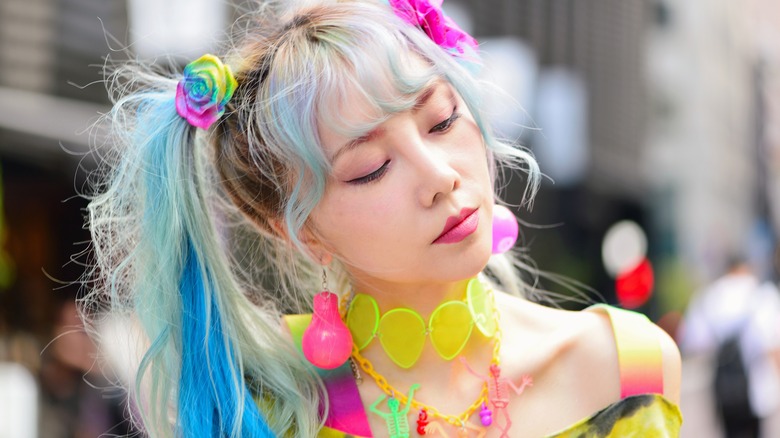 Electravk/Getty Images
We may receive a commission on purchases made from links.
The unicore aesthetic brings to life the cutest mythical creature (sorry, mermaids). It's a style that embraces pastels, rainbows, glitter, and of course, unicorn prints. This whimsical look is Barbie meets My Little Pony. Fashion brand PrettyLittleThing has apparel dedicated to this trend. Beauty blogger Roxette Arisa told Racked, "It's so different than any other trends we've seen because it wasn't made popular on the notion of being 'perfect.' On the contrary, it's all about having fun and using your creativity to its fullest extent."
That creativity is heavily showcased in the hair, nails, and makeup of the unicore aesthetic. Cosmetic brand Unicorn Snot has a collection of beauty products ranging from sunscreen to lip gloss that all have the shimmering finish attributed to this majestic creature. Even unicorn nails are trending with iridescent and vibrant designs. So you'll need a hairdo that is just as magical to compliment your colorful makeup and ensemble.
These hairdos are the real-life version of a unicorn's mane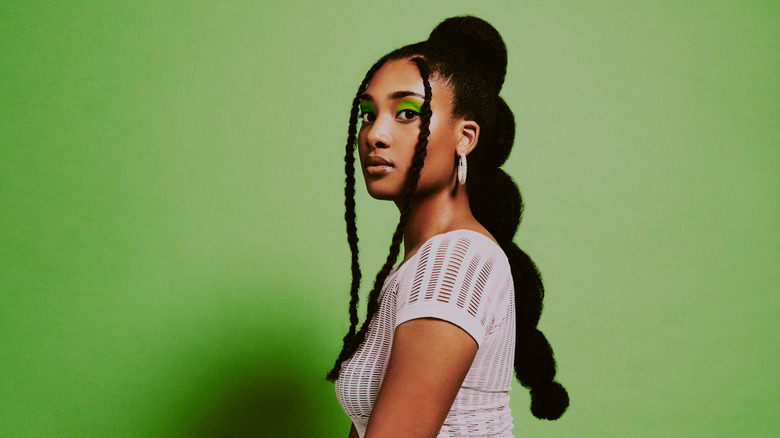 Delmaine Donson/Getty Images
A unicorn's mane is long and luscious. It flows down her back and that's what we're recreating with the high ponytail. Yes, Ariana Grande's signature hairstyle falls right into the unicore aesthetic. This look is simple, so it won't clash with your sparkly unicorn makeup. Plus, it is easy to pull together and low maintenance. Gather all your hair above the center of your head and secure it with a scrunchie. This look is fantastic with straight, curly, and coily hair.
To take your high ponytail up a notch on the unicorn scale, try a faux mohawk pull-through braid. This editorial hairdo is far from basic. It gives you volume, while the woven detailing is fun and fashionable. Professional stylist Jenny Strebe has a tutorial to help you achieve the look step by step. With your unicore hair, you'll be majestic from your crown and down. However, accessories from this fantastical aesthetic can turn any hairdo into one fit for a unicorn.
Unicore hair accessories
Whether you're bedazzling the main unicore ponytail and braid or your lazy day messy bun, remember it's all about color and sparkle. Lime Crime's Unicorn Hair is a full-coverage dye that comes in over 30 rainbow-licious colors. You can add streaks, highlights, or color your entire mane.
A hair glitter idea you'll want to try is tinsel. These shiny strands let your hair glisten with no commitment. Unlike dyes, you can add in your favorite colors and take them out at the end of the day. Plus, you can control how much tinsel you want so that you can go full unicore or just a sprinkle.
Scrunchies are another hair accessory that you might already have lying around. And the bigger the hair tie, the better. These pieces are a pop of color that you can easily add to the top, bottom, or stack in any ponytail. There are even unicorn print scrunchies.