What We Know About Naomi Biden's Husband, Peter Neal (Including His Early Tie To Joe)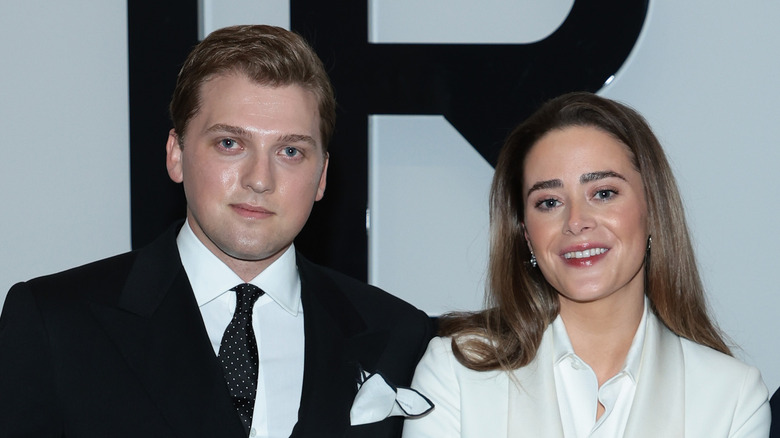 Dimitrios Kambouris/Getty Images
American politicians and government officials may not reach the celebrity status British royals do, but we still love to follow their lives. President Joe Biden is the most elite when it comes to official status. However, it's his children and grandchildren are who we enjoy keeping up with most. Naomi Biden Neal, the eldest grandchild of President Biden, wowed us with her beautiful White House wedding in November 2022. The young powerhouse lawyer is one of only nineteen ladies to get married at the venue.
Born Naomi King Biden to Hunter Biden (who has had some fallout due to an investigation) and Kathleen Buhle, she has been one of her grandfather's strongest and most vocal champions. Naomi, named after the president's daughter who tragically passed away at the age of one, grew up in Washington D.C., eventually becoming an international arbitration-focused associate attorney. She is so close to her grandfather that she and her fiancé live at the White House, and have since before their nuptials.
Enough about the bride, though! Who did she choose to welcome into her close family circle? Peter Neal, a fellow lawyer who practices as an associate attorney and was once a White House intern.
The law of attraction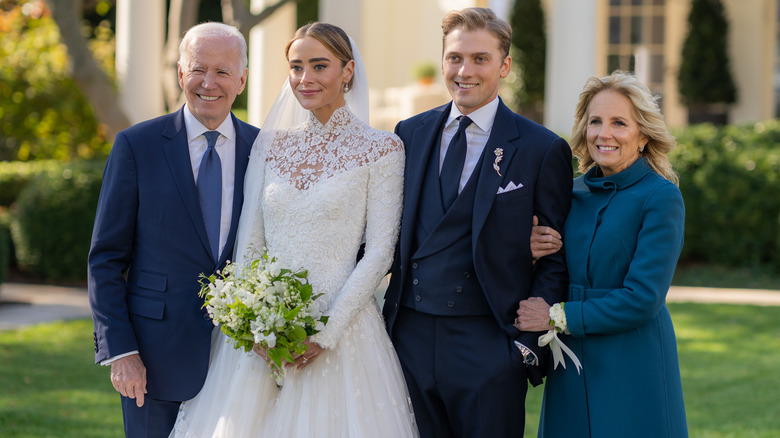 Handout/Getty Images
Peter Neal and Naomi Biden met in 2018 when a mutual friend introduced them. The Wyoming native also attended law school, but not the same school as Naomi. It may have been their interest and law and passion for politics that brought them together, though. During the Obama-Biden administration, Neal was a White House intern, as Insider reported, before graduating from the University of Pennsylvania with a law degree.
On September 4, 2021, Neal returned to his hometown of Jackson Hole, Wyoming — this time with Naomi. Not far from his home, he popped the question, presenting a large emerald-cut diamond set on a band that belonged to his late grandmother. A little over a year later, the couple said their vows at The White Houseon the South Lawn, which was essentially the couple's backyard as they live on the third floor of the building, just one floor above Naomi's grandfather (via People).
Today, Neal is an associate attorney at Georgetown Law's Center on National Security, making good use of his externship at the National Security Division of the Department of Justice. As practicing attorneys and political enthusiasts, the couple shares many values and interests. During the pandemic, they jointly launched My CARES Act Benefits to help individuals navigate their eligibility for benefits. The couple also takes time out to enjoy each other's company, regularly attending Biden family vacations and holiday get-togethers.
A White House wedding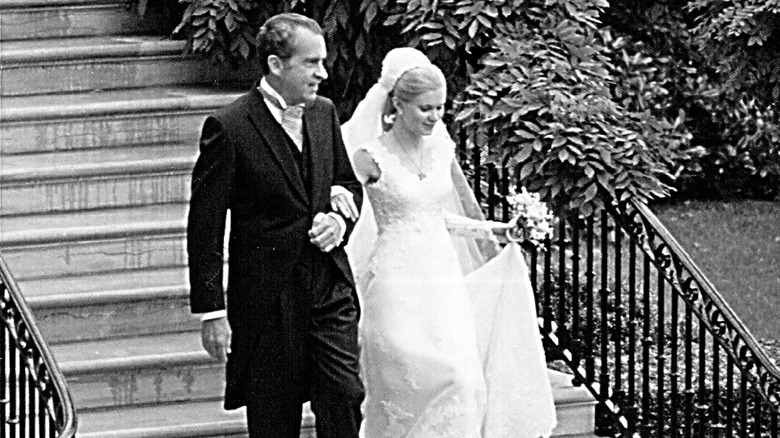 National Archives/Getty Images
Aside from asking how did you meet, those conversing with Naomi Biden and Peter Neal undoubtedly always want to know, "What's it like to get married at The White House?!" The pair held a private ceremony attended by close family and friends. The bride's bespoke gown was fit for a princess with its demure lace, high neck, and long sleeves. According to Vogue, she carried a bouquet of Lilies of the Valley as her parents walked her down the aisle. All guests attended a luncheon following the ceremony.
White House weddings are a big deal, but Naomi's is far from the grandest ever held at the prestigious home. Vogue reported on some of those grand weddings that took place at 1600 Pennsylvania Avenue, revealing that Alice Roosevelt, daughter of Theodore Roosevelt, had over 1,000 guests in attendance for her lavish wedding to Nicholas Longworth. The guests saw a gown with an 18-foot train and exquisite, yet outlandish, gifts from international royals. Other notable White House weddings include President Grover Cleveland's marriage to Frances Folsom, whose dress allegedly used so much fabric that it could stand alone without her in it, and the first outdoor wedding in the venue's history, the ceremony of Tricia Nixon and Edward Cox, which took place in the Rose Garden.
When Peter Neal popped the question to President Biden's granddaughter, he entered some pretty elite ranks. However, marrying on the White House grounds further secured the special couple's place in history.