Kate Middleton's Most Sentimental Pieces Of Jewelry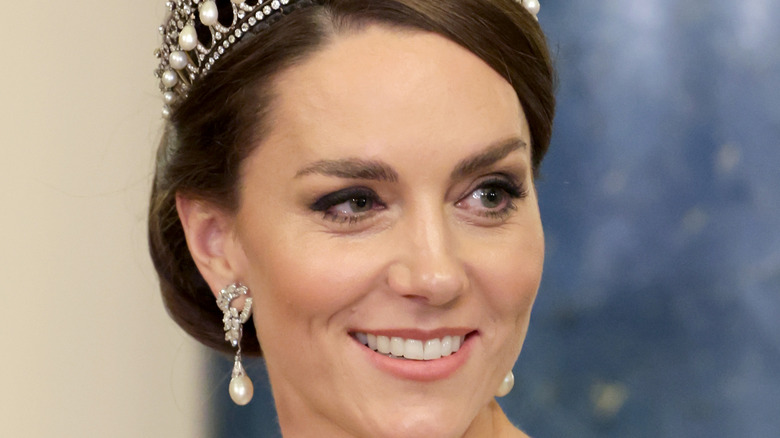 Chris Jackson/Getty Images
Princess Catherine first burst onto the royal radar back in 2004 when she accompanied Prince William on a ski trip to Switzerland. The media was over the moon at the prospect of the young prince coupling up, with the Sun running the headline "Finally ... Wills gets a girl" (via The Guardian). The rest was history. Ever since news first broke of their relationship, all eyes have been on Catherine. Over the last two decades, we have seen her evolve from a university student into a future queen and a mother of three, with her unwavering trademark style and grace. It's not easy to be one of the most senior members of royalty, but Catherine handles it beautifully.
Catherine isn't just known for her poise and elegance, but also for her impeccable style. She essentially wrote the rulebook on how a modern princess should dress. Her designer clothes never go unnoticed, but it's her jewelry collection that is the true pièce de résistance. Whether she's attending an important state dinner, meeting her adoring fans, or attending King Charles III's coronation, Catherine's jewelry never fails to disappoint. 
While the princess has a huge collection of historic gems at her disposal (safely tucked in a vault), some of Catherine's favorite pieces are relatively inexpensive tokens that hold deep sentimental value. From her precious wedding earrings to an infamous gift from her husband, these are Catherine's most treasured jewels.
Her precious engagement ring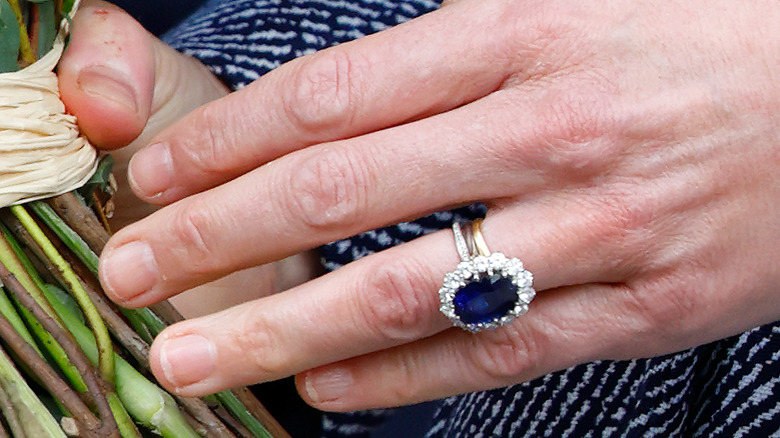 Max Mumby/indigo/Getty Images
This one may be the most obvious, but it can't be ignored. When Prince William proposed to Princess Catherine in 2010, it was something the public had been waiting for with bated breath ever since their relationship started. The media and fans wanted to know every single detail, from how William popped the question to how long they would wait to tie the knot. Of course, there was one element that was more important than all the rest: the ring. Thankfully, the public didn't have to wait long to get all the gossip on the rock, as the couple sat down for an interview with ITV which was aired on the same day they announced their engagement to the world.
William gave Catherine his mother's famous engagement ring, a huge sapphire and diamond sparkler that first made headlines back when King Charles III proposed to Princess Diana with it in 1981. Made by the former crown jeweler Garrard, it was deemed an unusual pick at the time as it wasn't custom-made or from the royal vault. It instantly became iconic, but for Catherine and William, the meaning it holds is much deeper. William told ITV (via People): "Obviously, [Princess Diana] is not going be around to share in all the fun and excitement, so this is my way of keeping her close to it all." This sweet sentiment makes this piece of jewelry one of Catherine's most sentimental belongings.
The wedding gift her parents gave her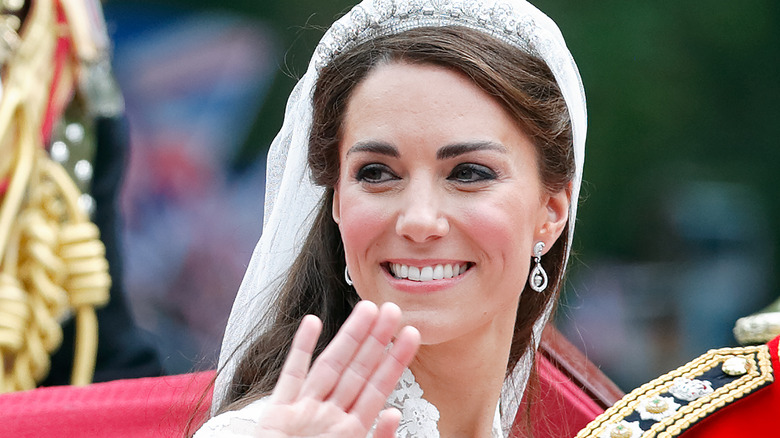 Max Mumby/indigo/Getty Images
Every blushing bride wants to look their best on their wedding day, but royal brides have to worry about more than just impressing their nearest and dearest at the event. When Princess Catherine and Prince William tied the knot in 2011, they invited 1,900 guests to attend the event in person. On top of that, the historic ceremony was televised to 162 million people across the globe.
There was a lot of speculation during the build-up about what Catherine would wear for the nuptials ... and it turned out to be showstopping. To this day, Catherine's stunning bridal look is discussed in the media and beyond, with experts such as Allure's style director Siobhan Bonnouvrier praising her dress at the time: "How could this dress not set a huge trend in fashion? We'll see more lace in bridal fashion produced like this one." 
Catherine's dress was perfectly complimented by Robinson Pelham diamond drop earrings which were a gift from her parents, Carole and Michael Middleton, to mark the special occasion. The earrings feature a little acorn dangling in the middle, making them interesting but understated. The princess hasn't kept them locked away since saying "I do" and has worn them to several events. In 2019 she wore them to the royal Easter service in Windsor, proving that she hasn't forgotten about them. According to Express, the earrings cost £15,000, so the Middletons certainly pushed the boat out for their eldest daughter.
A special necklace that pays homage to her kids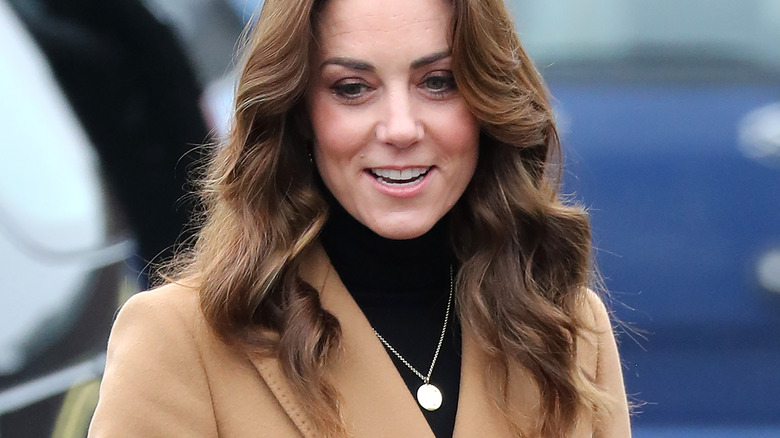 Chris Jackson/Getty Images
It's no secret that moms like to pay homage to their kids with jewelry. There are countless brands that make products with "mom" emblazoned on them, but when you're royal, sentimental jewelry needs to be a cut above the rest. It can't be gaudy or something that everyone else has, but it can be affordable and sleek. Princess Catherine owns a sweet and simple gold Daniella Draper necklace worth around £1,070 that's engraved with the initials of her three children, proving that while she may hold many responsibilities, being a mom is at the top of the list. Known as the "personalized gold midnight moon necklace", this trinket is one of Catherine's more simplistic pieces.
It features a gold chain and a gold disc engraved with George, Charlotte, and Louis' initials. The princess was first seen wearing it in January 2020, going on to wear it again later that year during a visit to an organization in Sheffield. Catherine also owns another necklace from the same designer which contains her children's initials. The second necklace has a small individual disc per letter and is significantly cheaper than its counterpart, coming in at £495. It seems that Catherine likes to keep her children close to her heart as much as she can, and considering just how cute they are, who can blame her?
The Nizam of Hyderabad necklace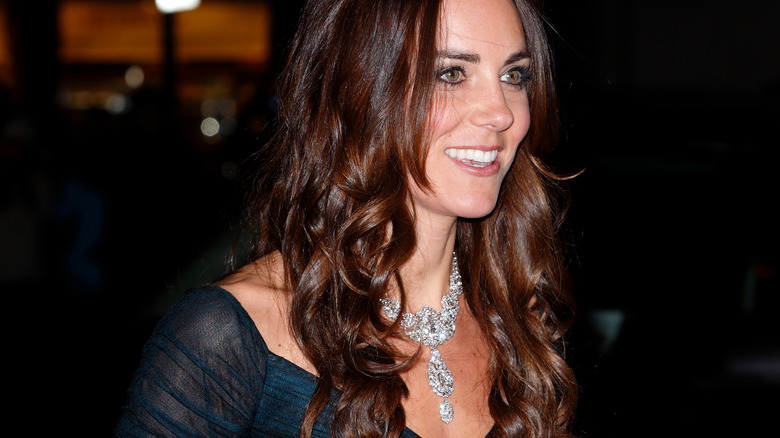 Max Mumby/indigo/Getty Images
There are many pieces of jewelry in the royal vault that have incredible historical significance, and the Nizam of Hyderabad necklace is one of them. The awe-inspiring diamond necklace was a wedding gift to Queen Elizabeth II when she tied the knot with Prince Philip in 1947 from Asaf Jah VII, the monarch of Hyderabad. The royal reportedly told Elizabeth to pick out two pieces from Cartier of her own liking. Elizabeth chose well, as the dazzling accessory is worth over £65 million. Unlike some of the late queen's other jewels, this isn't one that she lent out readily.
In fact, Princess Catherine is the only other royal family member to have ever worn it. Catherine wore it to a reception at the National Portrait Gallery in 2014, using it to add a lot of sparkle to a deep blue Jenny Packham dress. There is talk that Catherine will inherit the jewelry (if she hasn't already) but even if it was a borrowed piece, it was an incredibly high honor. The queen and her granddaughter-in-law had a very special relationship by all accounts and held each other in high regard, which may explain why she has access to some of Elizabeth's most iconic jewelry. For her wedding in 2011, Elizabeth loaned Catherine her Cartier Halo tiara, a present she received from her mother on her 18th birthday but never wore herself.
An anniversary gift for all time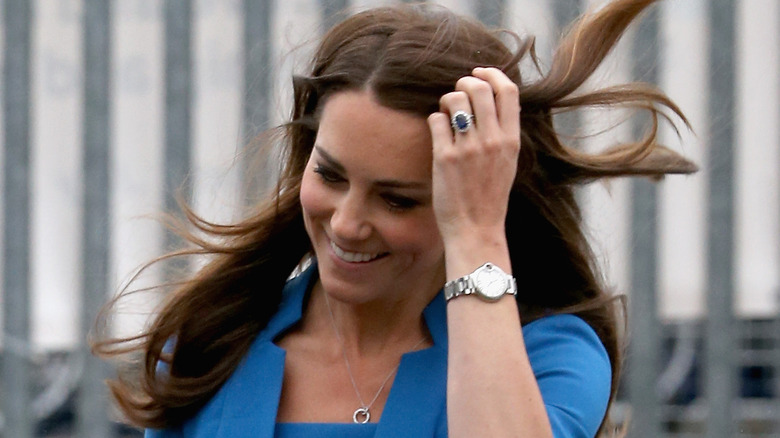 Chris Jackson/Getty Images
Anniversary gifts for the average person may involve being treated to dinner, or perhaps some modest jewelry. But when you're royalty, there's no such thing as a token gesture. In 2014, Prince William pulled out all the stops and bought his wife of three years a Cartier Ballon Bleu watch to mark their anniversary. He also had it customized, adding in a sapphire so it matched her engagement ring. Catherine's watch retails for around £4,800 without customizations, but she isn't the first member of the royal family to step out wearing one of these premium timepieces.
Princess Diana was famously attached to her Cartier Tank watch, which she was often pictured wearing. The then-princess of Wales received it as a gift from her father, Earl Edward John Spencer. She also owned a slightly fancier Cartier Tank Française which was passed down to Prince William and Prince Harry after her tragic death in 1997. Interestingly, Camilla, Queen Consort, is also partial to a Cartier watch, as was Queen Elizabeth II who was spotted wearing the Cartier Tank Cintrée Dual Time, among others. Catherine's Ballon Bleu not only marks a milestone for her marriage, but it also serves to remind her that she's part of one of the biggest dynasties in the world ... and all of its traditions!
Her simple and elegant eternity ring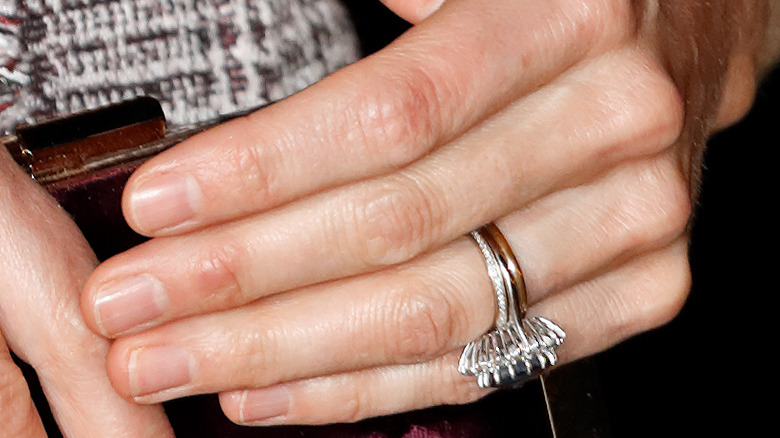 Max Mumby/indigo/Getty Images
It's common to wear an engagement ring and a wedding ring, but not everyone opts for an eternity ring. These pieces, often worn on the same finger as the engagement and wedding bands, are explained by jewelers Beaverbrooks as: "A symbol of everlasting love, eternity rings are just as much of a promise of commitment as an engagement ring or wedding ring. Adorned with a continuing band of diamonds or gemstones, eternity rings are known to represent everlasting love." Prince William melted hearts across the globe when he gave Princess Catherine this £1,500-eternity ring to mark the birth of Prince George, their first child.
While it's true that William could have spent much more than that on a piece of jewelry, this ring is proof that money doesn't mean everything. Designed by London-based jeweler Annoushka, the ring is white gold, fitting in perfectly with Catherine's wedding and engagement rings to make the perfect trio. Prince William has shown over and over again that he has a talent for finding Catherine the perfect gifts. The princess is often seen with all three rings firmly in place but has been known to leave them at home when attending certain events. In 2022, she attended the Commonwealth Games wearing just her gold wedding band and has been known to remove her rings when visiting hospitals, especially during the pandemic.
Princess Diana's South Sea pearl earrings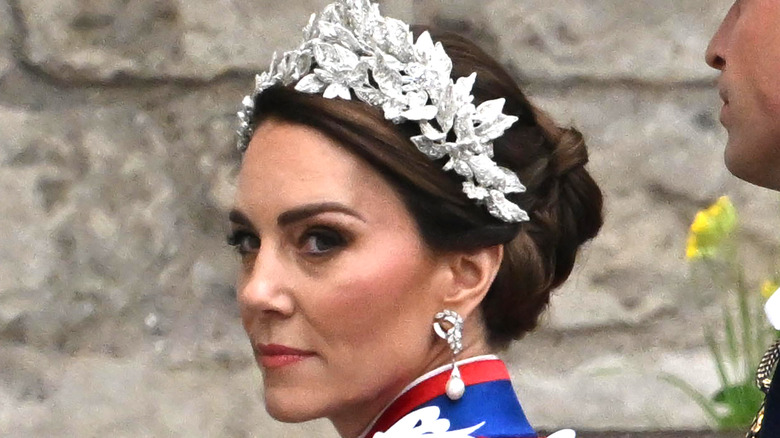 Anwar Hussein/Getty Images
The late Princess Diana was known for a lot of things, from her outstanding humanitarian work to her effortless fashion. Whether she was taking her children on vacation or attending a state dinner, Diana always looked incredible and pushed the envelope of what was deemed "acceptable" as a royal. Her jewelry was a big part of her iconic style. A few months prior to her death, Diana set out a "letter of wishes" should anything happen to her, which read (via Town and Country): "I would like you to allocate all my jewelry to the share to be held by my sons, so that their wives may, in due course, have it or use it. I leave the exact division of the jewelry to your discretion."
Being able to wear jewelry that once belonged to Princess Diana is a dream for most fashion lovers, but for Princess Catherine, it holds extra gravity. She has worn her mother-in-law's gorgeous diamond and pearl earrings several times as a nod to the woman she never got to meet. Catherine even chose to wear them to one of the most important events of her royal career, the coronation of King Charles III. Interestingly, the earrings, made by Collingwood, were a gift to Diana from her then-fiancé Charles prior to their wedding in 1981. The former princess of Wales continued to wear them after her marriage ended and they're proving to be a favorite of Catherine's, too.
A promise ring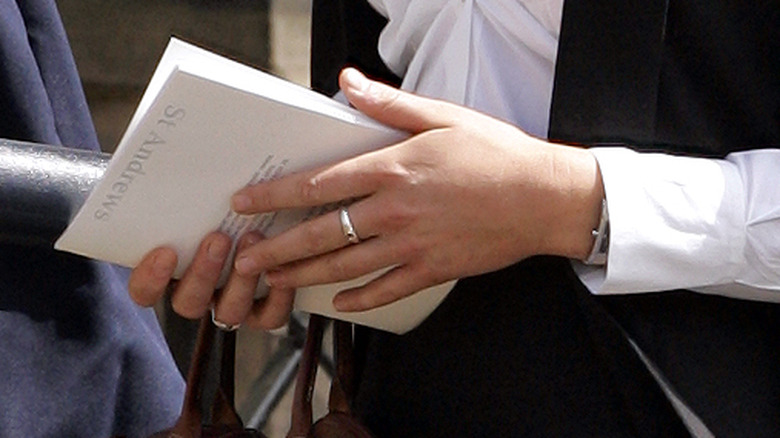 Max Mumby/indigo/Getty Images
We know that Princess Catherine has three stunning rings she wears on her ring finger to mark her lifelong commitment to Prince William: Princess Diana's engagement ring, a gold wedding band, and the eternity ring gifted to her after the birth of Prince George. Catherine wears all of these on a regular basis, but there's another special ring we don't see as often these days that harks back to the early days of her courtship. Before William officially popped the question to Catherine, he gave her a promise ring. Made of gold and encrusted with garnets and pearls, it was gifted to Catherine while the two were still at university.
It isn't just a pretty trinket that William picked out of a brochure, either. The garnets are Catherine's birthstone for January, while the pearls are William's birthstone. Pairing them both and setting them on a rose gold Victorian band was an incredible sign of commitment from William to his future wife. Prior to their 2011 nuptials, Catherine wore the gift on her middle finger. Considering just how much thought and effort went into this ring, it's hardly surprising that Catherine wore it to her graduation in 2005. As for value, it's thought to be worth around £2,000, a mere drop in the ocean compared to the £390,000 Catherine's inherited engagement ring comes in at. It's likely this family heirloom will be passed down through the generations given its history. 
The iconic feathers brooch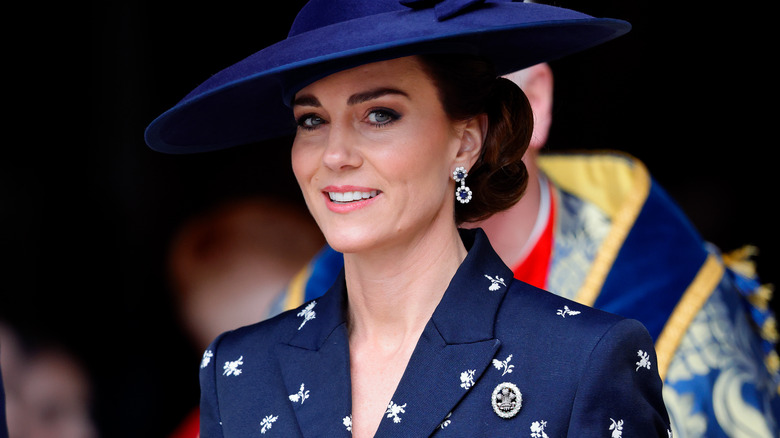 Max Mumby/indigo/Getty Images
Prince William isn't the only royal to have gifted Catherine something amazing (and expensive). King Charles presented her with this simple yet beautiful diamond feathers brooch which has been worn by previous princesses of Wales for generations. Catherine was first spotted wearing the small piece in November 2022 shortly after assuming her new title. She wore it again a few months later to the Commonwealth Day Service at Westminster Abbey, pairing it with an incredibly trim Erdem navy suit with a floral pattern. It may look like just another brooch from the royal collection to the untrained eye, but its history goes back a long way.
Consisting of diamonds, rubies, and emeralds, it hails from 1863, when Queen Alexandra received it as a wedding gift. Alexandra married King Edward VII, a former prince of Wales. Ever since then, it has been handed down to other bearers of the title, moving from Princess Diana to Camilla, Queen Consort (though she was never officially given the title), and now, to Catherine. Diana previously wore it as a pendant on a necklace on occasion, but her daughter-in-law seems to prefer to wear it how it was originally intended. This is another historic piece in Catherine's collection that represents just how much of a prized position she holds within the royal family. Catherine may have great shoes to fill as the Princess of Wales, but if anyone is up to the task, it's her!
This beautiful gold link bracelet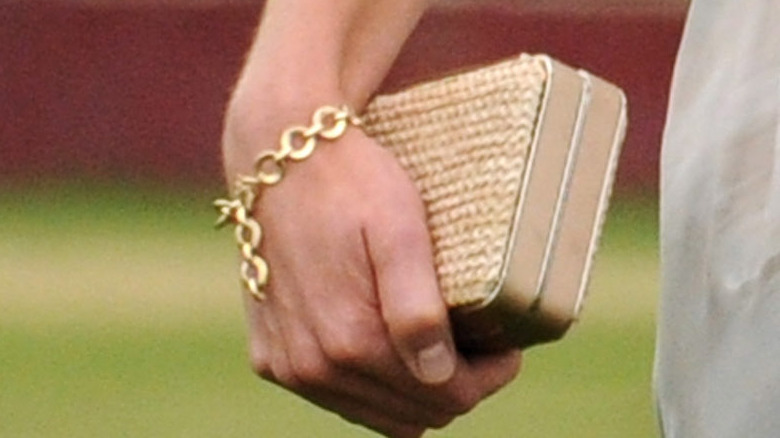 Steve Granitz/Getty Images
Camilla, Queen Consort may be a polarizing figure in Britain thanks to her affair with King Charles III when he was still married to the "people's princess" Princess Diana, but things are different behind closed doors. Camilla seemingly gets on well with Princess Catherine, with royal biographer Angela Levin explaining their closeness in her book, "Camilla: From Outcast to Queen Consort" (via Daily Mail): "Catherine has a love of the arts, which William doesn't particularly share, and she often goes both privately and publicly with the Queen Consort and King Charles to see exhibitions." Spending time with the in-laws can be ghastly for a lot of people, but for these royals, it's just another day in the life.
When Catherine and Prince William got married in 2011, Camilla had only been married to Charles for a few years. Perhaps as a nod to their new bond as non-blood members of the firm, Camilla gifted Catherine a beautiful gold link charm bracelet to mark the nuptials. It is engraved with a C for Catherine, as well as another C and a crown for Camilla, tying them together. This sweet gesture didn't go unrecognized, with Catherine wearing it to other special occasions for the first few years of her marriage to William. Although she hasn't been seen wearing it in recent years, that could be because Catherine's taste has veered toward more delicate pieces, like her Daniella Draper necklaces.