The Songs Fans Think Miley Cyrus Wrote About Liam Hemsworth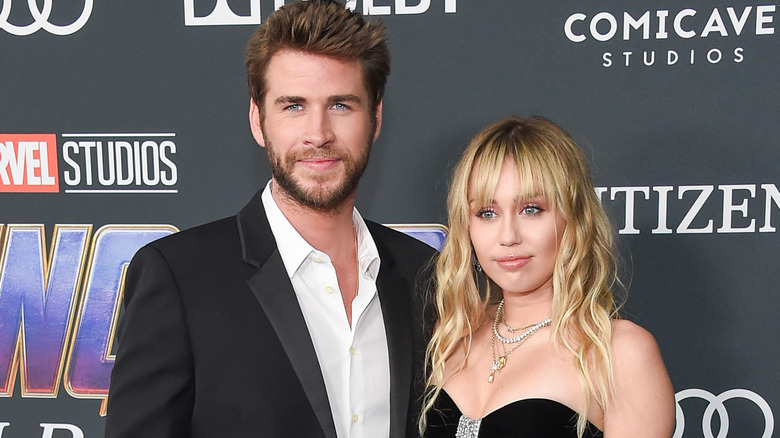 DFree/Shutterstock
Taylor Swift might have built a reputation for writing songs about her exes, but another blonde-haired contemporary of Swift's has established her own wall of lovesick sound — one that she's swiftly demolished time and time again while sitting atop a swinging wrecking ball. Indeed, Miley Cyrus has an impressive collection of ex-centric songs, some more obvious than others. 
Cyrus's recent smash hit "Flowers" caused lyric sleuths everywhere to voraciously dive into the meaning behind her words. "I can buy myself flowers / write my name in the sand" seemed like a pretty obvious nod to her relationship with Liam Hemsworth and a harmonic and lyrical callback to Bruno Mars's "When I Was Your Man." Still, "Flowers" is not the first song written about her Australian ex-husband. 
From her 2010 "Can't Be Tamed" release to her most recent dance album "Endless Summer Vacation," some might consider Cyrus's discography an overwhelming testament to her relationship in all of its ups, downs, and in-betweens. While not every song is guaranteed to be about Liam, and songwriters often incorporate several life experiences into a single track, some lyrical mentions are a little too on the nose to ignore.
2010-2016: Young, on-and-off-again romance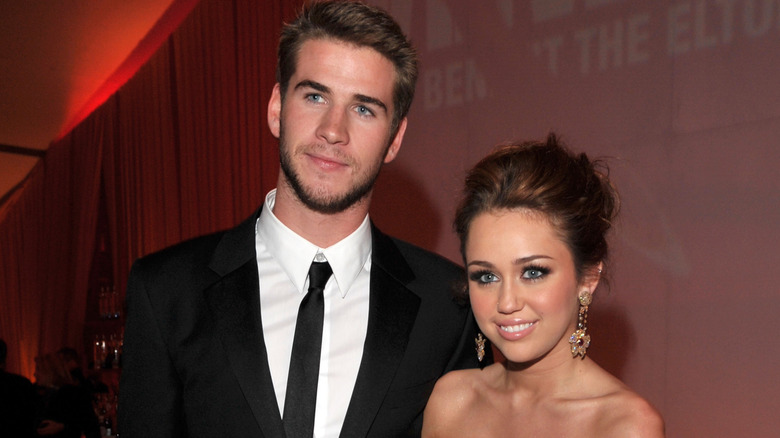 Lester Cohen/Getty Images
Miley Cyrus and Liam Hemsworth met in 2009 while filming the 2010 film adaptation of the Nicholas Sparks romance novel, "The Last Song." Shortly after, the couple fulfilled everyone's ultimate ship goals by confirming their off-screen relationship. But the relationship was rocky at best, featuring splits and reunions even within the first year, per People's timeline, and Cyrus's music quickly began to reflect the tumultuous romance. 
It's unsurprising, then, that fans saw a direct correlation between Cyrus's Aussie beau and "Permanent December" off "Can't Be Tamed." While the lyrics "I've been to London, been to Paris, Australia, and Rome / There's sexy boys in every city, but they're not what I want," seem openly about Hemsworth, Cyrus told MTV that every song on the album was about him in one form or another. Based on the lyrics, this could include "Scars," "Forgiveness and Love," "Stay," and "Two More Lonely People." 
Cyrus's 2013 album "Bangerz" was no different. Many fans thought her emotional performance in "Wrecking Ball" referenced the couple's broken engagement, even though Cyrus didn't write the song herself. "Drive," another "Bangerz" track, also referenced her ex. "I wrote it while I was working on Valentine's Day — emotionally it was such a hard time," she told Fashion at the time. "It is about needing to leave someone but not really wanting to completely cut yourself off from the relationship." The album also seemed to hint at her relationship through heartfelt cuts like "FU," "Maybe You're Right," "Someone Else," "Rooting For My Baby," "On My Own," and "My Darlin'."
2017-present: Intense saga and aftermath of divorce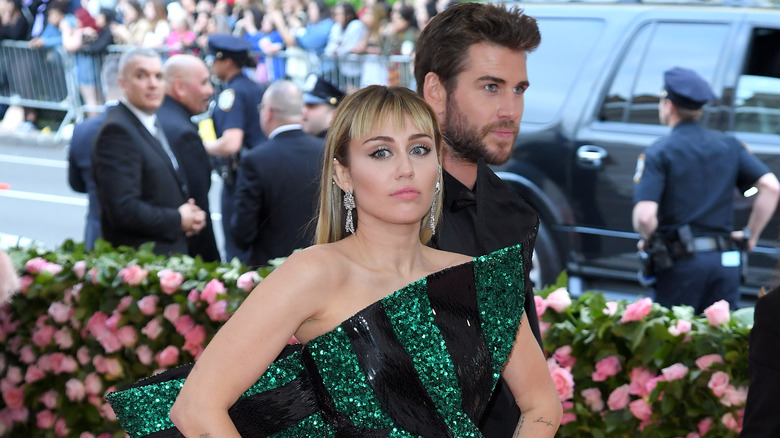 Karwai Tang/Getty Images
The couple split from 2013 to 2016 before reuniting and secretly marrying in 2018. This period produced tracks like "Malibu" off the 2017 album "Younger Now", which Cyrus told Billboard was a way to regain control over public perception of her relationship. Lyrically speaking, other Liam-adjacent tracks on the album likely include "She's Not Him," "I Would Die For You," "Love Someone," "Thinkin," "Bad Mood," "Week Without You," and "Miss You So Much." 
By 2020, Cyrus and Hemsworth were divorced. Cyrus's 2020 album "Plastic Hearts" alluded to their split more than once, including in "Midnight Sky" ("I was born to run / I don't belong to anyone") and "Angels Like You," which seemed to reference Liam's pet name for Miley. Other lovesick tracks include "Never Be Me," "High," "Prisoner," and "WTF Do I Know." Even the 2019 standalone single "Slide Away" seemed to reference her broken relationship: "Baby, we were found, but now we're lost / So, it's time to let it go." 
Cyrus's most recent release, "Endless Summer Vacation," is no different. In addition to "Flowers," the 2023 album includes "Muddy Feet," which references infidelity: "You smell like perfume that I didn't purchase," and "Jaded," which eludes to a younger romance turned sour: "Now I've had time to think it over / We're much older, and the bone's too big to bury." And while many of Cyrus's songs feature co-writers, there's no doubt her experience with love serves as a driving force behind her musical catalog.