Have Todd And Julie Chrisley Spoken Since They Entered Prison?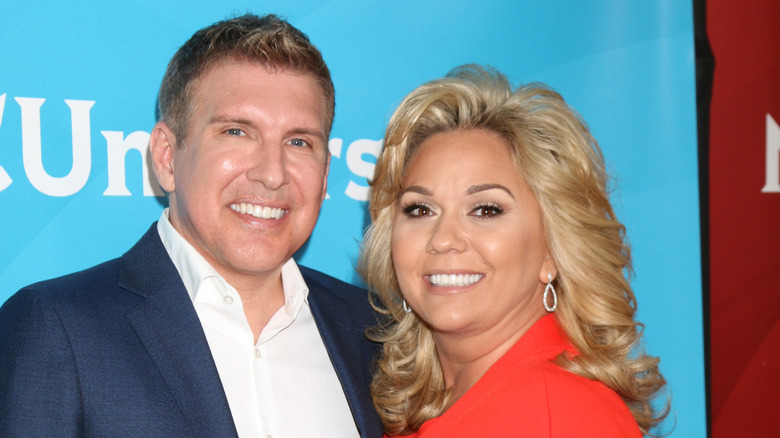 Kathy Hutchins/Shutterstock
Now that the dust has settled on Todd and Julie Chrisley's legal drama, fans are getting an inside look into how the lovebirds are spending their time behind bars. The couple is serving a combined 19 years for tax fraud. Julie is doing her seven years at FMC Lexington in Kentucky. Todd, on the other hand, is being held at the Federal Prison Camp in Pensacola, Florida, where he is scheduled to spend the next 12 years. Though they are currently appealing their conviction, the reality stars will have to sit tight in some unfavorable conditions.
One of the million-dollar questions has been whether or not the couple has been in communication since starting their prison stints. Both Todd and Julie turned themselves in to authorities in January. Since then, fans have not heard much from the "Chrisley Knows Best" stars. Thankfully, their daughter Savannah has provided an update that may surprise some.
Todd and Julie Chrisley have not spoken since their incarceration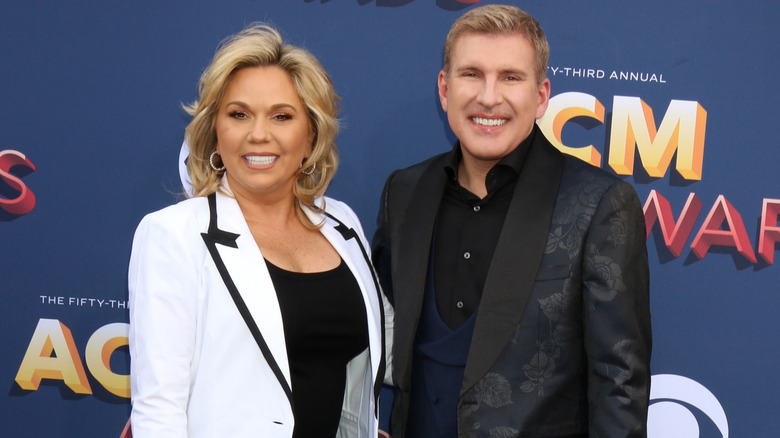 Kathy Hutchins/Shutterstock
Days ago, influencer Savannah Chrisley revealed on her "Unlocked" podcast that her parents have not spoken since beginning their prison sentences. The 25-year-old explained that she has been able to speak with both of her parents, who've each expressed how much they miss one another. Savannah told listeners that her mother has sent her "30 to 40 days" worth of letters, each one detailing how badly she wishes to speak with her husband of 27 years.
"Being together almost 30 years now and not going a day without speaking to now, going on four months is a lot," Savannah explained.
According to their devoted daughter, her mother's letters are a daily diary of sorts, detailing incarcerated life. Julie is keeping busy by taking classes and writing, though Savannah admitted that she is scared. Days after the saddening revelation, a source close to Julie spoke with The Daily Mail, explaining that the situation with Julie is much more dire than Todd. They shared that the entrepreneur had "broken down" under the pressure of being away from her family and is feeling as if she let them down.
The couple were granted e-mail privileges, but it doesn't appear they've gone into effect yet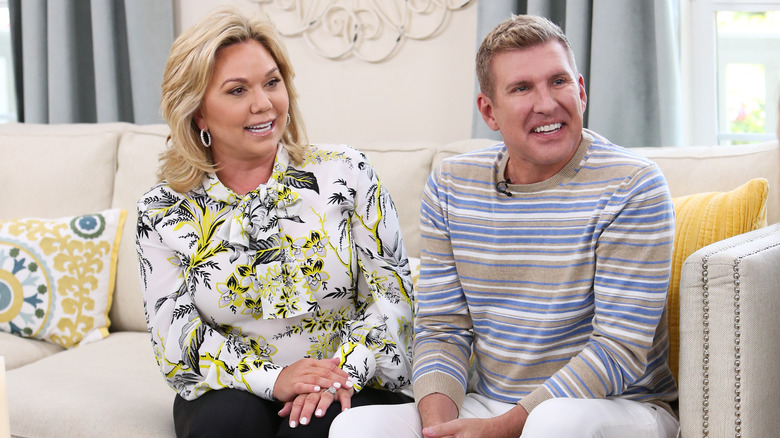 Paul Archuleta/Getty Images
In February, it was revealed that embattled TV stars Todd and Julie Chrisley were granted e-mail privileges to speak to one another. Initially, the couple were not allowed to communicate at all. However, their daughter Savannah confirmed on "Unlocked" that while the pair were still barred from speaking on the phone, they were given approval to e-mail back and forth since they are married. Savannah says when her father got the news of the e-mails, he cried on the phone while delivering this update.
Given that it was confirmed this month that the two have still not communicated, it does not seem like the e-mail correspondence has panned out. If the e-mails do not come into play, that means the couple won't be allowed to talk for at least seven years. That is when Julie is set to be released. Hopefully, these two can at least write back and forth for the sake of their mental health and relationship.