How Does Gwyneth Paltrow's Husband Feel About Her Friendship With Ex Brad Pitt?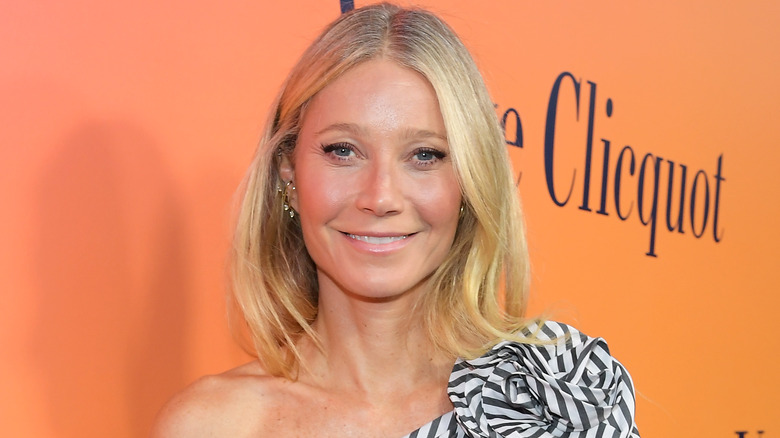 Charley Gallay/Getty Images
In the 1990s, Gwyneth Paltrow and Brad Pitt were one of Hollywood's most popular couples. The duo met while starring in the film "Se7en" in 1994. "He was so gorgeous and sweet. I mean, he was Brad Pitt!" Paltrow later said of her first impression of Pitt, via Us Weekly. The pair began dating and quickly became a golden couple. The pair got engaged in 1996, but soon after they called it quits. Despite ending their engagement, Paltrow and Pitt don't have any bad blood between them and they have remained friends decades after their headling-making breakup. In 2022, the "Shallow Hal" star opened up about her friendship with Pitt and even revealed what her husband, Brad Falchuk, thinks about the relationship.
While some spouses may have an issue with their partner being friends with a former fiance, Falchuck isn't one of those people. Paltrow confirmed to Entertainment Tonight that her husband has no worries about her friendship with Pitt. Paltrow also confessed that she and Pitt had to navigate their way to friendship, which didn't happen easily. "When we first broke up, we weren't friends for a while and then we sort of found our way back, probably about 18 or 19 years ago, something like that, and then just kind of stayed in touch over the years," she said.
Of course, the friendship between Paltrow and Pitt is likely made easier by the fact that Falchuk supports their connection.
Brad Falchuk supports Gwyneth Paltrow and Brad Pitt's friendship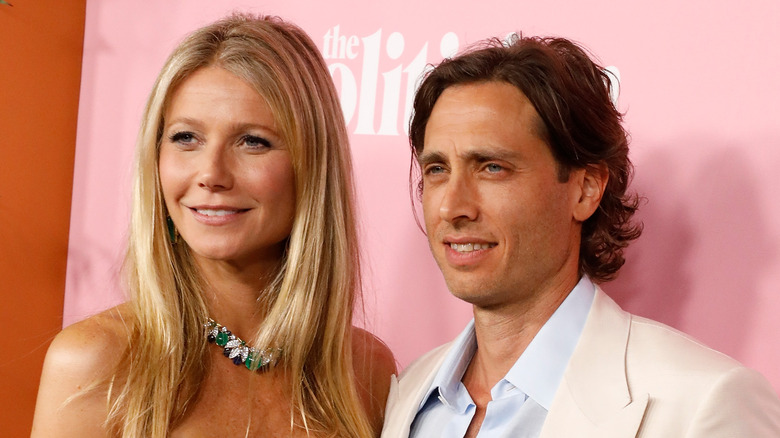 Taylor Hill/Getty Images
Gwyneth Paltrow has spoken out about her relationships with her exes in the past, revealing that she is still very close with her ex-husband, Chris Martin. So, her friendship with Brad Pitt may not surprise many fans. However, some may be interested to know that Paltrow's husband, Brad Falchuk is also completely on board with the idea of his wife staying close to her exes. "My husband is probably like the least judgmental, most secure man in our relationship, so I think he totally respects [the friendship]," Paltrow revealed (via People).
The actor went on to admit that Falchuk understands that she believes in the practice of "conscious uncoupling," which can be used in many types of relationships, and allows the person to learn a lesson from the relationship and breakup, which they can carry with them and heal from while still having a place for that person in their life. "So even though sometimes it can be uncomfortable, I think it's nice to work through it and reconnect with the value that that person brought to your life," Paltrow explained. "I am really lucky I married Brad. There is just something about us together. We've been able to build on all the stuff we've gone through in life and create something really amazing," Paltrow also said of her marriage.
Meanwhile, she's been known to gush over Pitt as well.
Paltrow says she was too young to settle down with Pitt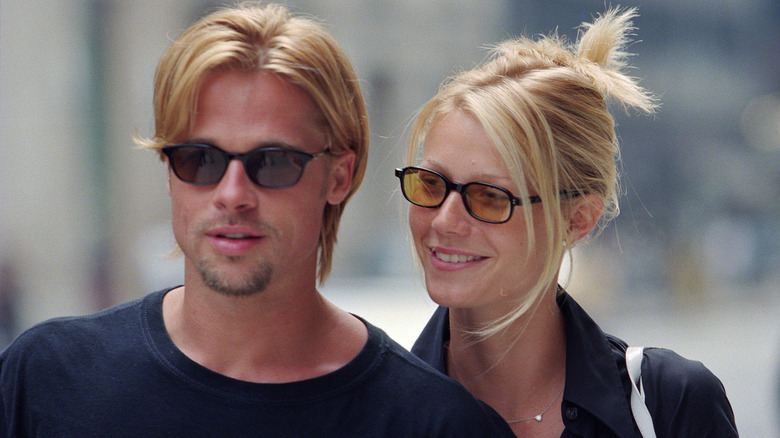 Lawrence Schwartzwald/Getty Images
Gwyneth Paltrow has admitted that she has love for Brad Pitt despite their failed romantic relationship. "I adore him. He's an amazing person, and he's a great entrepreneur, and such a creative, and such a good person. I really love him. I'm a big fan," she told ET of her ex-fiance. Of course, Paltrow has spoken out about her relationship with Pitt in the past, revealing to Howard Stern back in 2015 that she was simply too young and not ready to make the huge life decision to settle down and get married.
"I think I was a kid and I wasn't ready. He was too good for me," she said (via HuffPost). "I honestly do think, I was too young and didn't know what I was doing," Paltrow continued. "I mean I was 22 when we met and it's taken me until 40 to get my head out of my ass. You can't make a decision when you're 22 years old."
For his part, Pitt has also publicly spoken out about his friendship with Paltrow. In 2022, the "Bullet Train" star revealed that he found it "lovely" to be friends with Paltrow so many years after ending their romance, and Paltrow agreed, per People. Meanwhile, Paltrow is just one of several celebrities who have spoken out about staying friends with their exes. Stars such as Drew Barrymore and Kate Hudson have also encouraged friendships with former partners.