The Staggering Amount Prince Harry And Meghan Reportedly Spend On Private Security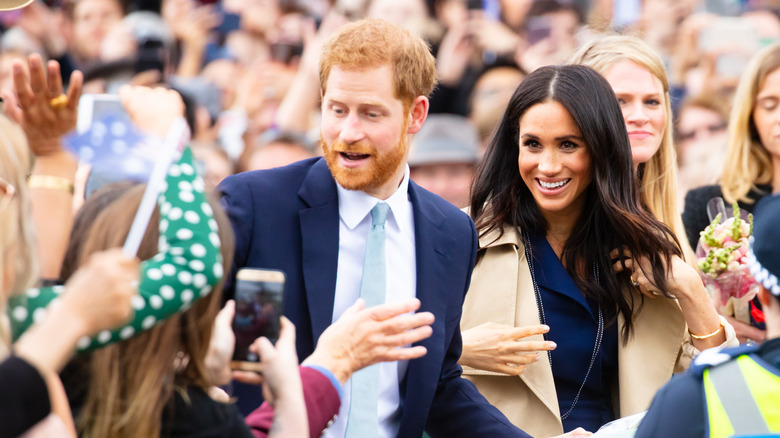 FiledIMAGE/Shutterstock
When you're rich and famous, getting hounded by overzealous fans and paparazzi is, unfortunately, an unspoken part of the job description. Some people will go above and beyond to get even a blurry photo of their favorite celebrity "out in the wild." It's this extremist behavior that can put the celeb in a compromised position. Notably, Lindsay Lohan had not one, but two car accidents that involved paparazzi following behind the actress' car a bit too close for her comfort.
In May 2023, Prince Harry and Meghan Markle had a similar scary situation that has them pasted on the front pages yet again. Insiders close to the royal couple have described the incident as a two-hour long "near-fatal" paparazzi car chase that even had the NYPD getting involved.
With the paparazzi constantly breathing down their necks, it's no wonder Harry and Meghan have opted to put a staggering amount of money towards hiring private security. They spend $2 million a year in order to feel safe in their relatively new home in the U.S.
They were forced to bolster security after losing their royal bodyguards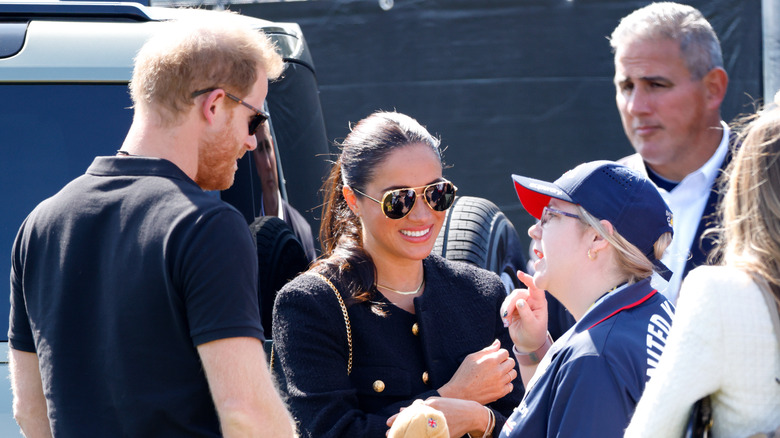 Max Mumby/indigo/Getty Images
Since stepping down from their positions as senior royals, Prince Harry and Meghan Markle's lives have been scrutinized even more by the media and by royal family members across the pond. But beyond the gossip and petty coronation snubs, there have also been some very real-life consequences that Harry and Meghan have had to face after their decision. One such consequence was the removal of their royal bodyguards – a staple for all senior royals in the United Kingdom.
According to Page Six, sources claim that the royal family removed Prince Harry and Meghan's bodyguards after they stepped down from their royal duties. With no guards, the couple was concerned for the safety of their two young children, Prince Archie and Princess Lilibet. They decided to pay $2 million a year in order for themselves and their children. In the meantime, the Duke of Sussex has fought to have the removal of his and Meghan's royal bodyguards challenged in court. Per BBC, he was granted permission to have the decision reviewed.
The couple's security detail has come under fire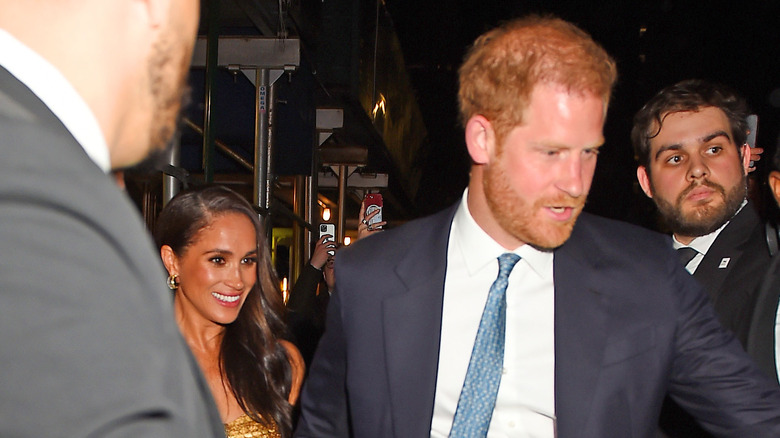 Mega/Getty Images
$2 million a year is by no means a small amount of money to shell out for private security. To put it into perspective, outlets list singer Harry Styles as paying $1 million per year to keep himself protected, and he's even employing a bodyguard that worked with Mick Jagger. So $2 million for security is nothing to sniff at. But after a series of close calls that left Prince Harry and Meghan Markle demanding answers, people are beginning to wonder if that money is money well spent.
TMZ reported that just a few days before the New York car chase, the royals had yet another terrifying experience. An intruder was spotted creeping around near the couple's Montecito, California, mansion before security placed him under citizen's arrest. Before that, another intruder had to be arrested after he appeared on the property twice, the second time just two days after his initial appearance.
Other security professionals are scratching their heads at the questionable actions of Harry and Meghan's security guards. Talking with iNews security specialist Will Geddes called the decision to put Harry and Meghan into a taxi "ridiculous" and that the royals' security "didn't manage [the incident] as well as they probably should have."