Meghan Markle Reportedly Eyed As First Guest On Gayle King's Talk Show Cheekily Titled King Charles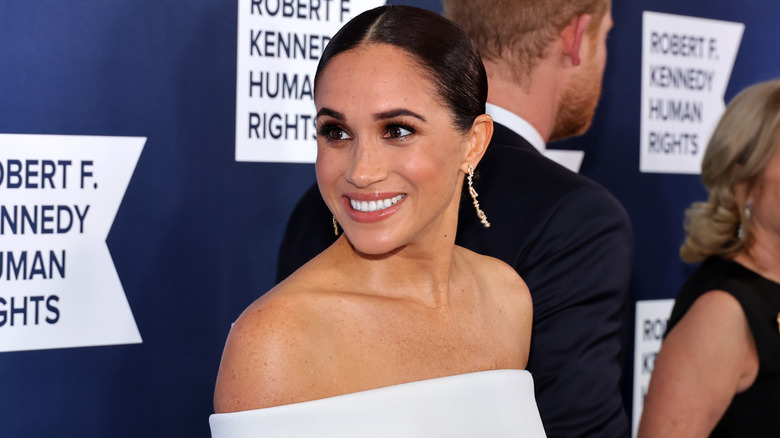 Mike Coppola/Getty Images
A forthcoming prime-time talk show reportedly wants Meghan Markle as the very first guest. In April, CNN reported that it will debut a new weekly show featuring Gayle King and Charles Barkley as hosts. Slated for Wednesday nights, "King Charles" — a clever combination of the two hosts' names — has not yet publicly defined its focus, according to Chris Licht, CNN's CEO.
A source told Express: "Meghan is right at the top of their wanted list and Gayle and the show's executives believe the duchess would guarantee an enormous launch audience." The insider continued, "No guests have been lined up at all yet for [the] 'King Charles' show because the launch is a few months away. But Gayle believes Meghan will want to seize the opportunity to rebuild her image." 
This rumor has not yet been verified by the Duchess of Sussex or anyone working for her. King, perhaps best known for her longtime friendship with Oprah Winfrey, currently anchors "CBS Mornings," while Barkley, a former pro basketball player, is an analyst on Warner Bros. Discovery Sports. Naturally, the cheeky title's ties to the royal family will have fans raising their eyebrows. 
Public opinion remains divided on the Sussexes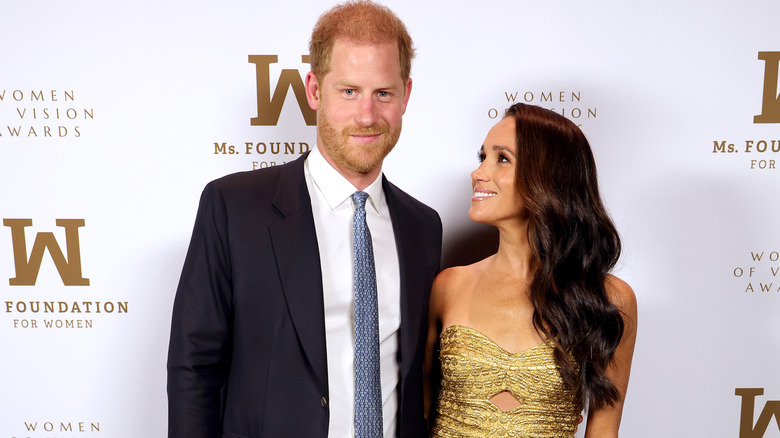 Kevin Mazur/Getty Images
Recent polls show disturbingly low public opinion scores for Meghan Markle and her husband, Prince Harry. In Great Britain, the Duke and Duchess of Sussex were recognizable to more than 90% of people surveyed, yet 50% of YouGov respondents claim to dislike Meghan, while 51% confirmed they dislike Harry. Across the pond, a poll conducted by Redfield & Wilton for Newsweek revealed that, in the months following the release of Harry's memoir, alongside the various surprising revelations from Netflix's "Harry & Meghan", net approval for the prince dipped to -10, while Meghan's approval plummeted to -17.
The royal couple's public assessment may descend lower still. On May 16, 2023, they claimed to have been pursued by aggressive photographers in a harrowing two-hour ordeal following an event at the Ziegfeld Theater in New York City. Aside from the many witnesses that have challenged Harry and Meghan's paparazzi car chase claims, Whoopi Goldberg argued on "The View" that those wild vehicular pursuits happen in LA but not in NYC. 
"I think people in New York know if it was possible to have car chases in New York, we'd all make it to the theater on time," she said (via Page Six). The accumulating backlash prompted Gayle King to defend the couple, telling Page Six: "It's troubling to me that anybody would try to downplay what that would mean to them. Everybody can have all of their opinions but I always go back to, 'How did they feel in that moment?'"
Gayle King has publicly defended the couple more than once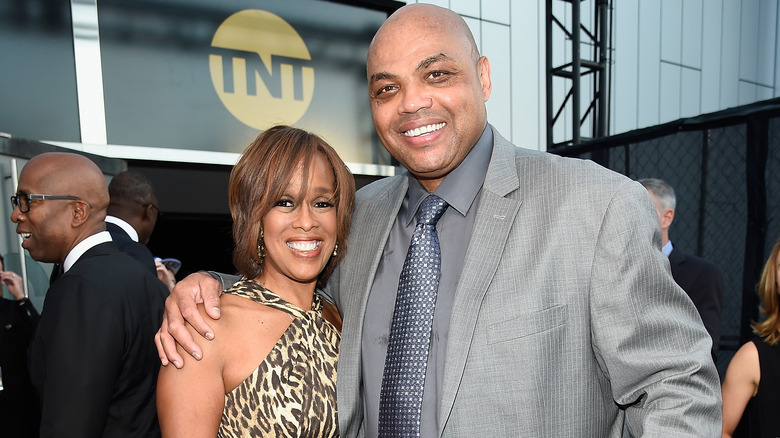 Kevin Mazur/Getty Images
Gayle King, who notably attended Meghan Markle and Prince Harry's 2018 wedding, has thrown a lifeline to the royal defectors on more than one occasion. In April 2023, when others doubted the strength of their marriage in the face of King Charles' coronation, she told Us Weekly, "I know what they have is really true-blue. And it's good to see the happiness that they give each other." 
Yet lining up the duchess as her first interviewee on her forthcoming show may not be a simple act of friendly generosity. According to Express, Meghan is attempting an image makeover, to present herself in a more serious light, so King wants (and possibly needs) to scoop other media outlets. "Gayle is buttering up Harry and Meghan with hopes they'll get her new show off to a running start," a source informed Radar Online. 
They added, "Gayle has privately promoted her reputation of landing top TV interviews despite 'CBS Mornings' poor performance. So she needs to bag a big get on the new show to back up her bluster." In the initial announcement about the show, King told CNN simply, "I want people to tune in to see: 'What are Gayle and Charles going to do?"'