Gisele Bündchen Breathes New Life Into Old Dress With Eco-Friendly Gala Look (And We're Inspired)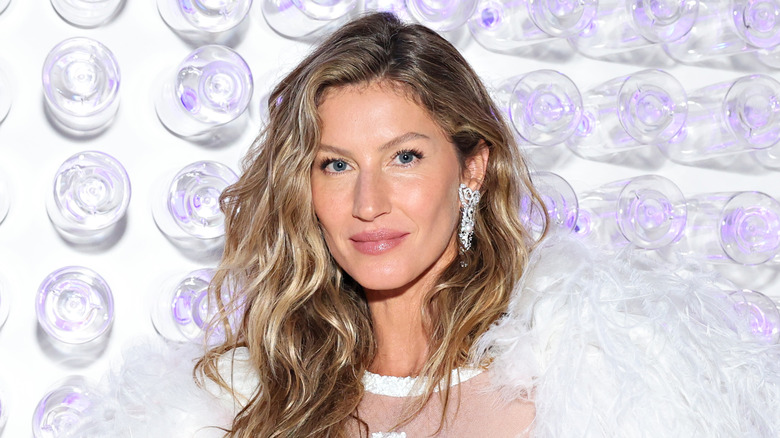 Cindy Ord/mg23/Getty Images
Over the weekend, Brazilian supermodel Gisele Bündchen attended the Luz Alliance Fund Miami Gala, and she made sure to turn heads with a stunning, yet surprisingly familiar, eco-friendly dress. The event, in partnership with the organization Brazil Foundation, was the brainchild of the model herself and spearheaded by her own initiative. The gala was organized to raise funds to protect and preserve natural Brazilian ecosystems.
Bündchen has often woven environmentalism into her life and career, telling British GQ last year: "I feel like I'm one with nature. It's like my first love, it's just who I am." She also informed the publication that a visit to the Amazon inspired the supermodel to transform her love of nature into action-oriented efforts to protect it, explaining, "As a child growing up I felt the Amazon was such a powerful thing, indestructible, this massive, vast forest. But when I got there, I realized how fragile it was." 
Thus, "That's when my whole life changed because I was like, 'I need to do something.'" In line with her status as a fashion icon and one of the world's top models, Bündchen has found a way to marry going green with looking stylish, just as she did during the Miami gala with a repurposed gown that still looked utterly fabulous. 
Gisele Bündchen altered and re-wore an eco-conscious dress
A smiling Gisele Bündchen stepped in front of the cameras at Saturday night's Luz Alliance Fund Miami Gala, showing off a stunning white, one-shoulder dress. According to People, the look was created by eco-friendly designer Stella McCartney and made of sustainable viscose fabric. If the ensemble looks familiar, that's because this wasn't Bündchen's first time wearing it. 
The supermodel first donned the dress at the Hollywood for Science Gala in 2019, though she revamped it for this year's event by removing the garment's original lengthy, shoulder-concealing train. The Brazilian star's gala attire is a reminder that we can all put a little more thought into our clothing choices and re-wear (and rework) old pieces to make them feel fresh again for the sake of the environment. 
This isn't the first time the legendary model has worn a famous dress twice either. Bündchen's 2023 Met Gala look was recycled too, showcasing a Chanel Couture gown she once donned in a 2007 "Harper's Bazaar Korea" editorial. However, don't expect to see Bündchen in her Stella McCartney dress a third time — she reportedly sold it for $48,000 at the charity event, with proceeds going to conservation work.