Everything We Know About Florence Pugh And Hailee Steinfeld's Relationship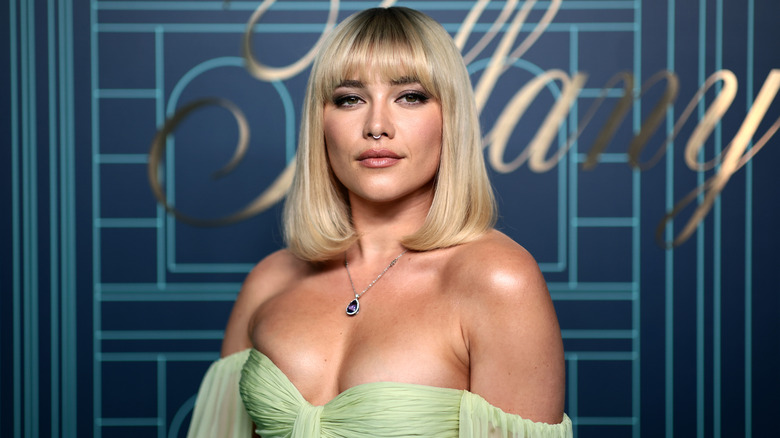 Dimitrios Kambouris/Getty Images
Movies and television shows are entertaining, no doubt, but sometimes the real fun is getting to witness what goes on behind the scenes. While a lot of cast mates seem to get along swimmingly in real life, some of them tend to be in less friendly situations. The only thing better than getting a whiff of juicy off-set drama is finding out your favorite cast members are actually part of a tight-knit family. A wholesome friendship between actors goes a long way to cement the bond we feel with the roles they portray.
Marvel's "Hawkeye" series features some of this generation's most talented actors like Hailee Steinfeld who plays rookie archer Kate Bishop and Florence Pugh as Yelena Belova the "Black Widow." The characters start off as enemies in a fierce battle scene in one of the episodes of "Hawkeye," and they make great friendly rivals as the show goes on.
If you love both of these young actors the way we do, you'll also be wondering what their real-life relationship is like and if they have the same easy rapport. Fortunately, Steinfeld and Pugh have given us a peek into how they behave with each other outside the silver screen, and — thank heavens — there are no arrows involved.
Hailee knew she and Florence would be good friends off-screen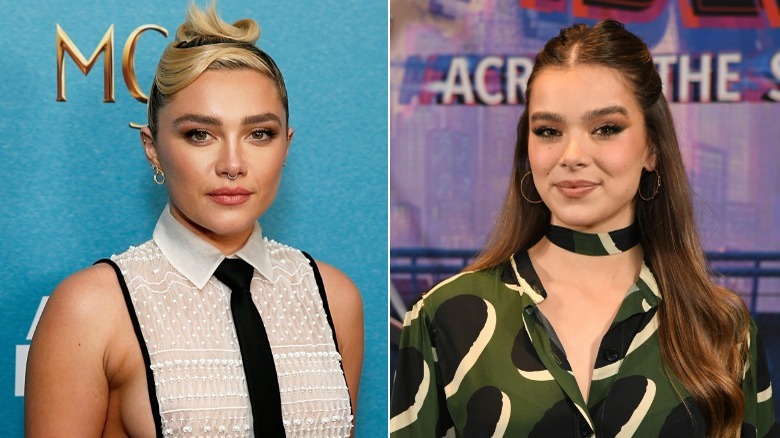 Jon Kopaloff & Dominik Bindl/Getty
Florence Pugh and Hailee Steinfeld's roles as Yelena Belova and Kate Bishop on Disney Plus' "Hawkeye" had Marvel fans gagged with delight. Their chemistry in the miniseries was so palpable that fans were shipping them together. They even have a fandom page dedicated to their hypothetical love called Bishova, a mashup of their names. If that isn't indicative of great onscreen rapport, we don't know what is.
Apparently, the two actors related just as well offscreen, too. Pugh and Steinfeld have nurtured a blossoming friendship since their meeting. In an interview with Cosmopolitan, Steinfeld revealed that she knew right off the bat they'd hit it off. "I think we just had similar energy . . . we really did have a wonderful time together."
Steinfeld also spoke to Entertainment Tonight when the show aired in 2021 about the project and how seamlessly their characters meshed with one another due to the deaths of their onscreen family members. She complimented Pugh's acting skills, saying, "I was so excited and so incredibly impressed by her coming in and onto the set and just creating this space for the two of us to just sort of run." The co-stars evidently let their good energies bounce off each other while working. "We're playing these two incredibly strong-willed young female characters who are capable of a lot, and it was just amazing to see us work through the writing and find the truth in all of it."
Hailee admits that working with Florence is always a fun experience
The "Hawkeye" co-stars obviously have nothing but love for one another. There's no drama off-set between these two and it makes their show together that much more genuine and relatable. There is something oddly endearing about their elaborate fight sequences and awkward macaroni and cheese make-up dinner scene. That scene ended up being one of Steinfeld's all-time favorites which she gushed about to ET. "That was some of the most fun I've had working, and Florence is incredible in that scene. It was really awesome to see her do her thing, and we had so much fun together."
Steinfeld, who joined the Marvel Cinematic Universe (MCU) with "Hawkeye," expresses that she deeply admires Pugh for how in tune she is with her character Belova who made her Marvel debut with "Black Widow." She shared with ET that it was "really amazing and interesting seeing Florence come in having spent more time with her character and in this universe than I had at that point." Finding true friendship while working sounds like a dream come true.