A Look At XO, Kitty Star Anna Cathcart Through The Years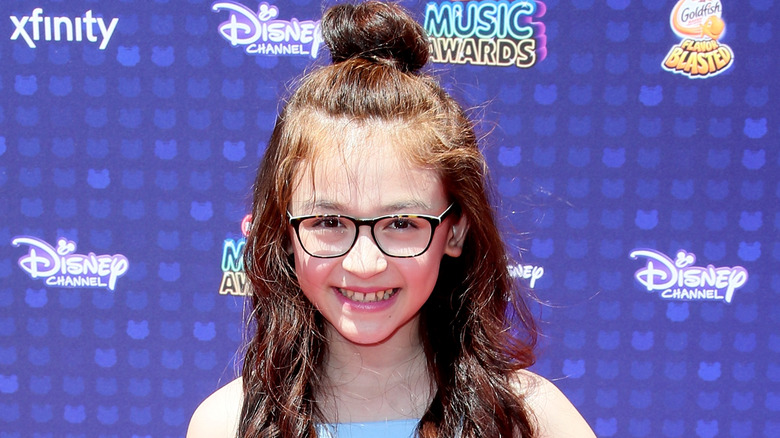 David Livingston/Getty Images
Katherine "Kitty" Song Covey has come a long way since we last saw her in "To All the Boys: Always and Forever." After setting up her sister Lara Jean with Peter Kavinsky for life, Kitty has found love for herself — and now she's chasing it all the way across the world in the Netflix series "XO, Kitty."
After years of playing the supportive little sister Kitty, actor Anna Cathcart can't believe she's now playing the leading role. "I definitely did not think that I would be a part of this universe and this role for this many years, and to get to explore in the way that I have is something that blows my mind on a daily," she shared during an interview with People.
Cathcart has spent nearly her entire life chasing her acting dreams. Her career began all the way back when she was just entering kindergarten. However, she revealed on the "Steve Varley Show," "I never really thought that I could do this as a career. It was always a dream of mine when I was in elementary school." Now, she lives it "on a daily."
She always dreamed of acting while watching the Disney Channel and Netflix
Long before Anna Cathcart ever appeared on our television screens, she was a kid growing up in Canada who spent a lot of time watching television herself. Between the countless number of hours sitting in front of a TV set and watching her big sister Sara act, she found her interest in show business slowly growing. However, the young actor told Famous Birthdays that was extremely shy, which kept her from signing up for any acting classes herself.
Eventually, the characters that she saw on screen inspired her to break out of her bubble. "I got my inspiration for being an actor from watching Disney Channel every single day," she once shared during an interview with Tiger Beat. "And I watch Netflix all the time."
"My mom would always tell me I was watching too much TV when I was younger," Cathcart said on the "Steve Varley Show." "And now I can be like, 'It was just my research,' and now that's brought me here."
Filming one of her first commercials made for 'the best day' of her life
Before Anna Cathcart even completed kindergarten, she got herself an agent and started auditioning for commercials. Her first-ever audition happened to be an advertisement for something that made up many of our childhoods — an Ariel toy from "The Little Mermaid." However, she told Refinery29, "I couldn't say 'Thingamabob,' for the life of me." She joked, "Surprisingly, I didn't book it."
Luckily, the sting rejection didn't last long. When Cathcart was only 6 years old, she officially booked her first commercial — and the offers didn't stop coming from there. Over the next few years, working on commercials made her fall even more in love with acting.
While starring in one specific commercial for Crayola chalk at the age of 10, the young actor realized that this was what she was destined to be doing. "I distinctly remember turning to my mom, being like, 'That was the greatest day of my life. That was the coolest thing that could have ever happened,'" she told A*Pop. "'I want to do this a million times more.'"
She went from starring in commercials to being a lead in a TV series
Two years after the most memorable Crayola chalk commercial, Anna Cathcart decided to audition for something other than her usual advertisement. She met with casting directors working on a scripted television series for PBS called "Odd Squad," which was a completely new experience for the young actor. "I literally had no idea what was happening at all," she admitted to A*Pop. "I had never seen a script before."
However, the casting directors obviously saw something special in her, because she eventually booked one of the leading roles in the series. After that, her life seemingly changed overnight. "It was really intense," she told Brat.com. "I had to go to Toronto for seven months to film, so my mom and I just packed up as fast as we could."
Cathcart played Agent Olympia in Season 2 of the successful television series and reprised her role in its 2016 film "Odd Squad: The Movie," its web series "OddTube," and the spin-off series "Odd Squad: Mobile Unit." Her portrayal of the young agent over the course of two years earned her a Canadian Screen Award win and a nomination for a Daytime Emmy Award.
She made her first red carpet appearance at 13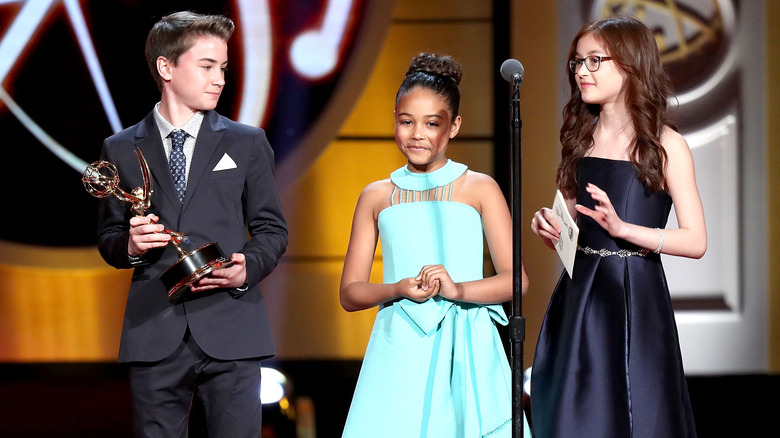 Randy Shropshire/Getty Images
Upon receiving a Daytime Emmy nomination at the age of 13, actor Anna Cathcart was headed to her very first red carpet in hopes of walking away the winner of the night. Not only did she have to find the perfect gown to wear to the 2017 event, but she also had to prepare herself to speak in front of all of the nominees. "I was presenting with a couple of other of my castmates from 'Odd Squad,'" she recalled to A*Pop, and even though she admitted that she "so nervous" to be on stage, she was also extremely excited.
Though Cathcart unfortunately did not take home the award for "Outstanding Interactive Media – Enhancement to a Daytime Program or Series," she did make a whole lot of memories that she is proud to have experienced at such a young age. "I was very, very lucky," she said. "Looking back at it, I'm like, 'That's actually insane.'"
She became a Disney Channel star
All the hours spent watching the Disney Channel at such a young age paid off for Anna Cathcart. In 2017, she booked the role of Dizzy Tremaine in "Descendants 2," the sequel to the successful musical movie "Descendants," which is Disney Channel's most-viewed original movie since "High School Musical." "Getting to be a part of the dances and all the musical numbers was a dream come true," Cathcart gushed in an online video posted by a fan.
In 2019, the young actor went on to reprise her role in the third installment of the franchise, as well as voice an animated version of Dizzy Tremaine in "Descendants: The Royal Wedding" in 2021. In addition, she landed a role in the Disney Channel Original Movie "Spin" that same year — and she was able to do it all while studying hard in order to graduate from her public high school. "It's like having two full-time jobs at once," she told WE Day Vancouver at the time.
As difficult as it may have been to balance it all, it's something that Cathcart would do again in a heartbeat. "Disney has such a special place in my heart, because 'Descendants' just meant so, so much to me," she told Shine On Media. "I would love to [return] one day. Who knows!"
She stepped into the shoes of a web series character named Zoe Valentine
In 2019, Anna Cathcart was seen taking on a much more serious role when she stepped into the shoes of a character named Zoe Valentine. The Brat TV web series of the same name follows a young girl who is obsessed with magic tricks and has just lost her sister to cancer.
In order to prepare for her portrayal of a grieving high schooler, Cathcart wrote up a two-page essay for the director about what it would be like to be going through the same situation as Zoe. As heavy as some of the scenes turned out to be, she and the cast only had a small number of days to get it right. "It was so fast. We filmed it in, like, 10 days, so it's all a blur," Cathcart explained during an interview with Famous Birthdays. "But it was super fun."
The young actor learned a trick or two during her two seasons on the series — including a whole lot of magic ones that her character performs on screen. "My uncle happens to be a professional magician, so that helped a lot," she shared in a behind-the-scenes video.
We watched her grow up throughout the To All the Boys franchise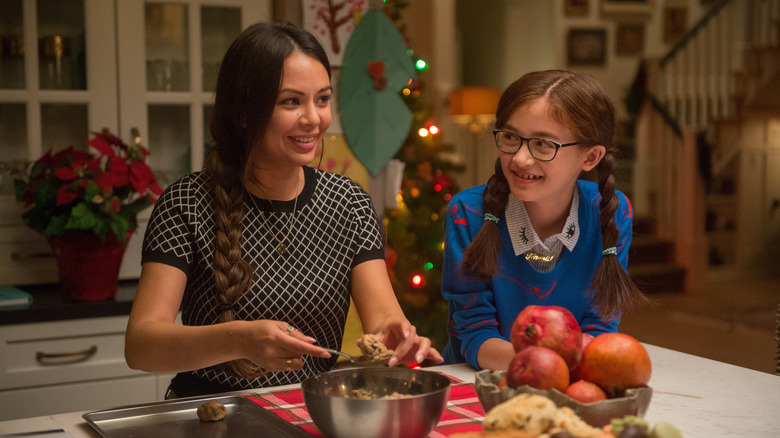 Netflix
When the world was first introduced to Katherine "Kitty" Song Covey in the 2018 Netflix film "To All the Boys I've Loved Before," she was capturing fans' hearts as the most loveable little sister. Throughout three film adaptations, audiences got to see both the character and the young actor who plays her grow up in front of their very eyes. "I finished grade 8 when I first booked the role," Anna Cathcart shared in an interview with Shine On Media.
By the time the third film was released in 2021, Cathcart had graduated from high school, and her character Kitty (the catalyst for the entire three-part love story) had developed a love interest of her own. It was as if Cathcart was navigating life as a teenager right alongside her character. "I kind of grew up with Kitty by my side," she told Teen Vogue. "[We're] learning through each other, which is really cool."
Little did she know at the time that the successful film series would set her up for even more future success in the "To All the Boys" universe.
She kept busy during the COVID-19 pandemic recording Letters To
While many film and television productions came to a standstill at the start of the COVID-19 pandemic in 2020, Anna Cathcart found a way to keep herself busy while she was isolating away from the rest of the world. The young actor once again partnered with Brat TV — this time on a Facebook Watch series she recorded from her home called "Letters To."
The unscripted series, as Cathcart describes, is "a series where super fans get to come together and talk about their favorite authors and how they impacted their lives." It was a safe way at the time for the world to celebrate storytellers (like author Jenny Han who penned the books behind the Netflix films that were completely catapulting Cathcart's acting career at the time).
At the end of each episode of "Letters To," Cathcart surprised unsuspecting guests by adding their favorite author to the other end of the call. It was a special way to bring a smile to audiences' faces during such an uncertain time.
She landed a lead role in the spin-off series XO, Kitty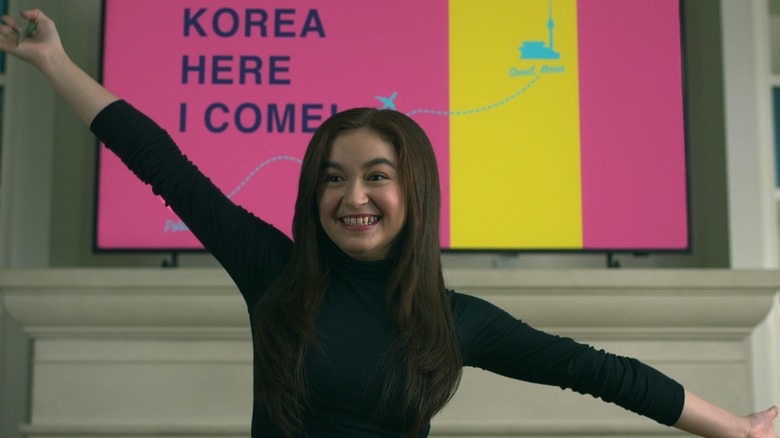 Netflix
The "To All the Boys" film franchise would be nothing without Kitty Song Covey (quite literally, actually, since she was the one who sent the letters) so fans were ecstatic when they heard rumors of a potential spin-off series centered around her character. However, when the idea was first introduced to Anna Cathcart, never in her wildest dreams did she believe that it would actually come to fruition.
Fast forward to May 2023, and a Netflix series titled "XO, Kitty" was finally released for fans to enjoy. While it may have seemed like familiar territory for the young actor, Cathcart had a lot of catching up to do when it came to how Kitty would now navigate high school. "I've been comparing it to coming back to an old friend that you know really well but haven't seen for many years," Cathcart explained during an interview with Entertainment Tonight.
It had been almost two years since Cathcart last portrayed the youngest Covey daughter on screen, and the actor herself had been through a whole lot off-screen too. "The things she's going through and the messages of figuring out who you are, learning to be independent, following your heart, and all that kind of stuff is very much what I'm going through in my life at the moment," she shared with Cosmopolitan, giving viewers a newly invented look at Kitty.
She discovered her independence while living in South Korea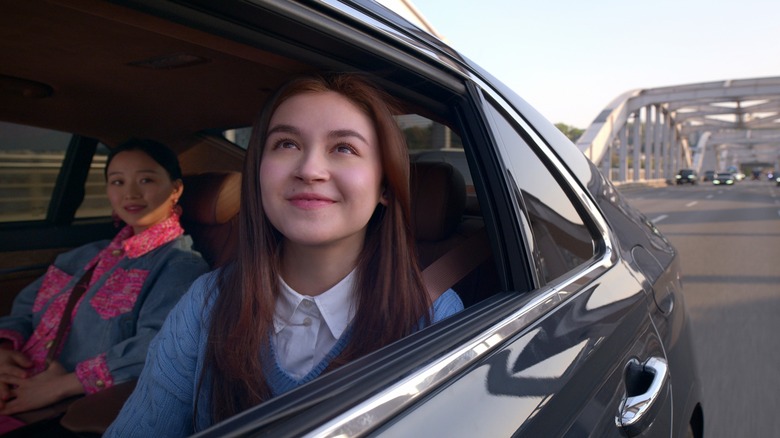 Netflix
Once Anna Cathcart signed on to play Kitty Song Covey in "XO, Kitty," it was pretty easy to understand exactly what her character was going through. "I am kind of going to international school too," the actor explained during an interview with Harper's Bazaar. "I'm taking this big leap into a brand-new chapter of my life and moving across the world, being away from family, and learning how to be independent."
Though Cathcart had lived in her own apartment for a year in the States, playing Kitty during a completely new time in her life would be a new kind of adventure. The role required her to live in Seoul, South Korea for four months during filming. The series also marked a major milestone in her life: It was her first time playing a leading role as an adult, which will certainly be only the beginning of a lifelong career. "I've learned so much as an actor and as a person," she told Cosmopolitan. "I've proven to myself that I can be thrown into new experiences. I'm more capable than I might realize and I might have not given myself credit for that."
She is a college student studying creative writing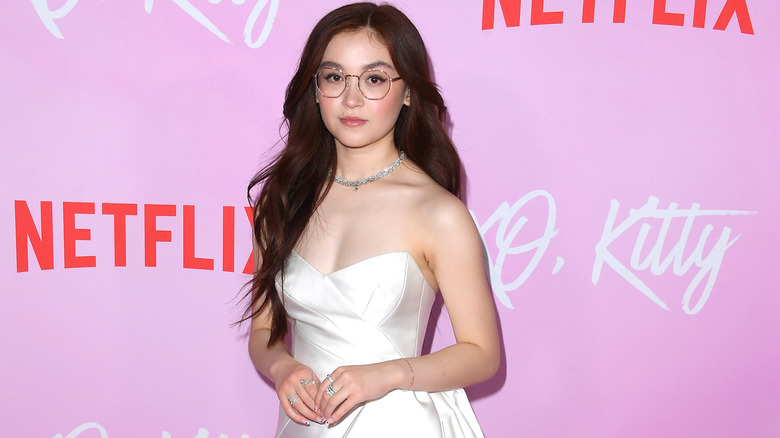 Steve Granitz/Getty Images
As soon as Anna Cathcart returned home from filming "XO, Kitty" in South Korea, she started studying creative writing and sociology at the University of British Columbia. "School has always been really important to me and I've always wanted to explore that path, but it's difficult when you still want to be an actor," she told Cosmopolitan of her decision to attend college. "Balancing the two can be challenging, but I'm very lucky it worked out." 
Interestingly enough, one of her creative writing professors even used a plot line from "To All the Boys" during a lecture — which Cathcart immediately had to tell the author of the series, Jenny Han, all about (of course).
Someday, Cathcart hopes she can experience what it's like behind the camera by developing her very own stories for the screen. "I have so many ideas, and I've made mood boards for scripts before, and I've written a few things just for fun, and if I ever got the chance to actually bring those ideas to life, would be the best," she revealed on the "Steve Varley Show." "So definitely one day, hopefully, I can do that."