Why Body Language Expert Believes Kate Middleton Is Just Like Princess Diana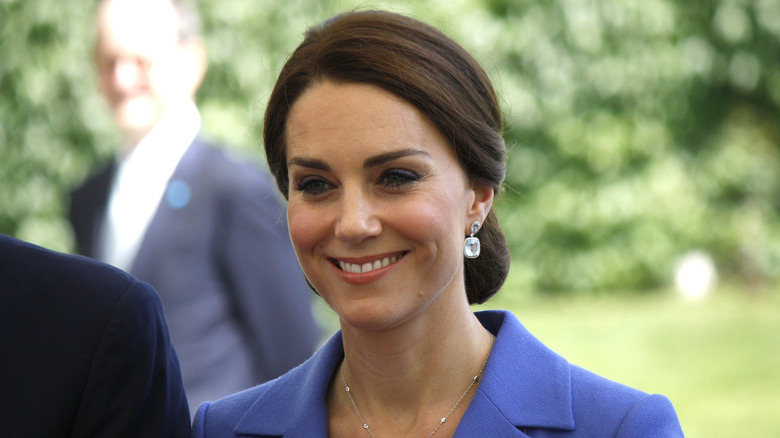 360b/Shutterstock
The legacy of the late Princess Diana is not an easy one to pin down. From her timeless style — iconic revenge dresses included — to her gentle way of mothering her two boys, William and Harry, it didn't take long for Diana's down-to-earth demeanor and philanthropic spirit to garner her the affectionate nickname "the people's princess."
When Princess Diana tragically died in 1997, the hole she left behind in the hearts of the masses was palpable. She acted as a bridge between the lofty heights of the crown and the rest of the world. After her passing, the bridge seemed to collapse. But when Kate Middleton entered the royal realm in the early 2000s, it seemed as though part of Diana's spirit had reentered the institution. 
It wasn't just a feeling, either — experts and royal commentators have attested to it, too. As body language expert Darren Stanton of Slingo told the Mirror, Catherine, Princess of Wales, embodies her late mother-in-law in more ways than one.
Kate isn't afraid to not take herself too seriously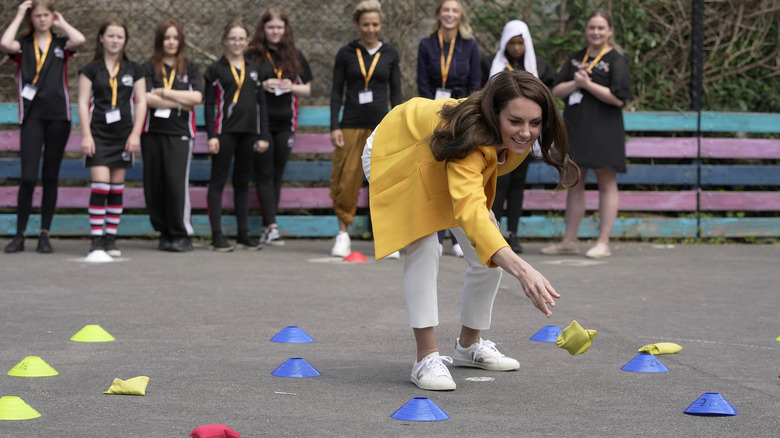 Wpa Pool/Getty Images
On a trip to Bath, a city approximately 100 miles east of London, Kate was seen playing a game of sidewalk tic-tac-toe with a group of children involved with the Dame Kelly Holmes Trust, a youth development charity. Dressed casually in white jeans and a pair of low-rise sneakers, she seemed perfectly comfortable tossing bean bags onto the pavement, which Stanton said harkens back to Diana's laid-back attitude. 
"Kate is always happy to muck in and get her hands dirty," he told the Mirror, "which we saw with her playing noughts and crosses. It tells us that she's not going to be the monarch that will be distancing herself from connecting with everyone. It shows she is prepared to have a go, and look a bit silly in front of the crowds, which is authentic." 
Moreover, in the face of a stoic, at-times rigid institution such as the monarchy, it's also a bit rebellious. Her mother-in-law, Princess Diana, was no minor contributor to the crown's long list of royal rebellions. From refusing to vow to obey Charles at their wedding (per The New York Times) to ballroom dancing with John Travolta to extending a literal helping hand to those suffering from the AIDS crisis, Diana's priorities were rooted in compassion, empathy, and joy — not reputation, appearance, and stature.
Like Diana, Kate focuses on connection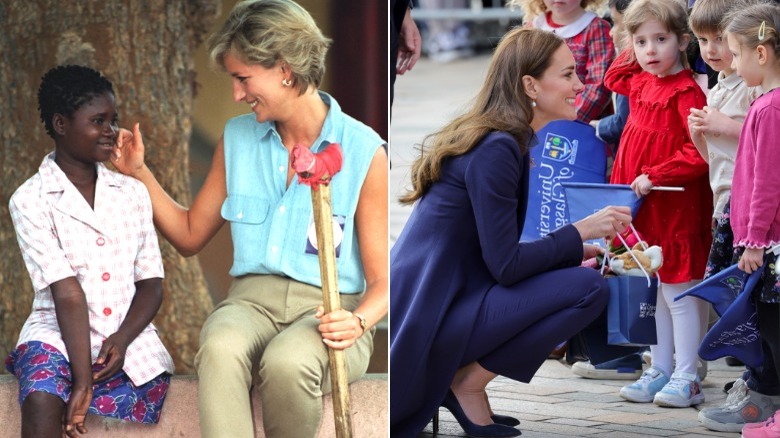 Tim Graham & Chris Jackson/Getty
Stanton argued that Kate has a notable lack of ego, despite her royal status, and that, like Diana, she emphasizes honest, open relationships. "Kate shows she is willing to build a connection, and that speaks volumes about her as a person and her personality — she is keen to come over as relatable as possible and often her open body language will be reflective of this," he explained. 
In a 2022 Mirror article, royal commentator Ingrid Seward drew similar parallels between Kate and Diana, citing the mother of three's patience and graceful way of connecting with people of any age. Her human-centric qualities are visible in her various public engagements, kneeling to meet young children eye-to-eye or attentively listening to a non-royal peer as they speak to her. Kate's electric smile and warm eyes are anything but the cold stoicism often associated with the family and institution she married into in 2011. 
Of course, it's unsurprising that William would fall for a woman with the same sense of geniality, humanitarianism, and zest for life as his mother, whom he lost at only 15 years old. But Kate and Diana are two extraordinary women in their own right. As the late princess's legacy lives on, Kate will continue to forge her own. And if her progress up until now is any indication, it will indeed be an inspiring legacy to behold.