What Colors Do You Need In Your Wardrobe To Match Olive Green?
Pascal Le Segretain/Getty
It's time for plain neutrals and neon colors alike to move aside, because olive green is now in the spotlight. 
Speaking to InStyle, Regina Popp, senior director of fashion & trend at DSW, discussed the color's resurgence, stating, "I am going green for Spring '23 and here's why: it's super versatile, easy to style, and some of the season's standout looks look best in green." Popp also mentioned cargo pants, an ongoing trend that shows no signs of slowing down anytime soon, sharing, "cargo pants are a must-have and look great in a utility-driven olive tone." 
Long part of the autumn color palette, olive green is rare in that it suits most skin tones instead of just one or two, though it particularly stands out on warmer skin tones. Plus, unlike other green shades, olive green can be considered closer to a neutral thanks to its darker, more muted hue. If you want to integrate some olive green into your wardrobe, these all the best colors to match it with for look after look.
You probably already have these colors in your wardrobe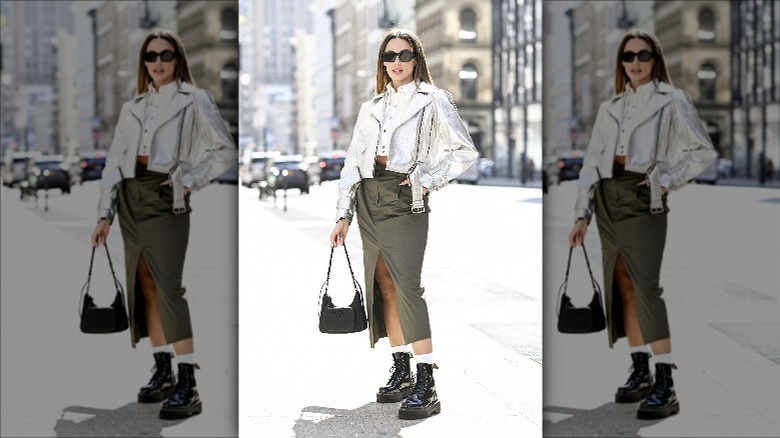 Daniel Zuchnik/Getty Images
First things first, olive green looks stunning with all neutrals. However, olive green paired with crisp white is a color match made in heaven. The murkier, utilitarian shade of olive green matched with a pristine and bright color like white will always create a cool contrast. If you feel white washes you out, off-white and cream both still look great with olive green, and in fact can help to make it appear warmer. Additionally, olive pairs extremely well with most shades of brown. In general, green and brown are two colors that always pair well together, perhaps because the earthy combination reminds us of nature and harmony. 
Still, as with all darker colors, it's best to stick to one olive green item per outfit. If you're wearing an olive green cardigan, adding a white tee underneath will make the cardigan pop even more. As for other wardrobe essentials, olive looks good with both blue and black jeans, so it's a must-have color for making even casual outfits stand out. 
Think outside of the box a little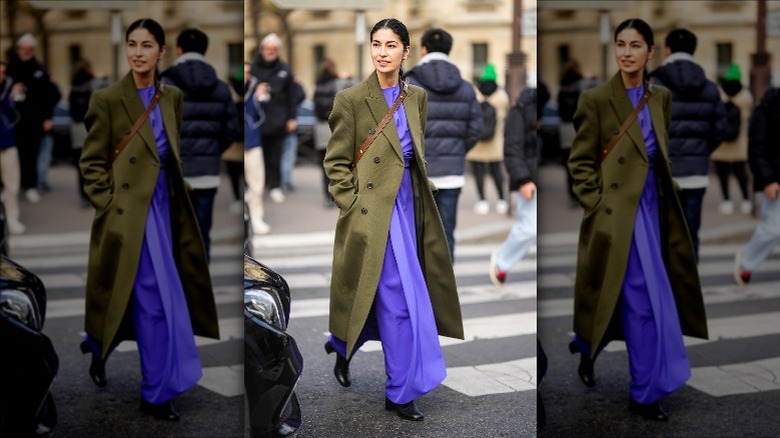 Edward Berthelot/Getty Images
If you're not a neutrals fan, olive green also pairs unexpectedly well with brighter colors, one of them being lavender. Lavender is an on-trend color by itself, with digital lavender being the WSGN 2023 color of the year. As trend forecaster Jessica Richards told Marie Claire, "Digital lavender also has the unique ability to lean into this moodier feel and pairs incredibly well back to hits of black," which is probably why it looks so good with darker olive green shades too.
Though it isn't as bright, another color olive green pairs beautifully with is maroon. You may associate the olive green and maroon/red color combination with military uniforms, as many follow a similar color scheme. However, olive green paired with maroon will also create a stunning, jewel-like vibe due to the richness of both colors. Even matching olive green cargo pants with sneakers that have a maroon stripe on will elevate your look.
Try incorporating one olive green item into a few of your outfits and see the difference it makes in helping a basic outfit come to life.