How To Wear Cargo Pants, The Latest Trend To Come Back From Y2K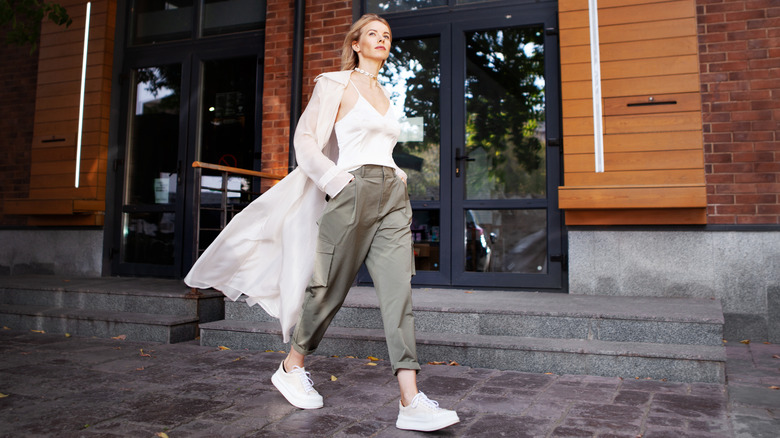 Shutterstock
If you're a younger millennial, you probably have a complicated relationship with cargo pants. In the early 2000s, they were the height of fashion. Trendy, tomboy-chic, and incredibly useful (all those pockets!), cargo pants were everywhere. Hilary Duff graced movie screens in baby-pink cargo pants in 2004's iconic "A Cinderella Story" (via BuzzFeed). And every girl's favorite television superhero Kim Possible saved the world from evil, wearing practical, olive green cargo pants and a close-fitting black turtleneck, her low-slung leather utility belt tying the look together.
It seemed like every girl and woman between the age of 8 and 88 had at least one pair of cargo pants. And then, almost overnight, they went out of style. Not merely untrendy, but outright dorky, cargo pants (or shorts) were more likely to be found on a sandal-wearing dad grilling in the backyard than on a fashionable style icon (via Uproxx).
But, just as they've done with many ancient fashion trends, Gen Z has breathed new life into cargo pants. They've been seen on celebrities like Bella Hadid and Halle Berry, who've reminded us just how cool these pants can be (via InStyle).
Successfully styling cargo pants means choosing the right top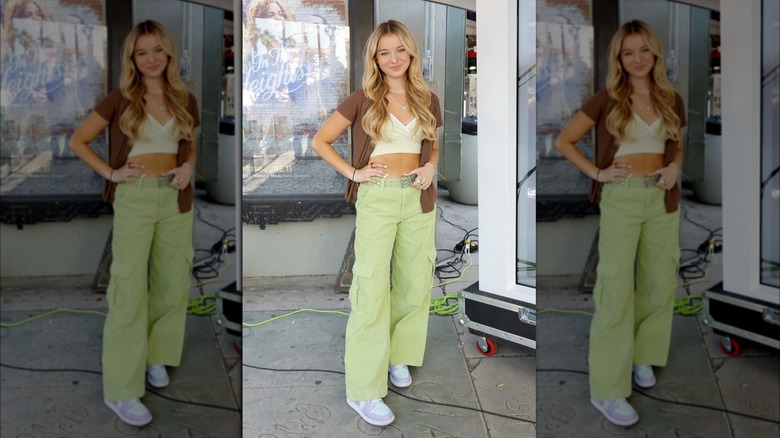 Amy Sussman/Getty Images
Gen Z hasn't just brought back cargo pants: they've brought back wide-leg pants in general. Flare leggings, bootcut jeans — anything as long as it isn't the dreaded skinny jeans.
While billowy tops reigned supreme when skinny jeans were the pants of choice, the opposite holds true now: baggy styles like cargo pants should be paired with figure-hugging tops or crop tops to create a more flattering silhouette.
Don't be afraid to channel your inner Kim Possible. Fashion writer Devine Blacksher created a Kim Possible-inspired outfit for her recent article in The Cut, which includes a tight-fitting black bodysuit and chunky sandals or closed-toe high-heeled mules.
Showing a little ankle can also help ensure your look is more diva than dad-like. Tapered, rolled up, or cropped cargo pants keep things stylish and avoid the baggy silhouette often associated with the look. Bonus points if the ankles are cinched with elastic or a drawstring.