How '50s Slang Inspired One Of Taylor Swift's Love Songs From Midnights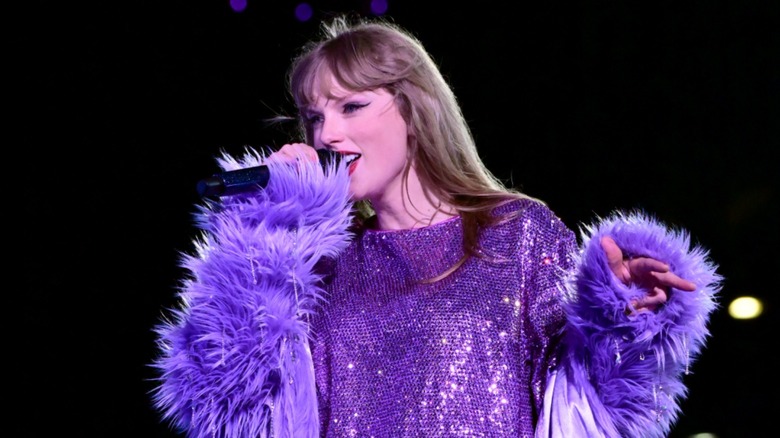 Lisa Lake/tas23/Getty
Famous people really are just like us: In their free time, they also enjoy binge-watching popular TV shows. Even global superstars like Taylor Swift are no different; the singer-songwriter revealed she got the inspiration for one of the fan-favorite "Midnights" tracks by watching the popular period drama "Mad Men." The show is about ad executives in the '60s, and in a scene where Don Draper (played by Jon Hamm) admits that he has fallen in love, he is told that he is, "in the lavender haze," (via TikTok). 
Swift posted a series of videos on TikTok entitled "Midnights Mayhem with Me" where she used bingo balls numbered one through 13 to release the album's track titles one at a time — not including the deluxe tracks from the "Midnights (3 a.m. Edition)" that she kept secret until after the release. In the ninth installment of the series, Swift pulled the bingo ball for track one and announced that it would be called "Lavender Haze." Swift then provided more information on the context of the song and its conception in a longer clip posted to Instagram.
Swift says you must avoid peoples' comments on your relationship to stay in the lavender haze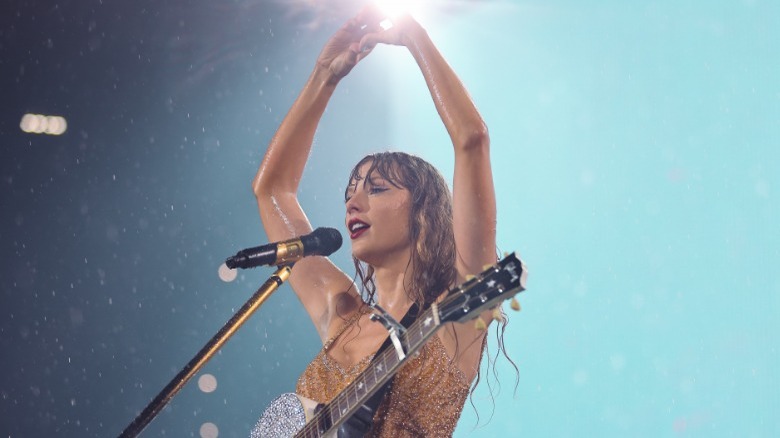 Tas Rights Management/Getty
In a now-deleted Instagram reel going "Behind the Song" for "Lavender Haze," (via Twitter), Taylor Swift explained how she heard the phrase in "Mad Men" and was drawn to learning more about it. The singer shared that it was a phrase that originated in the '50s, which refers to the early stages of being in love: "If you were in the lavender haze, that meant that all-encompassing love glow, and I thought that was really beautiful." 
Swift described the lavender haze as a metaphorical cloud that you're on when you're deeply in love. Unfortunately, "If the world finds out you're in love with somebody," she continued, "they're gonna weigh in on it. Like my relationship for six years, we've had to dodge weird rumors, tabloid stuff, and we just ignore it." To stay in that space — in that loving, lavender haze — you have to pay no mind to what other people say.
By doing that, the iconic pop star promised that you too can "protect the real stuff." Swift often writes songs about her real life, so although she didn't mention his name, it was heavily implied that this particular song was about Joe Alwyn — an English actor that Swift dated until early 2023. 
The Lavender Haze lyrics reflect Swift's deeper sentiments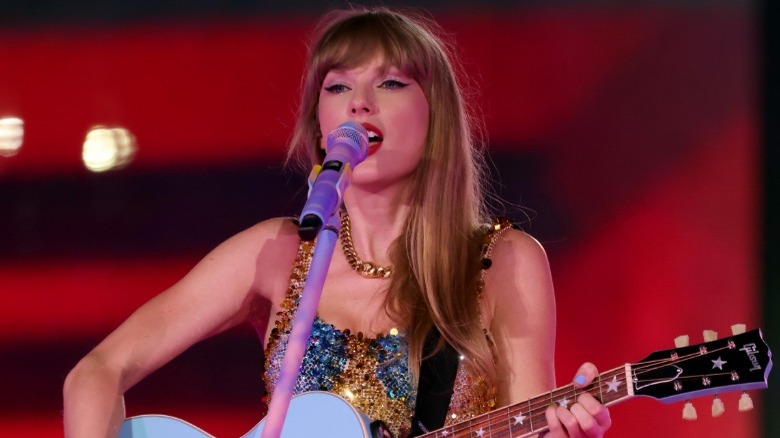 John Shearer/tas23/Getty
In "Lavender Haze," Taylor Swift sings about the way her love life as a whole and her relationship with Joe Alwyn, in particular, have been a magnet for attention with the rather telling lines: "I been under scrutiny / You handle it beautifully." Moreover, in the chorus, she sings: "I'm damned if I do give a damn what people say," emphasizing that allowing outsiders to affect how she feels about her love life is dangerous. 
Swift confirms that all she needs is her lover during the bridge of the sweet song: "Talk your talk and go viral / I just need this love spiral." Elsewhere, similarities can be drawn between "Lavender Haze" and the deluxe track "Paris," where she sings, "Romance is not dead if you keep it just yours." 
Sadly, following Swift's reported breakup with Alwyn, eagle-eyed fans noticed that the Instagram reel where she explains the inspiration behind the song "Lavender Haze" had been deleted, confirming that the song was most likely about him and that the rumors of a Swift-Alwyn split were in fact true.